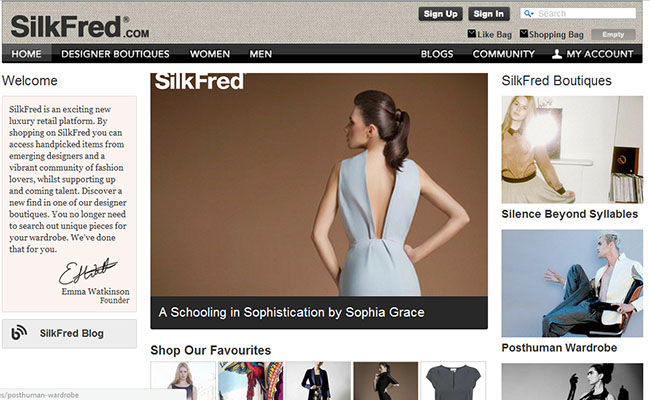 Not too long ago, I received a sassy (in the good way) email from a go-getter named Emma Watkinson, introducing herself, complimenting our work here at StartUp FASHION, and sharing the mission behind her work SilkFred.com, an online luxury retail platform focused on emerging fashion designers.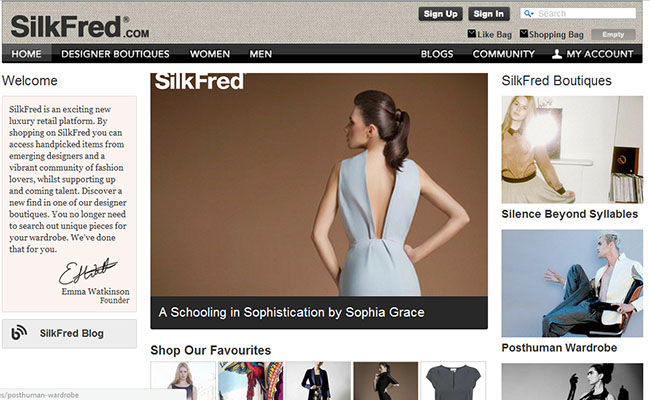 SilkFred.com is a fashion technology start-up that puts emerging designers and their businesses at the heart of their mission. The people behind the platform scout out top talent and provide them with an online retail space (with some cool tech thrown in) and work one to one with them to launch their brand online.
Though online is the key for designers to reach a wider audience, SilkFred also provides a great deal of offline support. According to Watkinson, "we started with one goal in mind – to provide designers with the tools & resources to grow their business." Sounds a lot like the StartUp FASHION mission, so naturally, we were intrigued.
SilkFred launched  in December of 2011 and has spent the last couple of months refining the product. They've also recently started partnering with luxury boutiques & stockists and placing their designers' stock alongside high profile brands.
Having received a follow up email from the driven and determined Watkinson, gently inquiring as to why I haven't shared this great resource with our community, I learned that she and her team are up to some cool new tricks.  Currently in Hong Kong, the team is presenting a pop up store with a capsule collection of some of the platform's strongest collections. Creating offline opportunities for designers whilst building technology to support their online growth is allowing SilkFred to gain good momentum.
I was glad to hear from her again and also really intrigued by the work they're doing.  I look forward to watching where SilkFred is headed and the mark they plan to make on the world of independent fashion.