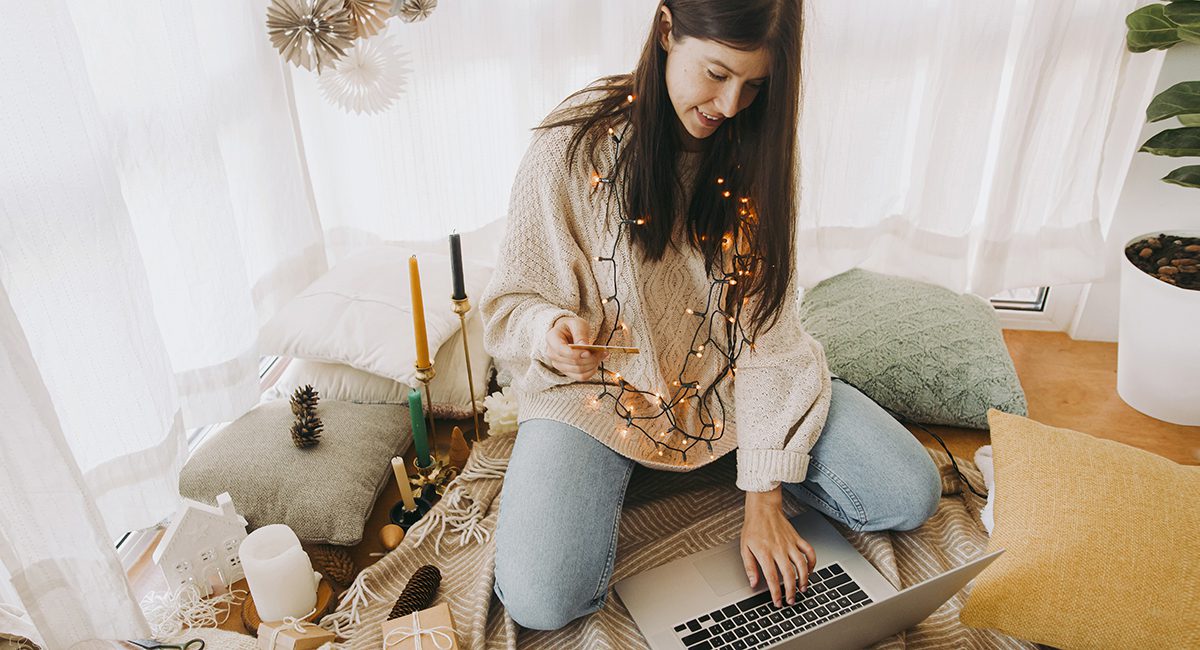 For any product-based business, the holidays are the time of the year where you can expect to see a dramatic spike in sales and interest surrounding your designs and products. This is especially true if you have a strategic holiday marketing plan in place.
In fact, the National Retail Federation has reported year after year that 20-40% of yearly sales for small to mid-sized retailers take place in the last two months of the year.
If the holiday season is sneaking up on you, don't be discouraged! There's still plenty of time to implement a marketing plan to drive traffic and sales for the holiday season.
The rest of this post will walk you through how to create a holiday marketing plan.
Here are our top strategies for helping drive traffic and sales for your fashion-based business:
Set Your Goals
When creating a marketing strategy, the first step is to determine your goals for the campaign. Most likely your goal for the holiday season will be to drive sales. If you break that goal down further you'll know that it's hard to drive sales unless you also drive traffic. This means your marketing efforts will need to focus on strategies to reach your target audience and drive traffic to your e-commerce platform.
Determine Action Steps
Once your goals are set and you know what success during the holidays looks like for your brand, the next step is to determine when to begin your marketing efforts. Though you should certainly create some of your messaging in the beginning of November, WWD reports that "sixty-six percent of consumers say they will shop during the Black Friday/Cyber Monday weekend versus 49 percent in 2022. Almost a third of shoppers' budgets are expected to be spent in the last two weeks of November, with 78 reporting they will be shopping actively during that period."
With your marketing plan target launch date set you can now determine what types of marketing efforts you can feasibly accomplish between now and your launch date. Although setting a launch date before determining your actual marketing efforts may seem backward, it will actually act as a motivator.
In the world of startup fashion business, you have never-ending to-do lists and other large deadlines. If you set a launch date before creating your plan, you'll be able to see how much time you have and what you can feasibly accomplish. This is much better than trying to bite off more than you can chew.
The goal is to have a solid holiday marketing strategy in place instead of scraping by with a haphazard marketing effort. With your goals and launch date set, pick a few of the following strategies to execute.
Components of a Strategic Marketing Plan
Paid Ads
Create a series of unique, paid ads on either social media or Google Ads. If you know what platform your target audience is active on, you'll be able to narrow down your focus. Each platform has their specific benefits, but ads on Pinterest are particularly valuable during the holidays. Recent statistics show that 70% of the Pinterest audience use the social platform to help guide their purchasing decisions.
Influencer Marketing
If your goal is to work with a few influencers this season to drive traffic and sales, start reaching out to them now. While this form of marketing is still very new, most bloggers will do a wonderful job of promoting your product via multiple channels. Just make sure you understand the requirements of working with an influencer and have a contract ready to share with them.
Social Media
While organic social media is a year-round marketing tool, don't neglect the audience you have already accumulated on your platforms during your holiday marketing push. Share exclusive content, holiday-themed photos, and offer special discount codes as a reward for their loyalty.
Holiday Landing Page
One of the most overlooked components of a marketing plan is branding consistency across all platforms. Consider creating a holiday-themed landing page on your website to showcase your products in a festive environment. This extra digital attention will help get your audience excited about the possibility of giving your product as a gift or splurging on a gift for themselves.
Holiday-themed Emails
If you've already cultivated an email list, the holidays are the perfect time to share a few pieces of exclusive content and even special promotions with your list. Create a series of emails (3-5) with the same branding you're using on your ads and landing page. Use this branding to create a compelling email with text and photos aimed at selling your product to a relevant audience.
Blog Posts and Original Gift Guides
Although bloggers will do a wonderful job of promoting your products in a gift guide on their website, consider creating a brand-specific one on your own blog. Share best uses for your products, who to buy them for, and how your audience can purchase them.
Special Holiday Promotions
And in a more traditional marketing vein, never forget about providing discounts for your loyal shoppers.
Although this often rubs small businesses owners the wrong way, hear me out. Chances are you are competing against some pretty big brands and platforms that can afford to offer mega discounts. While you may not be able to offer a 50% off discount code, around the holiday time people are looking for two things: free shipping and discount bundles.
Offer free shipping and a discount if users purchasing more than one item. It will help improve your digital conversions.
Because the holiday season is such a profitable time for small and large businesses alike, don't neglect a seasonal marketing campaign to make sure your target audience keeps you front of mind.
With so many strategies in a marketer's toolbox, it's easy to get overwhelmed. If you're just now starting to think about a gift-giving campaign, start small and as you have time implement a few additional strategies into your plan. Know that if you position it correctly, no holiday marketing effort will go unnoticed by your target audience and you'll be steps closer to hitting your goals for the year.