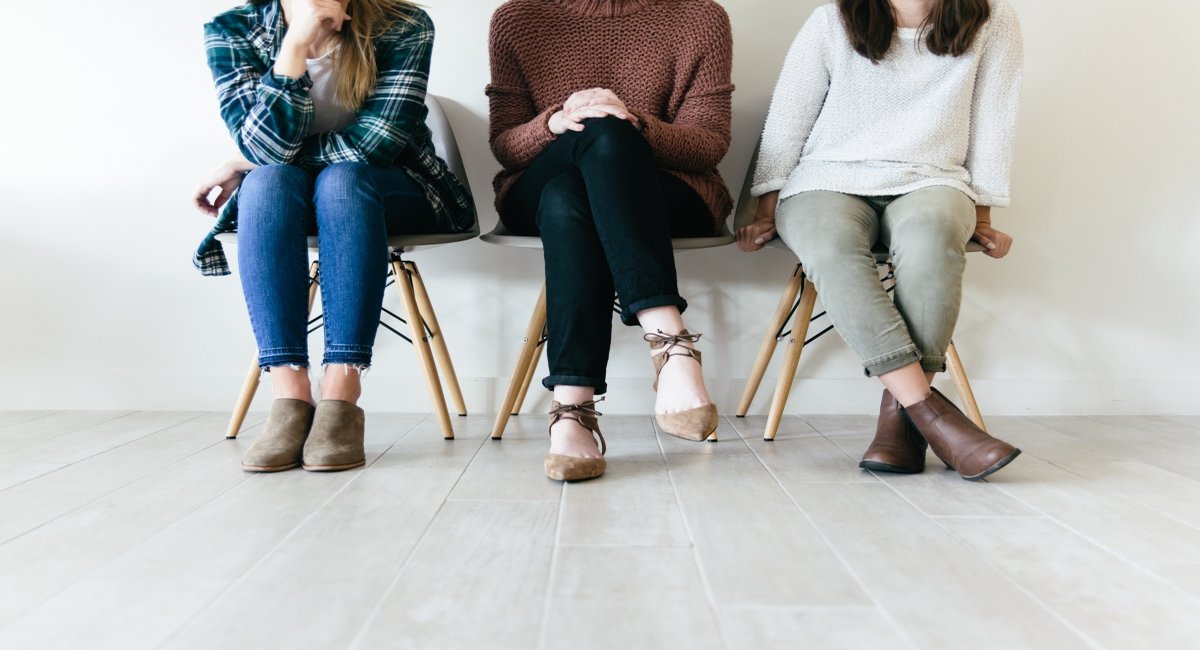 Marketing is about understanding your whole customer funnel, not just succeeding at one piece of the funnel (although it's a good start!). While most companies are great at one thing like driving traffic to your website, or sending out emails that convert to sales, the way that you stand out is by truly thinking through the customer journey, step-by-step, and making sure that you're optimizing for each step.  And by the way, your customer journey does not end when your customer hits checkout!
If you're not sure what your whole customer funnel looks like yet, you're in the right place. In this article, we'll give you a helpful overview of the main elements of a customer funnel. We'll also walk you through ways to optimize each of the elements as you grow your business.
Let's start with the typical customer funnel below. Keep in mind that you'll probably see varying versions of this if you're researching customer funnels. You may run into funnels with more or fewer steps, but this is a good place to start.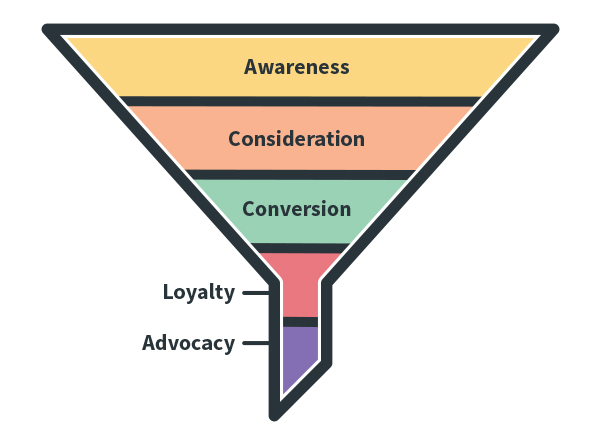 Awareness
Awareness is the very top of the funnel. This is where a customer first learns about who you are and what your products are. This is likely what you think about when you first think about marketing strategy.
For a fashion startup, building your brand awareness will include social media, advertising, events, partnerships, and much more. The quick way to think about it is that awareness is the stage where you get someone from not knowing who you are, to knowing your brand.
Optimizing at the top of the funnel for awareness will include finding channels that have enough volume for you to reach new audiences that are potential customers. You might optimize by testing different social media channels, finding different partners in varying verticals, or trying different advertising platforms. Within one of those options, like Facebook advertising for example, you can also optimize by testing different audiences and different creative or copy.
Consideration
Consideration is an equally important stage in your customer funnel that often gets overlooked. After a customer discovers your brand, but before they decide to purchase, they have to learn more about your value proposition and products.
This doesn't mean a customer can't go through the awareness, consideration, and conversion stages all in one day. But your customer might visit your site, scroll through your social media, read one of your blog posts, and then decide to purchase. The consideration stage includes steps like email marketing, targeted remarketing ads, blog content, and social media engagement. Think of this stage as the "dating" stage, where your customer is getting to know you and trust your brand more and more.
Consideration should also include great product descriptions, sizing guides, amazing photos or video on the product page, and promotional offerings. You'll also want to include elements like customer testimonials, reviews, customer service opportunities, and other validation. This gives your customer the confidence they need to know your designs are the right option for them.
Optimization at the consideration stage will include determining what type of content your customer wants to learn more about. You can check to see what pages on your website your customers visit most often (besides product pages), test email newsletter content, and review the types of questions your potential customers ask before purchasing.
Conversion
For an e-commerce fashion company, conversion is often the most straightforward piece of the puzzle. What does it take for your customer to make a purchase? From selecting one of your designs and adding it to their cart, from filling in all their billing and shipping information, to hitting the "Checkout" button, there's so much you can do to convert your customer.
Optimizing for conversion should be focused on making your checkout process as straightforward as possible. Autofill shipping addresses from billing, allow easy payment platforms that autofill customer information like Google Pay or Paypal, and simplify your forms to streamline the process.
Conversion is where most people tend to think the customer funnel is complete, but we're not nearly finished! The final two stages are incredibly important to consider in closing the loop of your marketing strategy.
Loyalty
Loyalty is the stage where you focus on customer retention. Think about the little experiences that keep you loyal to a brand, besides a great product, of course! These may include a great shipping confirmation email, unboxing experience, customer service or return policy, and promotions for returning customers. You'll also want to build brand loyalty with your existing customers with great content through your social media, blog, and email channels — they're not just for first-time customers!
Optimize for loyalty by talking to your customers to understand what will keep them coming back. Stay top-of-mind with email newsletters. Don't forget to test subject lines, content, and offers. Continue to test and improve your customer service satisfaction rate on a regular basis.
Advocacy
Loyal customers can become the best advocates for your brand. As you grow your fashion startup, you may start to see a select few customers who help amplify your brand by wearing your designs and tagging you in photos on Instagram. They may also share links with their friends regularly with your promotions. They might even come up with their own ideas to help you with your marketing!
Advocacy will include tactics like a referral program, affiliate marketing, or including strong advocates in your influencer marketing. Consider opportunities to develop advocates as brand ambassadors, and build relationships with them to use them as sounding boards and amplifiers for your business.
Optimize for advocacy by testing which of these programs work best for you, and understanding what drives your brand ambassadors to share your brand with their friends and family. Leverage their voice to understand what messaging best resonates with your potential customer base. This also brings you full circle back to the first stage of the customer funnel: building brand awareness with new customers!
—-
Have you considered all these stages in your customer funnel? Is there a particular stage of the funnel that you are struggling with? Or perhaps one that you are seeing the strongest performance in? Let us know!