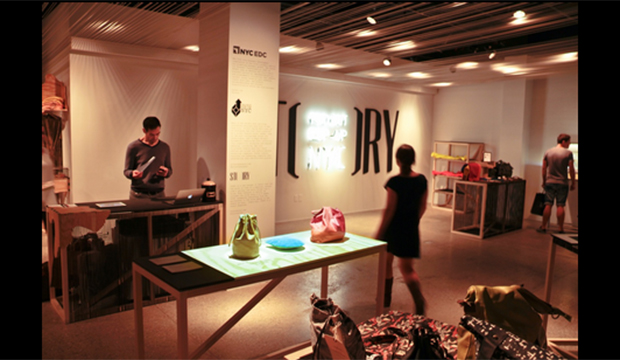 Imagine all of your merchandise telling a story to your customers while they're shopping in your retail location.
Imagine educating buyers about the origins of materials and the details of each piece from your line with just a touch.
Imagine basic spaces like tabletops becoming interactive showrooms during events, allowing guests to see customer reviews of the products and real life photos of what things like shoes and sunglasses look like on actual people before they buy.
Imagine that this all happens as your customers are standing in front of the product, at the moment they express interest.
It's creative, it's interactive, it's unique. PERCH Interactive could very well be 'the future of retail' and it's definitely going to be changing the way we shop.
What's PERCH?
"PERCH is an interactive display technology designed for use in retail spaces. PERCH turns any light-colored table surface into a dynamic, hands-on interactive display. PERCH encourages shoppers to touch and pick up products on display, and rewards them for doing so with information, animations and brand-specific media. PERCH combines the benefits of online shopping with the advantages of retail shopping to create an entirely unique and enticing experience for the customer."
As a shoe lover, this case study impressed me the most.
Would I stay in a traditional retail store if the display in front of me was providing the same amount of information I could receive from shopping online at home? Absolutely!
Just as statistics show that people will buy more from people they have a personal connection with, having that kind of connection with the merchandise you're browsing will solicit the same kind of response.
"Technologies like PERCH give customers a reason to pick up and feel a product, stimulating a sense of engagement with a product in a way that becomes an essential part of the in-store shopper experience. The power of touch retail may be the competitive advantage stores need in a world where buyers have an instant connection to shopping wherever they go."
Online shopping is on an upswing and as the holidays approach, more and more consumers will be showrooming for the best prices from their favorite retailers.
One thing online browsing can't truly provide though, is the experience.
Now, as boutique retailers, this is probably not a technology you can afford to bring on right now.  But it is a technology that you should be aware of.  Think about what PERCH is doing and what it offers customers.
Do you think there are ways in which you could offer the same information and experience but without the expensive technology?