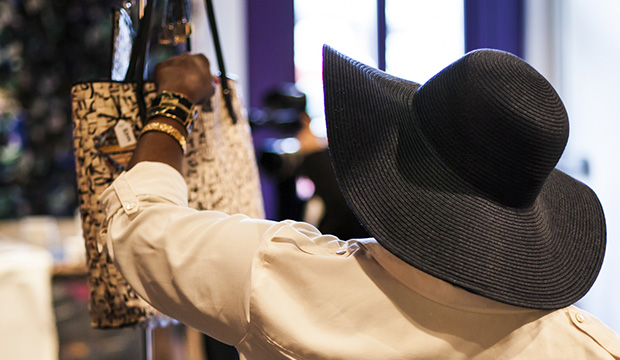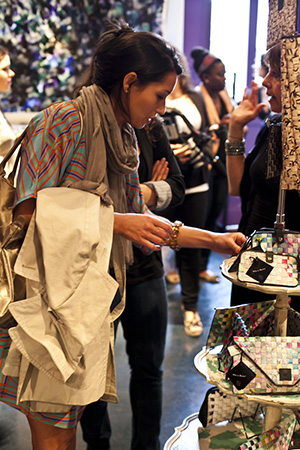 Once upon a time there was a cute little fashion boutique in the heart of  a darling little town.  Stylish inventory and smart merchandising made this little boutique thrive. Then one day the big bad wolf of e-commerce came along and before the little boutique knew what had happened, the wolf started eating its lunch.
To add insult to injury, the little boutique's customers were actually still coming to visit, only this time they were armed with smartphones; miniature, handheld, digital storefronts. Could it get any worse?!
"What's going on?!", exclaimed the little boutique owner, "What is everyone doing on their phones?"
Well, they're showrooming. 
As defined by Techopedia.com, showrooming is when a shopper visits a store to check out a product but then purchases the product online from home [or their phones]. This occurs because, while many people still prefer seeing and touching the merchandise they buy, many items are available at lower prices through online vendors. As such, local stores essentially become showrooms for online shoppers.
Why does this happen?  Well, for starters, as mentioned above, online retailers often offer lower prices due to lower overhead so when a usually faithful customer is able to look up her favorite pieces online while standing in the little boutique, she can see it goes for cheaper and, these days, is usually accompanied by free shipping.
The onslaught of crafty little mobile shopping apps that make it super easy for any consumer to not only do price checks but also find similar items that may be cheaper or they like even better, only adds to the frustration.
So what's a cute little boutique owner to do?
Don't fight it. There's nothing that can be done to change the ever-progressing world of technology, especially as it marries with the world of fashion to produce all kinds of smart, helpful, and fun tools to for the everyday consumer's shopping pleasure.
Instead, the cute little boutiques of the world must get creative!
Make sure your own e-commerce website is an awesome and exciting experience.  Implement the same kind of care and attention into your website that you did with your brick and mortar. Make your customers want to come back over and over again.
Consider offering in-store pick up. This is great customer service and will make your local (and usually most loyal) customers feel special.
Team up with a local designer to offer an exclusive product. The PR and marketing you do for this will be really special and attention grabbing.
Host trunk shows and shopping events in your boutique to play up the social interaction that online (as hard as it tries) just can't offer…. like wine, cookies, chatting with friends, and playing dress up.
Offer styling services within your boutique, helping guests to put looks together and forming a bond with your customers that often leads to real loyalty.  Your customers would love to know they can come to your store when they need a look and not only purchase it, but get your help in creating it.
Consider becoming friends with the fashion tech companies, rather than being mad at them.  Services like Shoptiques are a great way to get your merchandise on the screens of consumers all over the world.  There's no reason why you can't offer something like this in conjunction with your own e-commerce. Remember, you want to give your customers as many buying options as possible, as every possible purchasing outlet offers a different shopping experience. 
These are just a few ideas on how cute little boutiques can combat the negative affects of the big bad world of showrooming.  What have you been doing in your boutique? Share with us in the comments below!