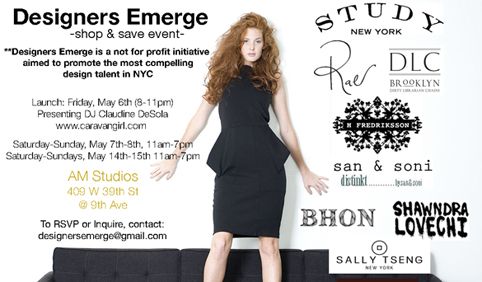 Pop-Up Shops are all the rage right now.  And why shouldn't they be?  They are a fantastic platform for designers to showcase what they do to an in-person audience without having to put out the enormous overhead that owning an actual boutique would require.  Not to mention the very appealing situation of being able to "pop up" all offer a city (or country for that matter) allowing you, the designer, to bring your product to the customer.
In light of this, we caught up with Denise Gertmenian, designer of the label Rae, and the fashion maven behind Designer's Emerge,  a platform for highlighting emerging and independent designers via various events that take place in a very chic Manhattan space.  Their first event?  A pop-up, of course.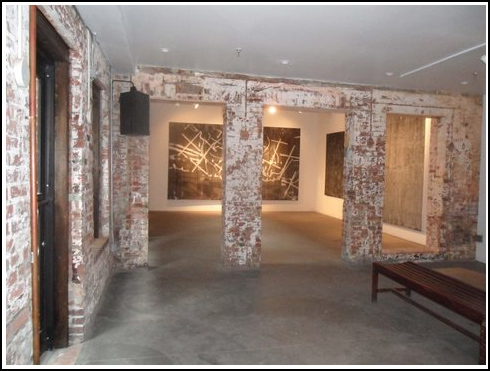 StUF: Tell us about your line, Rae.
DG: Rae tells a story through handmade textiles about vibrant and feminine clothes for women. We do a lot of great tunics that can be dressed up or down, versatile knit dresses for winter that you can even wear to work if you have an event after, and the scarves are great if you just want a touch of the fun on your neck or purse strap.  The overall look is polished and wearable.
StUF: How long has Rae been around?  Where is the line currently sold?

DG: It's been 4 years this August.  We currently sell online at www.raecollections.com and Searle stores in NYC.
StUF: You recently introduced something called Designers Emerge.  Please tell us what it's all about.
DG:I initiated Designers Emerge as a way to provide the most compelling design talent in New York with the unique opportunity to promote their product in a unique and exciting space.  The first event is our POP-UP store, beginning this Friday. It is really exciting and the turnout will be great. With some time, we can do even more in the space.
StUF:What inspired you to put together the concept in support of emerging designers?
DG: Since I started Rae, every season has been different-retail wise.  Retail is constantly changing and continues to change each and every season.  The way to success right now is to highlight what is special about a brand and give the consumers a new experience.  Otherwise, what the hell- they can just stay home, or eat lunch at their desk while they shop online at a discount.
With the POP-UP, shoppers can engage with designers and feel that the product they are purchasing is special. They can be inspired by a vision and a story.  Likewise, direct customer feedback on a 1on1 basis is invaluable to the designer.  The Designers Emerge POP-UP will give designers the highly specialized opportunity to accomplish all of the above. The changes in retail inspired me to get a group of us designers together and share a new experience.
StUF: What were some of the biggest challenges in bringing Designers Emerge into fruition?
DG:Finding a great space in NYC at a reasonable cost was really a noteworthy challenge.  The owner of AM Studios is a very open-minded business person who is not afraid of taking risks.  After I explained my idea to him, (which also included a way for him to be profitable but also make it affordable for designers to participate) he agreed to give it a try.  I went to several hotels with my idea- some that were even under the radar, but they just weren't getting it. Too bad, they're not getting the buzz!
StUF:How have you been getting the word out about the event?
DG: Friends, twitter, facebook, bloggers, anything related to social media, and good old fashioned "word of mouth." We are also going to put up an eye catching window display for any street traffic we can catch on our little side street.
StUF: Are you currently accepting new designers for participation in future pop-ups?  If so, what do you look for in a designer?
DG: Currently, we are full and capping out at 10 designers for our first event, unless the next Karl Lagerfeld comes knocking on the door.  There will be more events in the future, and I really enjoy meeting other designers in New York. Designers that qualify for a Designers Emerge POP-UP store, for example, need to have great product.  They need to have a grasp on the concept and aesthetic behind their brand and know who their customer is and most importantly, how to bring their customer or friends to the event. These designers need to make a statement as well- whether it is using sustainable and organic materials, producing in the garment district, or having a product that is unique from everything else.  To me, the person and character behind the brand is also extremely important.
StUF: What's next for both  Rae and Designers Emerge?
DG: Spring 2012 is coming soon.  Waiting for my favorite tree to bloom in Gramercy Square Park, so that I can design a new print.  Any day now. This tree is amazing because it blooms a million soft pink flowers that actually look like little brushes- like blush brushes.  Very pink, feminine and fanciful.  The tree is in the SouthWest corner of the park, if you want to look and see.
Designers Emerge will evolve into a forum for various events, depending on the upcoming needs and interests of the designers participating.  Next will be a Fall Pop-Up Store and something interesting for fashion week.  Please check in with me in August!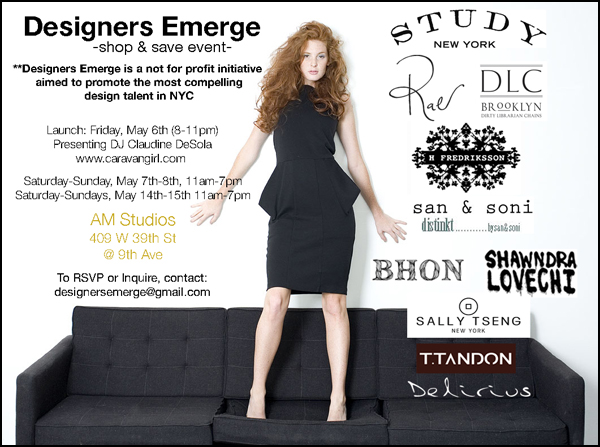 More about Designers Emerge: Many of the featured designers produce locally in the Garment District and we are excited to bring you the first ever pop-up store in the fantastic AM Studios, just a few blocks away.  Designers will meet and greet their customers directly, and even help them style their looks.  The long term goal for Designers Emerge is to create a great space where designers can have shows, events, and sales at an affordable cost within a select community of designers.
Our Pop-Up Store will take place over two weekends in May, and all major credit cards and cash will be accepted.
Please join for our launch party this Friday, May 6th from 8-11 pm.  Shopping will continue on Saturday and Sunday May 7th-8th, and then resume the following weekend on Saturday and Sunday May 14th-15th.