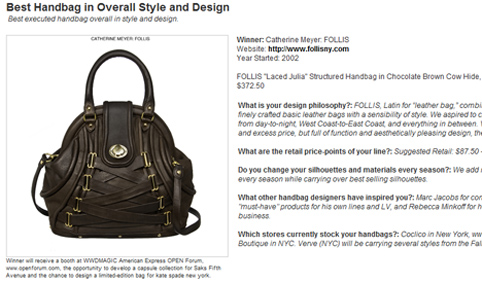 A few days ago I had the pleasure of being a preliminary judge for this year's Independent Handbag Awards. Myself, along with a handful of other influencers in the fashion writing world, were invited to spend a lovely Sunday afternoon at the beautiful Paramount Hotel in Midtown Manhattan, looking at handbags, nibbling on treats, sipping cocktails and coffee (LOTS of coffee!), and ultimately helping to decide the fate of some of the world's emerging handbag designers.  Pressure?  Um, yeah.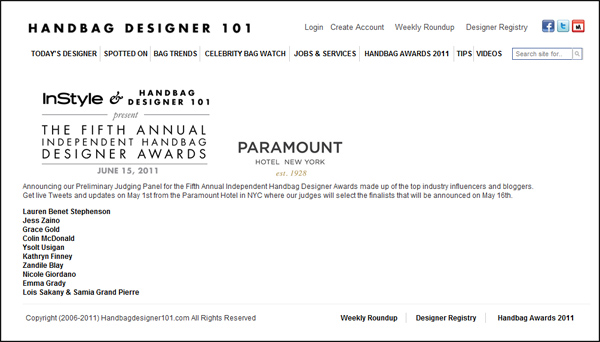 You may think I'm exaggerating about helping to determine the fate of the applicants but, honestly, I'm not.  I don't think I fully understood the impact of our little group's decision making until I arrived at the judging event on Sunday. While having a good time, sipping Figenza Fig Vodka and enjoying things like manicures by Incoco were all encouraged, we were ultimately asked to really give our full attention and a discerning eye to all contestants.  We took this request quite seriously once we learned the following: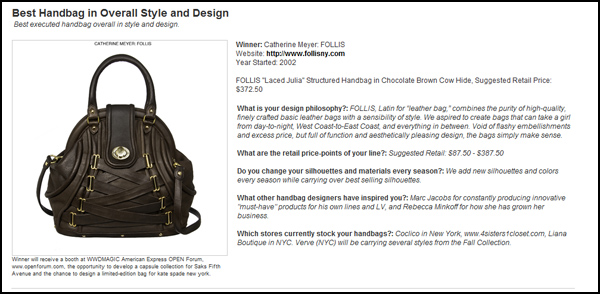 Best Overall Handbag Winner will receive a booth at WWDMAGIC , the opportunity to develop a capsule collection for Saks Fifth Avenue and the chance to design a limited-edition bag for Isabella Fiore.
Impressive, right?  So serious we were (well, we did have our share of fun mind you) and we proceeded to sift through 1200 handbag submissions, choosing the top 10 in each category, for final judging by the event sponsors.  It was an enormous but fulfilling task.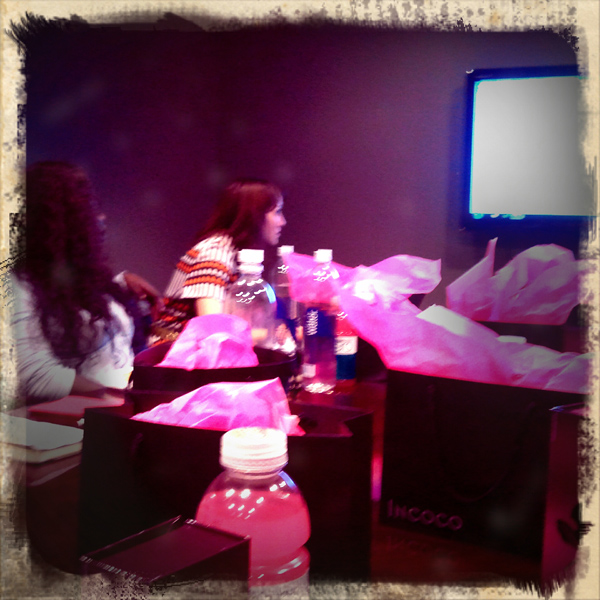 In addition to being exposed to some of the most impressive globally based handbag designers out there, another exciting part of the experience was being introduced to, learning about , and connecting with 10 of the most innovative and forward thinking bloggers and writers that New York has to offer.  Who are they?
So, what happens when you put all this great talent in a room to help decide on the future of other great talent? Something grand!  We discovered amazing labels we didn't know existed, learned about some labels that still need a little guidance, came to realize that the indies are just as active in determining trends as their more established counterparts, and each put in our 2 cents to determine who should move on to the next round.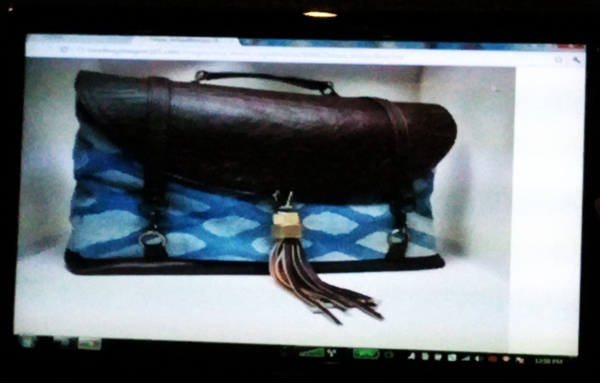 Oh, we also collectively made a few points about what not to do when submitting your work for the Independent Handbag Awards, or any other fashion competition for that matter.  (Kind of inevitable, right?)  So I thought I'd share that as well:
Photography: there is nothing more important when submitting online than the image of your work being absolutely wonderful.  This is the only representation of your work that the preliminary judges will see.  Make it great.
When asked to submit only one image, don't submit an image of the inside of your bag.  We cannot possibly get a good handle on what the bag looks like.
When there are several categories from which to choose, do your research and think hard about which one best suits your work.  There were several beautiful bags that we saw that, sadly, were submitted in a category that was not at all relevant to their work and therefore disqualified. When in doubt, submit to more than one.
When sifting through your collection to choose the design you want to submit, consider asking several people in your circle (and even out!) which they would choose and why.  Tally the votes, analyze the feedback, and make an informed and discerning decision.  You get one shot, then you have to wait until the following year's awards to try again.
READ THE INSTRUCTIONS.  A surprising amount of designers submitted sketches in the categories that required produced bags and submitted produced bags in the categories that required sketches. Don't be careless.
OK, I think that's all I can share about Sunday's festivities.  In the next few weeks we will learn about the finalists and I will absolutely share all the juicy tidbits.  Until then, you're just gonna have to sit tight. 🙂