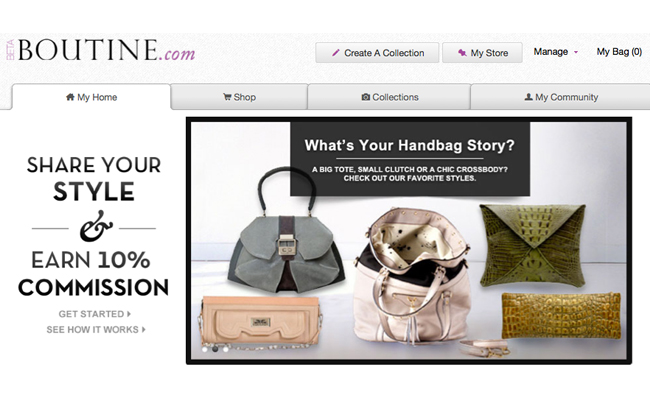 We've just discovered a new social commerce fashion start-up for emerging designers called Boutine.com that we think is pretty interesting because it has a unique point-of-difference. The concept revolves around three core users: emerging designers, stylists or fashion enthusiasts and shoppers.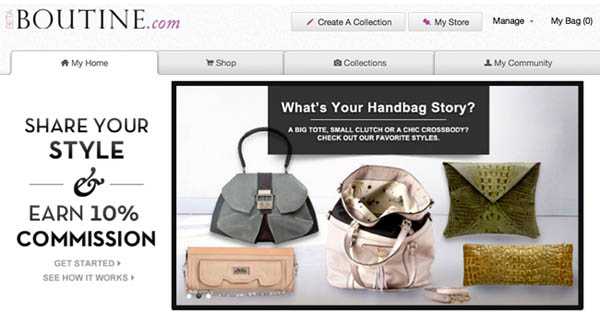 Here's how it works:
1. Emerging women's wear and accessory designers that work with Boutine get their own page where they can add photos of products, descriptions and their bio.
2. From here, fashion "stylists" or anyone that loves fashion can sign up and build their own boutique for free using products from emerging designers just as if they had their own e-commerce store. They can even brand their store with a specific user name and for bloggers, this is a great way to extend their brand. Once products are added to their store, they can share these items on social media platforms like Facebook and Twitter or wait and style a collection (e.g. Date Night or East Village Weekend) that they are able to share with their community.
3. The novel part of the concept is that if someone makes a purchase from the boutique owner's page, they earn 10% commission from the sale. This incentive-based concept encourages these stylists to share their curations with their networks, which increases the likelihood of a sale.
So why do we like Boutine?
1. Platform for emerging designers:  It's another platform for emerging designers to sell their products with the help of stylists. Plus, the Boutine network appears to be international and with that type of exposure, you never know who will buy your product.
2. A design community offering feedback:  With its community feature, people can follow designers or add products to their wish list. Users can also ask a designer a question, which is pretty fun too. Designers can also see how people are styling their products and which boutiques their products are in. For a designer, this is a great way to see who is receptive to your product line. And, as we all know, this type of information is huge when building your brand.
3.The power of social sharing:  With the commission feature, it seems that stylists will most likely want to share products and collections to their network. We think that the power of leveraging someone else's network is great. For a designer, this ultimately means that your products could potentially be shared on various platforms by not just one stylist, but multiple which is probably more than you can do alone!
After playing around with the site, it looks like the key to being successful on Boutine is having good product photos so these stylist can properly promote your product. You'll also want to have detailed product descriptions so when others share products, they don't just say you have a cool bag, but a great summertime leather crossbody made in New York (it's just a harder, more compelling sell) and of course, being active within the Boutine community.
Check out Boutine.com and see if their style, share and earn model is right for your business.