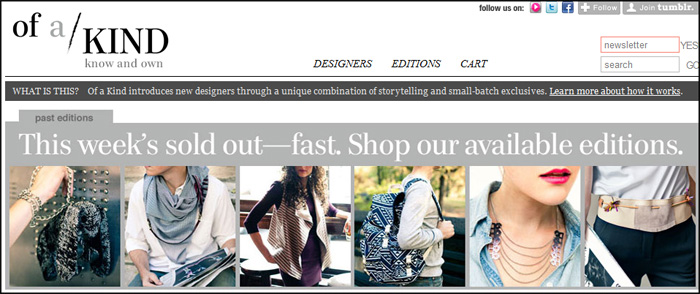 Standing out in the fashion world is not an easy thing to do.  You pour your heart and soul into your work and hope to death that other people love it as much as you do.  It's sort of a cross your fingers and pray (to whom/whatever it is you believe in) that things will work out.  Of course, smart marketing and proper public relations are integral to your success. But not everyone can afford to take on teams or firms to handle this.  So this is where you, as designers, need to think creatively.
One way to get some recognition for your brand is collaboration. Working with fellow labels, artists, musicians, or existing web sites to pool your talents and resources is an excellent way to get attention that you may not have been able to procure alone.  One initiator of collaborative endeavors that stands out in my mind is OfaKind.com, a website that "introduces new designers (to the world) through a unique combination of storytelling and small-batch exclusives".  Now you know how we at StartUpFASHION feel about storytelling; it's an absolute must.  And this idea of creating an exclusive design is just as exciting.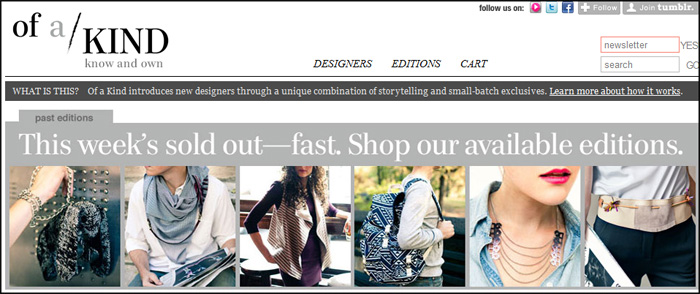 Here's how it works:
Each week, we select one designer whose work we love to feature on the site. We share a series of stories about that designer—inspirations, personal life, taste, training, you name it—along with a limited-edition piece designed exclusively for Of a Kind.

Editions range in size from five to 50 pieces, and each piece comes with a certificate of authenticity that's signed and numbered by the designer. You can display it proudly wherever you wish.
One of the latest collaborations on Of a Kind is Alex and Eli.  The label, created by two Parsons students, designed 13-of-a-kind Bolo Bow Ties. The ties, which are made of cream suede and black leather, retailed for $125 and sold out quickly. Always a good thing for the designer, right?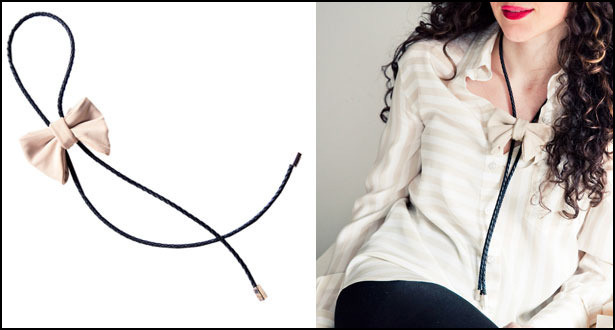 By working with an already established website and capitalizing on its popularity, the Alex and Eli label was able to reach a targeted audience that, before which time, may not have known anything about them. No, they didn't make an excessive amount of money but that shouldn't be the goal.  The point of collaboration is teamwork, networking, recognition, and exposure.  Follow this model, enjoy yourself, work hard, and before long collaborators will be coming to you.