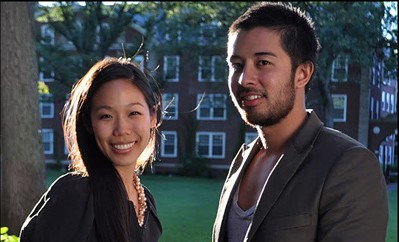 Recently we reported on an event in New York with panel speaker Vivian Weng, co-creator of FashionStake.com. Well, we managed to catch up this jetsetting entrepreneur to learn more about Fashion Stake's mission to be an innovative and unique bridge between designers and consumers.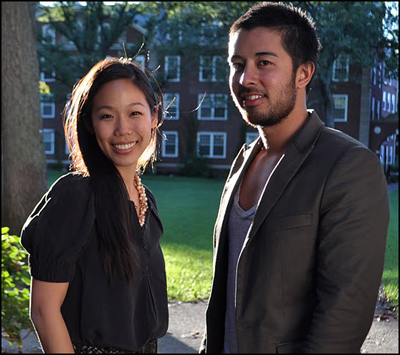 1. Please tell us a bit about yourself, how and why you started FashionStake.
My business partner Daniel and I saw huge changes in the industry over the last few years – namely, that the fashion industry was opening up (e.g., fashion shows being streamed online, bloggers gaining prominence/importance in the industry) and that customers were craving an opportunity to somehow be a part of the creative process.  We saw fashion morphing to a two-way dialogue; and we were excited by the idea of crowd-sourcing and crowd-funding.  I had previously worked with emerging designers and knew how much designers struggled with marketing their collections and finding their target consumers.  And from a consumer standpoint, I didn't know of a single place on the internet where I could discover the newest, up-and-coming talent.
2. What is FashionStake's mission?
Our mission is to connect designers and consumers in a way that hasn't been done before.  We aim to "democratize fashion" by taking the decision-making power and handing it over to the crowds.  It's exciting because our community (which is open, so anyone can join) determines which designers and styles we sell on our site.  Our goal is to become the premiere online destination to discover and engage with the best emerging talent in fashion.
3. What makes FashionStake different from other online marketplaces for emerging designers?
FashionStake is different than other online marketplaces because we are fully crowd-curated.  That means that we carry designers and styles that have already been vetted by your peers, so you know that we're carrying great quality products with great design.  Effectively, our Voting Booth sets the bar for new items that we carry on our site.
4. Tell us a bit about the Voting Booth.  What made you implement this feature to the site?
The idea of a Voting Booth came from our first consumers.  We actually started as a site that allowed users to invest directly in designers; and we got feedback that users wanted to be able to be part of the creative process in a less committed way.  The Voting Booth allows everyone to have a voice in the decision-making process, and it helps us effectively build an engaged community of fashionistas on our site.
5. Other than excellent craftsmanship, which I can only assume is high on your list of criteria, what else do you look for when deciding to work with a designer?
Yes, we look for excellent craftsmanship/product and also an aesthetic and price point that fits with our brand.  We also do extensive reference checking (with suppliers and other retail customers) to ensure that designers delivery on-time, etc.  However, we leave the traditional "buying process" to the customers because our community is the decision-maker in deciding whether FashionStake works with a particular designer or not.
6. Other than an e-commerce platform, what benefits can a designer expect to receive if they are welcomed onto the site?
Given my experience with working with emerging designers, we are really a designer-friendly site.  Designers can expect immediate exposure to their target market, in addition to marketing and publicity support.  Because we aggregate many designers' collections on our site, we have the resources to market our designers – both collectively and individually – through our email campaigns, social media, search engine, etc.
7. When becoming part of the FashionStake family, what can a designer expect in terms of responsibility on their part?  What cut does FashionStake require?
We don't discuss our terms publicly, but a designer basically should expect to work with FashionStake as a long-term partner.  Once he/she is voted onto our site, we really act as a best-in-class ecommerce platform for them.  Designers need to deliver their product and also do their part to promote their collections.
8. Roughly how many designers currently sell on FashionStake?  Do you have a goal in place for how many you would like to reach in a given time? Say 1 year.
We currently have 50 designers who are selling on FashionStake.  We aim to rotate these designers, so that we have a constantly refreshed site where users can discover new pieces and brands.  We like to bring out 1-3 new designers per week through our Voting Booth.
9. Are there any exciting plans for the future of FashionStake that you are able to share with us?
There's so much more we want to do!  We'd love to make the site even more interactive by bringing the designers and customers into direct dialogue with each other, and allow users to really become engaged with the Voting Booth.  Stay tuned – we'll be rolling out many new features in the coming year!
10. What excites you most about emerging and independent fashion?
I love independent fashion because I think there is so much new talent coming out every year – more than traditional department stores can embrace.  That's what creates opportunity for us: that our target customer doesn't want to be wearing the same thing as the woman next to her.  And I think new talent is often untarnished and full of creativity, and the clothes reflect that boldness.
Thanks Vivian for an informative and exciting interview!