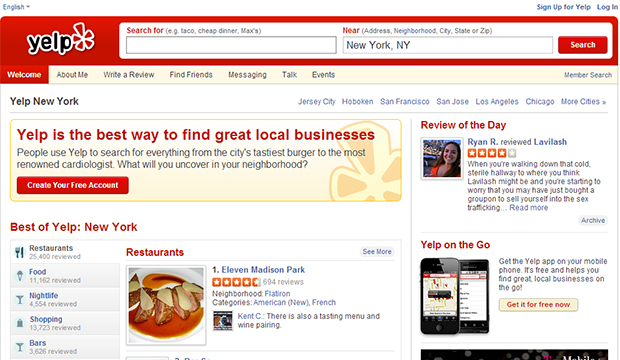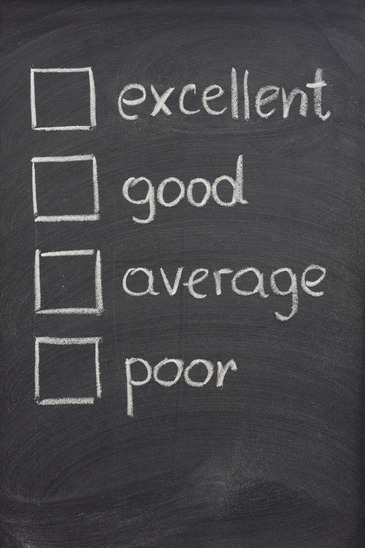 Yelp. It's been around since 2004, has over 84 million registered users and over 33 million reviews posted to the site and is definitely one of the most powerful when it comes to social review sites.
If you've never heard of Yelp, to define it in the most simple terms, its purpose is "to connect people with great local businesses". Users sign up, log in and post reviews on everything from restaurants to boutiques to nightclubs to auto mechanics in their local area, grading them between 1 and 5 stars.
One of the most important tips to using Yelp effectively is making sure you have your business profile completely filled out, free of spelling errors and with some great photos of your products or an example of your services.
It's important to include cross streets in your address, particularly if you're in a major city and also extremely important to feature a couple of photos of your store front so potential customers (especially those new to the area) know exactly what they're looking for when they're searching for you.
What's so great about Yelp?
As a new business owner, assumingly with a small marketing budget, positive word of mouth is essential to growing your business.
Yelp is a great motivational tool to keep in mind to ensure you and your staff are always 'on' and always giving excellent customer service to each client.
Yelp also allows you the option of offering a discount on a product or service to reviewers to entice additional business. Assuming someone new to the area is on Yelp compiling a list of women's boutiques they should be shopping in, yours would certainly be on the top of their "Must Visit" list if you not only rated highly on the website but if you also offered a special promotion on their purchase.
Additionally, you can take some of the positive comments people give in their Yelp review and post them on your website along with their name as testimonials cross promote to take your social marketing one step further, showing your customers you're engaged on multiple platforms and you're really listening to what they have to say about your business.
Many businesses panic when negative feedback is left about them on a social site where it can be viewed by others. Yelp allows business owners to respond to all feedback which gives you the opportunity to offer to correct whatever may have happened to cause the customer to have an unfavorable experience.
An important spin to put on negative feedback is that it can be used for research or training purposes to understand what customers expect from your company and what you can do to make things better going forward among your team members. And don't only respond to negative reviewers, giving a shout out or a quick thank you to positive reviewers takes your customer service one step further and shows you're really engaged with your social audience.
Speaking of research, because all of the reviews are available for the general public to read, Yelp also provides business owners a fantastic opportunity to read up on reviews about their competition and see how they compare. Take note of both the positive and negative comments that are being made about similar companies and use it to your advantage to really learn what's important for your clients to experience when they're interacting with your business and your staff.
One of the greatest features Yelp offers is the dashboard with analytics about each company. From here, business owners get an in-depth view of their performance metrics from their business page. You're able to track the amount of traffic your Yelp profile receives and also see how many times your business showed up in the site's search results. Tracking "User Actions" gives you an even closer look at how visitors are engaging with your business. Actions include things like clicks to your website, mobile check-ins, and photos uploaded. This information is perfect for when you're trying to determine things like when the best day of the week or time of day is to run a promotion.
Is your boutique registered on Yelp? Have customer reviews increased your business or driven traffic to your location?