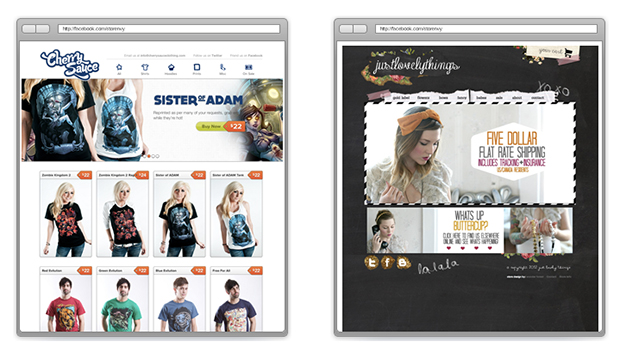 Have you heard of Storenvy?
It's a platform for independent designers and retailers to build customized storefronts and then leverage the social components of the site to interact with customers who you may not have reached on your own.
Storenvy is a place for emerging designers to sell their work, a place to discover independent retailers, and a shopping website with its own social network.
For designers looking to sell their merchandise online, unlike Etsy, the Storenvy stores are standalone branded websites that users can customize however they want. They allow unlimited products and up to 5 photos of each item.
Another feature is the Storenvy Marketplace. Every time a user uploads a product to their site, it's automatically listed on the Marketplace, where users from all over the world to discover, share, 'envy' and purchase it without actually having to visit your store.
Not only do you get a custom store that is all your own, but you also get access to thousands of customers already shopping at Storenvy.
Store owners have the option to allow customers to shop directly from their Facebook page and reward them with exclusive discount codes.
Customers can also choose to "watch" your store and get an update whenever you post something new.
The ever-growing Storenvy product catalog is curated by the community. That means that when a customer envies or buys something from the marketplace, they're promoting your product to the rest of the Storenvy shoppers.
Other features include full inventory and order tracking, visitor stats, the ability to offer discount codes, and (for a small fee) your own domain.
What do you think about platforms like Storenvy as a means of selling your products?