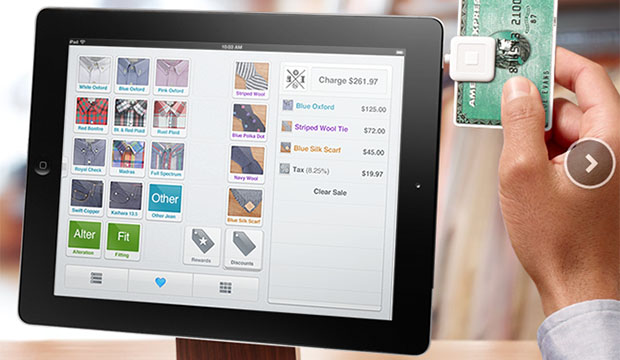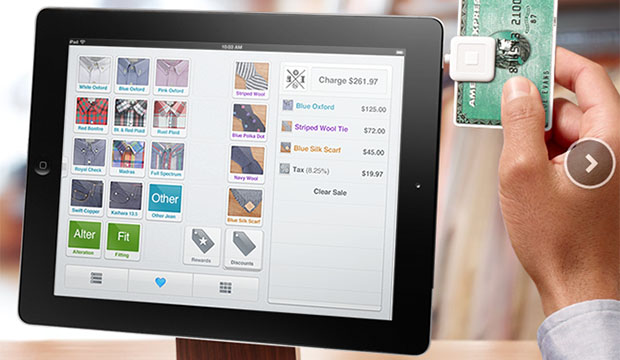 It only seems right that Jack Dorsey, a co-founder of Twitter (who coincidentally enough had a short stint as a fashion designer) known for disrupting social communications as we knew them would also assist in co-founding a mobile payment application that is anticipated to disrupt the financial services industry and is on target to reach $220 million in revenues this year.
In 2009 Jack Dorsey co-founded Square, a device given to anyone who signs up at no charge, which provides a service allowing any individual or small business to accept a payment by credit card via their tablet or mobile device.
Users download an app, attach a small plastic square-shaped credit card reader to the headphone jack of an iPhone, Android or tablet and then swipe a payment card through the slot.
Unlike the high cost plans credit card companies set up with store owners, Square charges the same 2.75% fee to everyone; from hairstylists to ice cream shops to vintage boutiques. Payments received during business hours are processed and deposited to the merchants accounts the next day.
"Just as Twitter made anyone a broadcaster or pundit or diarist, Square can make anyone a merchant."
Square's website indicates that this mobile payment system is a "sign of the times" as there is no more fumbling for pens or sorting through paper receipts.
Customers can add a tip, sign with their finger and receive an electronic receipt via text or e-mail.
Bulky cash register systems that take up endless counter space inside retail establishments may quickly become a sight from the past.Utilizing the sleek design of an iPad and through an app, Square allows for a unique check-out experience both for the store owner and the customer.
It's simple to create a touch-screen inventory of the items you sell by adding names, prices and photos to a favorites list for easy access at the register.
You can also keep customers coming back by:
customizing an 'in app' loyalty program
creating virtual punch cards
deciding on the amount you want to award to regulars.
The best part for a retailer is the access to Square's Analytics:
You can sign into your account from anywhere and the dashboard makes it simple to spot trends in your business.
You are able to access valuable data letting you know your sales, the busiest days and times of the week, and see comparisons between weeks or months
You are able to make informed decisions about your business
Beginning in early November, Square will be the payment service of choice for Starbucks and will be processing all of their credit card based payments. They will also allow users to make purchases using their phones through a digital Starbucks Card.
As far as Jack Dorsey's fashion design career, it was short lived. He enrolled in a fashion class at Apparel Arts, a trade school in San Francisco, around the time Twitter was starting to become popular:
I had about 10 classes where we built, from drawings to construction, skirts. Pencil, asymmetrical, mini. I wanted to make jeans, but you start with skirts because they're easy. Then Twitter started taking off—and I never got to pants.
Have you considered using Square for your business?  Whether a retailer with a brick and mortar store or a designer taking part in trunk shows, how has this technology helped move your business forward?