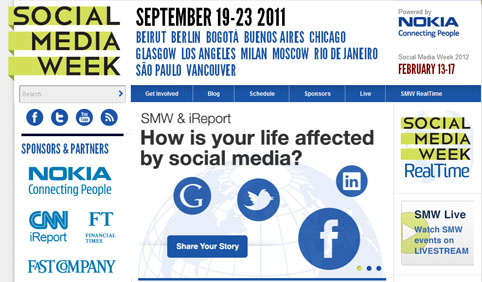 As an emerging designer, you probably have your hands full. Well actually, you do have your hands full. From designing to production to sales, there's a lot that goes into your day. Then, there's finding time to engage in social media. You're probably on some platforms or know that you should be because everyone says that "you should be." As we all know, there's only so much time you can invest and there are so many sites you can take on, that it may be hard to decide how much to invest on Facebook, Twitter, Tumblr and all of the other ones. The key here is knowing which consumers are using these platforms and how you can use this information to connect with your target.


Recently, I had the opportunity to attend Social Media Week Chicago and went to a presentation hosted by NM Incite, a division of Nielson, one of the top global market research companies. They presented findings from their Q3 2011 report called State of Media: The Social Media Report. The lecture explained where social media stands today from a quantitative standpoint, which helped me gain a better understanding of consumer media usage and how they are using these platforms.
What were some interesting key lessons?
Social networks and blogs rule the Internet: In the United States, social networks and blogs reach almost 80 percent of active Internet users.  23 percent of time spent on the Internet is allocated to various social platforms and is twice more than the next category, which is gaming.
Women dominate these networks, but most age groups over index: Overall, social networks skew female. Today's woman spends most of her time on Facebook, watches video more than her male counterparts, and explores newer platforms like Tumblr. The next largest group is and 18-34 year olds. However, it you look at all of segments, every age group indexes over 100 except for under 17.

Mobile usage is on the rise:  Computers are still the number one resource used to access social media but mobile phone usage is on the rise with 40 percent of social media users accessing content from their phone.  App usage has gone up 30 percent from a year ago and Facebook is the most popular app on all operating systems while Twitter is #5.
What are the top platforms?

Facebook remains the top network and website: We all know the power of Facebook, but to put in perspective, the network is 73 times bigger than the next biggest platform. In the United States, Americans spend more time on Facebook then they do on any other U.S. website and 62 percent of Facebook page views are from females.
So, as you being to think about your target and your business objectives, looking into Facebook and their enhancements (layout, stores, advertising) may be an investment to consider.
Tumblr has seen exponential growth: In one year, Tumblr has almost tripled its audience with a 183 percent change to become the 8th largest social network and is most popular amongst female teens. In fact, Internet users ages 18-34 were 75 percent more likely to visit Tumblr.
The success could be due to its ease of use with its simple upload feature and turn-key templates. It may also be due to its visual appeal and intra-network promotional capabilities.  Plus, it can be linked to Twitter, Facebook and Instagram, connecting popular social networks.
What does this mean for a fashion designer?
These numbers are powerful and should help to confirm that incorporating some of these platforms to your marketing strategy will help your brand stay relevant and also reach your target. Like any medium, you must decide what's right for your business. The first step is to map out your goals and objectives each season. Whether its feature a product, get feedback or share news, think of these platforms and tools in your kit. Whatever it is, there is probably a network that lends itself best to your needs and can help your brand stay connected socially.
Source: State of Social Media: The Social Media Report – Q3 2011 by NM Incite, a Nielsen/McKinsey Company