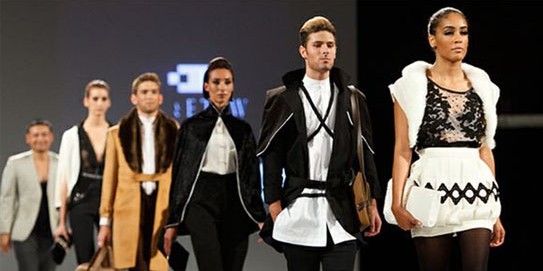 Not too long ago, it was Boston's turn to host Fashion Week. In an event that was highly anticipated by the area's fashion-loving community,  both local and international designers were invited to strut their stuff in front of an anxious and style-savvy audience.
We were honored to be invited to attend some of these incredible events and will be sharing our experience over the next few weeks. First up is the fourth annual Emerging Trends show,  produced by Synergy Events at the South End's Cyclorama. Seventeen up-and-coming designers from all over the world showcased their amazing work, and we were so excited to speak with a few of them.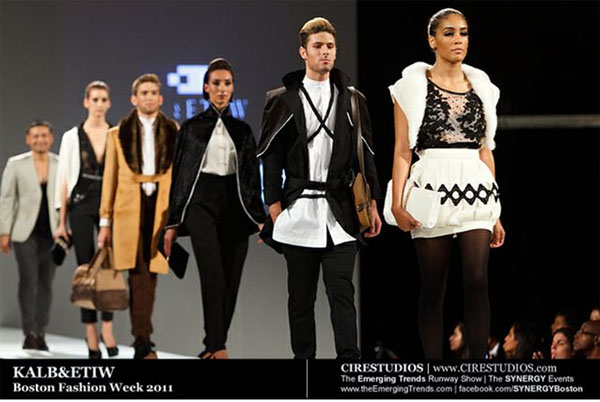 Photo courtesy of Synergy Events
One of the headlining designers of the evening was Rana Al Soliman.  Rajadano,  her accessory label, has been around for four years, and this vibrant array of purses and scarves is her second collection.
Based in Saudi Arabia, Soliman's design aesthetic focuses on the modernization of cultural styles. She wishes to aid in the revival of ethnic handicrafts, embracing traditional techniques such as beading, and incorporating unique materials like ostrich feathers!  Each bag and scarf comes in a bright, jewel-toned hue, and is handmade.
Linda Rowe Thomas has dreamed of being a designer ever since she was a little girl, a dream that has most certainly come true. After starting her own business in 2001, Thomas has shown three times at New York Fashion Week, and this year marks her first in Boston.
Off runway, numerous celebrities on the red carpet have worn her designs. She sews all the garments herself creating truly couture pieces, and sells to local boutiques in her hometown of Little Rock, AK. After all the hard work she's put in, Thomas' collection was designed with the "ultimate tropical vacation" in mind! She used bold hues of blue and orange, as well as crisp white, a unique and striking color combination not often seen on the runways. Lightweight, luxurious fabrics such as silk charmeuse and georgette,  perfect a beautifully designed resort line!
May Mon Aye, Sterlingwear of Boston
May Mon Aye is the head designer at Sterlingwear of Boston, coming to the company in 2009 after graduating from Mass. College of Art and Design. Sterlingwear has been the sole manufacturer of the U.S. Navy pea coat for over 40 years. All of the company's garments are locally manufactured in East Boston, employing over 250 people.
Looking to appeal to a more fashion-conscious consumer, Aye has re-vamped the company's look while remaining true to tradition and function. Classic fashion icons including Audrey Hepburn and Jackie O provide inspiration for Aye, as well as architecture and nature. This is her second showing at Boston Fashion Week, having previously shown a lingerie collection, and her first with Sterlingwear. Some favorites include a modern, color blocked hooded trench, and "Anya," an elegant merino wool coat with faux fur trimmed collar and cuffs.
Ruby Ellen Johnson, Ruby Johnson
After seeing Ruby Ellen Johnson's eponymous label walk the runway, I can't help but compare her to another Johnson, Betsey to be specific! Bright colors and a whimsical, youthful spirit characterize the garments.
Having originally designed as a hobby, two years ago Johnson decided to take a chance and pursue designing full-time. She is inspired by nature, and incorporates floral motifs and materials such as all-natural silk into many of her dresses.
Based in Canada, all the design and production work is done locally, an aspect of her company that is very important to her. When asked about the challenges of running her own label, she earnestly responded "Teaching people to appreciate handmade!" It is her dream to someday employ underprivileged women to teach them marketable skills and provide them with a source of income.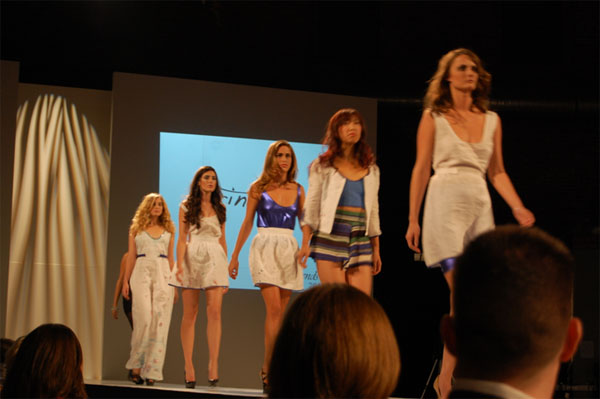 Even though I made a little oops introducing myself to designer Dina Trindade (in Portugal where she is from, a kiss on both cheeks is more acceptable than a handshake!) she graciously forgave me and offered me a look at her unique collection, 'Trinitas.'
This was Trindade's first showing at Boston Fashion Week.  A recent graduate of UBI, her collection is her senior thesis, and the third she has designed. It is inspired by the dreamy spirit of summer, brought out through her textiles. Trindade paints quirky line drawings onto breezy linens, cottons and silks. Even her lookbook was beautiful, incorporating her abstract illustrations among photographs and fashion figures; it was similar to looking through a sketchbook! Other highlights included bright, striped fabrics and a gorgeous pair of bold, color blocked leggings.
Sebastian Sokha of Kalb&Etiw is hands-down one of the most genuine personalities I have met in the industry. With no formal fashion education, Sokha has been designing only eleven months, showing at Boston Fashion Week for the first time. Despite this, his garments look as though they have been created by someone with many years of training and collections under his belt!
Some standouts included a white vest with strips of fabric draped in a woven crisscross at the back, as well as a beautifully classic camel-colored jacket with fur trim. Impeccably tailored and sophisticated, the Australian designer's pieces bring a new excitement to the otherwise subdued tones of his label's namesake, black and white.
He cites his inspiration as the contrast between moments of his past and present, hence the contrast in the name and color palette of the collection. To designers just starting out, he advises not to be afraid to ask for help (he credits his mentor Akbar Ali for showing him easier ways of working) and most importantly, that it is never too late to pursue your passion!
Special thanks to Samantha Hansen of Synergy Events for providing so much help and for being such a wonderful host! To contact or purchase from any of the designers, visit the sites listed above or email contact@thesynergyevents.com for information.