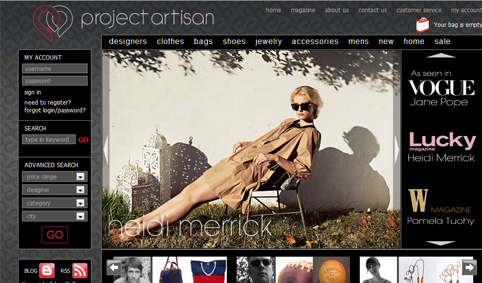 Lately, I keep hearing the term, "who do you want to hang with?" Meaning, if you are going to be sold at a retailer, what type of brands do you want to be merchandised next to. The importance of being around like-minded labels is crucial as brands are given credibility and awareness by association. Plus, it helps you establish what category your brand will fall into and will set the stage for your marketing efforts. As a designer, finding your niche is important and the truth is, being all things to all people is just not necessary and there's no need to spread yourself thin! Luckily, there are some strong resources out there dedicated to cultivating focused communities for designers.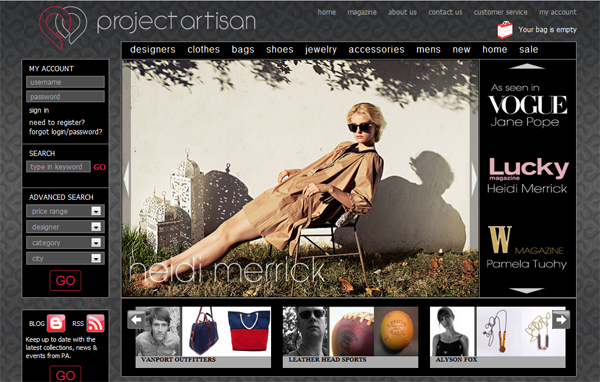 We've recently become a fan of Project Artisan. Celebrating their one year anniversary, this e-commerce site focuses on a niche group of emerging designers and fosters a group of luxury brands that share a few common beliefs—solid craftsmanship and appreciation for all they produce in terms of materials, quantities and social good.
To find these brands, the team looks everywhere from Barney's to Etsy, hand-selecting designers in a range of categories including menswear, womenswear and accessories around the U.S. and internationally. Their main set of criteria is that items are made with care, straight from the designer and not mass-produced.
In terms of social responsibility, which has become a bit of a grey area, they leave it up to the designer to interpret. For example, some designers focus on local production like Nathalie Chanin of Alabama Chanin that creates hand-sewn sustainable garments made from 100% locally made cotton and up-cycled materials close to her hometown.  On the other end of the spectrum, Ark Collective a California-based backpack label, founded on the Get to Give model, gives a backpack to a student in need for every one that is purchased on behalf of the customer.
Regardless of category or type of social good, this platform provides designers with solid footing and support for their foray into the marketplace. Within the site, designers are able to sell their products, share their story and even embed video, which is becoming increasingly important as visual content helps connect the world of the designer to the consumer in a compelling way, especially with socially responsible brands.
In addition to their e-commerce platform, the team at Project Artisan helps promote designers in their network with marketing and PR, events, in-network collaborations and resource shares.
With a year online, Project Artisan has created a prosperous community of designers and your go-to place for emerging, artisan designers.