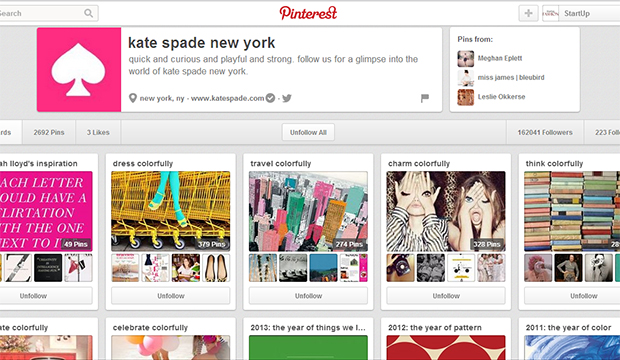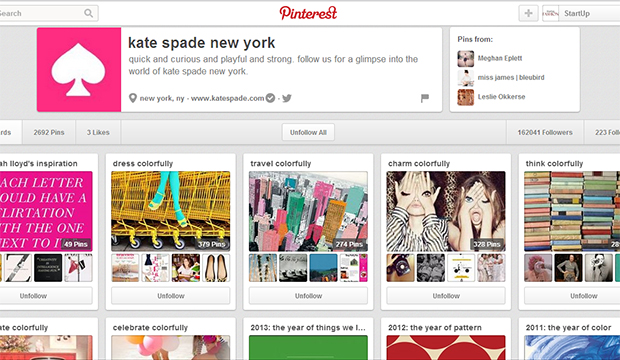 In honor of Pinterest's recent launching of its first API, this week we are sharing some helpful tips to make the most of the platform and how you how to use Pinterest to grow your fashion brand.
With 82% of all fashion and retail-related pins coming from consumers and only 18% from brands, being active on Pinterest is a favorable way to connect with your brand's target community.
How to Make the Most of Pinterest as an Emerging Designer:
Timing: Putting together an editorial calendar for pins is a great way to stay on top of how often you are creating content about your brand and engaging with followers. Although there are studies arguing that there are optimal times to pin within the fashion and retail industry, ultimately your pinning activity will come down to the habits of your fans and your own schedule. If you're strapped for time, there are a number of hands-on services that will even help schedule pins for you including Pingraphy and Curalate.
Pinnable Content: We strongly recommend incorporating Pinterest buttons throughout your brand's website, making it easy for visitors to pin the designs or products that they love and are interested in bookmarking.  There are also opportunities to engage with your followers by including pin buttons on other forms of content like a blog page or even within email newsletters. Again, these buttons lend themselves well to fans following the growth of your label over time and developing an interest in your brand as a whole.
Storytelling: The brands that are most successfully using Pinterest are those that use the platform to share beyond a sheer product-level. Create boards that speak to the aesthetic of your brand, the meaning behind your designs, and what inspires you as a designer. Check out Kate Spade's Pinterest for more inspiration for smart Pinterest content.
Business Savvy: Though a lot of people don't realize it, Pinterest has its own business center intended to help you as a small business owner take advantage of the platform's unique B2C opportunities. The center provides tips for creating better visual content and also features case studies that will be of interest to you as you layout a Pinterest strategy for your brand.
[divider]
The tips listed above are a good place to start when it comes to your Pinterest strategy. But for a much more in depth look at everything you need to do to make the best use of Pinterest (both the technical and the aesthetic), check out the video workshop How to Get 1.5 million Pinterest Followers with expert Melissa Taylor of the blog Pinterest Savvy.