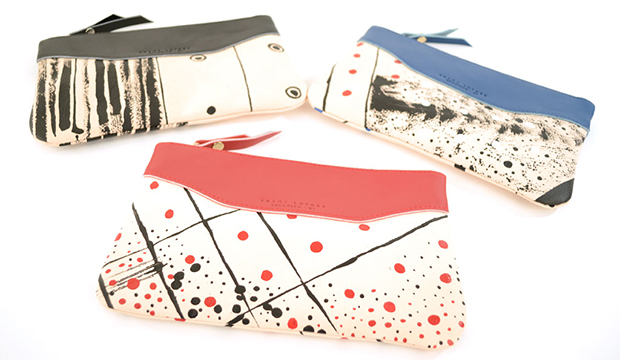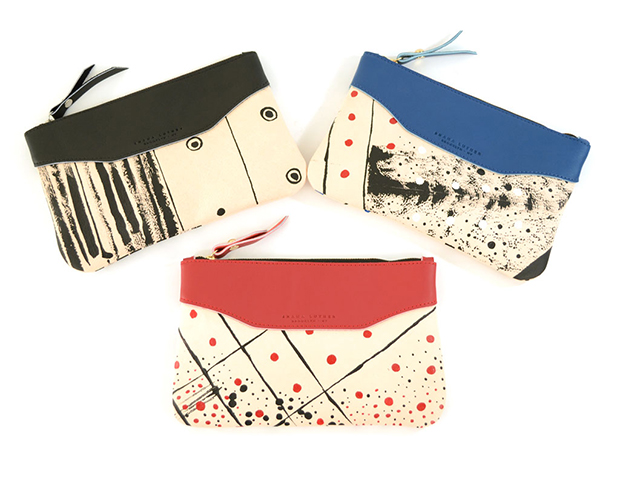 We're big fans of designer collaborations. Finding ways to connect with your fellow designers to cross promote each other's work is such a good idea for your business.
Not only are you growing your audience by tapping into their's but you're also aligning your brand with another beautiful, creative, and inspiring brand that people love. Assuming, that is, that you do it right.
A lot can go into a collaboration.
How you get a collaboration going:
Finding a collaborator– who's aesthetic complements yours, is there a brand that isn't in fashion that makes sense with yours (food, sport, lifestyle, etc). While designer collabs are fantastic, so other kinds of collabs.
Defining the audience– comparing notes and confirming that you have a similar audience
Making it fair– how large an audience does each collaborator have, how skilled is each collaborator at marketing
Creative Collabs– Creating a different approach to a collab, what's the story behind it, why should people care
Pitching the Collaborator– how to build a relationship before pitching the collab, creating a compelling proposal, demonstrating your brand's value
Then there's the logistics of it all:
The legal aspects– even if this is a one time thing, it's smart to get an agreement in place. I've seen even the closest of friendships break up over business.
Promotional aspects– get clear on exactly what each brand is responsible for- the frequency of promotion, on what channels, and for how long.
Payment– who's collecting payments? Who's doing the financials and figuring out taxes and payouts, etc.
Duration– what happens if there's left over inventory, what happens if it doesn't sell, how long is the agreement in place.
We interviewed one of our StartUp FASHION Community Members, handbag and accessory designer Shana Luther, and designer Megan Huntz about their brand collaboration called Brooklanta, which was a little more low key in terms of logistics, but such a great success!
Please tell us a bit about the recent collaboration you had with a fellow brand.
Shana: Megan Huntz is a women's wear designer/artist based in Atlanta, GA and also an old friend of mine from our Pratt Institute days. We're huge fans of one another's designs so we figured, why not work on something together?
Megan was in the process of organizing a pop-up shop called SLOW MODE in Atlanta, so it seemed fitting to debut our limited edition collaboration (coined Brooklanta) there.
The whole experience was spontaneous and organic and we trusted one another to make our own decisions when it came to it. I picked out a beautiful veggie tanned cowhide and sent it to her along with leather paints in an agreed upon primary color scheme. Megan treated the cowhide as her canvas and the result was an abstract, beautiful piece of work that I had a hard time cutting up into bags! But cut I did and I created a limited run of small leather goods- clutches, pouches and tassels.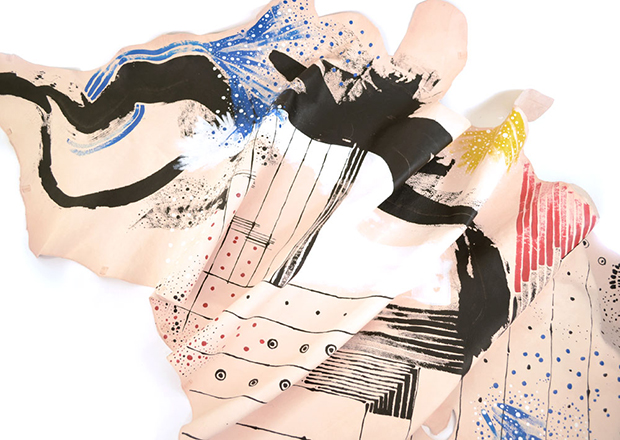 What made you decide to pursue a collaboration with another fashion brand?
Shana: I've always wanted to work on something with another designer and I love the idea of painting on leather. Megan was an industrial design major in college but always managed to throw together these amazing paintings that I always coveted. I knew the woman had mega talent. We have a very similar design aesthetic so when Megan approached me with the collaboration idea, I jumped at the chance. I knew we would have a great time working together (benefit of being friends) and would trust one another's judgment.
Megan: Shana and I have been friends since college; she studied fashion, and I studied industrial design. So, it's kind of funny that in a way she became more of an industrial designer and I became a fashion designer. I really appreciate Shana's aesthetic and quality, her process and the fact that she makes things locally where she lives. We both embody the slow fashion movement, choosing to focus on ethically made products of natural materials manufactured in the USA.
Shana and I are makers in different parts of the country, with different products, yet we share the common bonds of style and values. I think we also have a camaraderie as we are both creative entrepreneurs, forging paths as independent designers, eager to share our point of view with the world.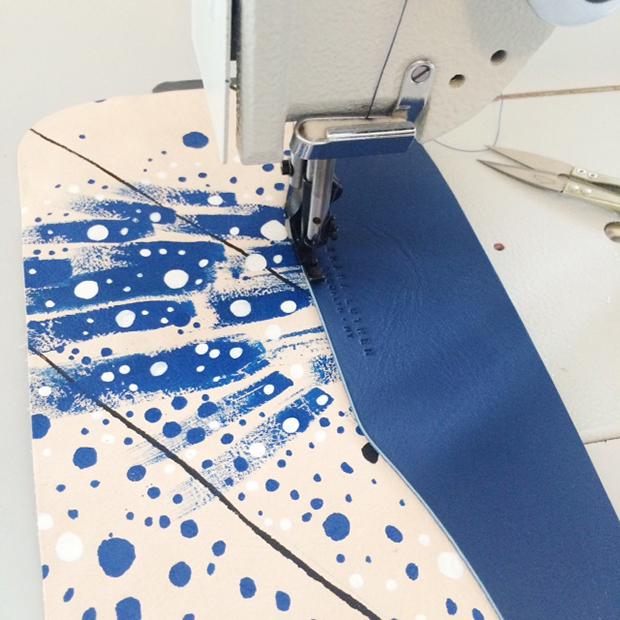 What kind of designer were you looking for? What things mattered when it came to deciding if this brand was a good match with your own?
Megan: It all happened very organically over a series of conversations which resulted in a kind of pen pal project, with an outcome that no one could have predicted.
Shana basically said to me, "Hey. You're good with paint." So she sent me a package; it's contents: an entire leather hide and some Angelus leather paints. I had a vague idea of the direction I wanted to go in, but I had never painted on leather before, so with a bit of hesitation, I started painting it as one large canvas.
When I had finished the painting, I sent it back to Shana, so excited about how she would compose the cut leather pieces to form the bags. The results were incredible!
What was the process and timeline like from from idea to product fruition?
Shana: Actually the whole process was rather fast. Megan was planning her pop-up shop and approached me about 2 months beforehand. We had a few emails back and fourth and agreed upon color scheme and what styles of bags would come out of this project.
I sent the leather and paint, she worked her magic, and then sent the hide back to me. From there I carefully (and somewhat painstakingly) cut the hide, paired it with contrasting leathers, and produced the limited edition goods.
What was expected from each brand?
Shana: Well we knew that Megan would be debuting the collection at SLOW MODE so she was prepared to answer customer's questions regarding the goods and sell her little heart out. She handled sales during the show and I kept a very limited amount here so I could sell them on my online store.
Did you have a formal agreement in place?
Shana: Not necessarily. Most of the planning was arranged via email and text. There would have been more of an agreement involved had I been doing it with an artist/designer who I wasn't so connected to.
How did payment work? Did one brand sell the pieces and then share the profits or did both brands put the products in their e-shops?
Shana: Both of us worked hard on this project in many ways- Megan creating the art and selling/promoting Brooklanta during SLOWMODE, and myself with actually hand producing the goods and selling them on my online store. All profits are appropriately split.
Megan: The first week in June, I curated a pop-up shop called Slow Mode in Atlanta. The shop was the perfect excuse to really get us moving to complete the collaboration. The concept was slow fashion, and all of the brands sold in the shop were representative of that idea. We sold quite a bit – in fact, we nearly sold out of clutches and pouches! I know that everyone who saw and purchased the Brooklanta pieces were completely charmed by our story, and the fact that not only are the pieces part of a limited edition, but they are all one of a kind.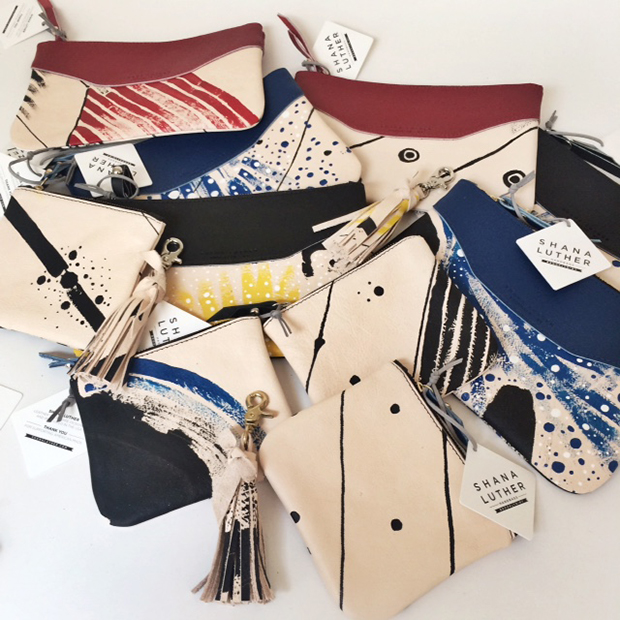 What impact has it had for your brand? How has it helped with business growth?
Shana: Megan has a strong Instagram following and during SLOWMODE there were many posts containing my pieces. Because of this, I gained some new fans. In addition to that, I believe Brooklanta got many people intrigued and talking about our endeavor together.
Megan: Designer collaborations can be very powerful for small, independent brands like mine and Shana's. Through social media, the cross promotion has benefited both of our brands, as well as brought in sales.
Anything you would do differently? Lessons learned?
Shana: Megan and I work amazingly well together so there's nothing I would have done differently with our Brooklanta project.
Will you pursue more collaborations in the future?
Shana: Most definitely. I think it's an amazing way to cross-promote and build brand awareness. Megan and I are planning on doing Brooklanta #2 later this year, possibly for the holidays so stay tuned!