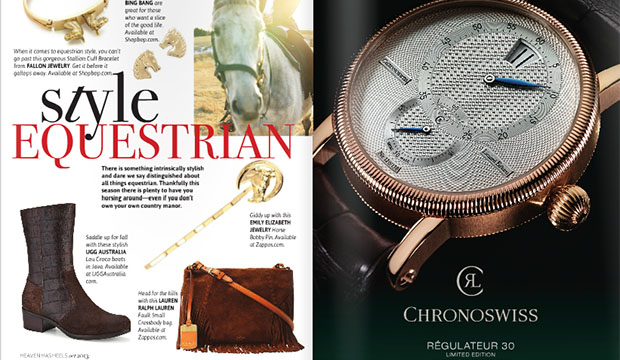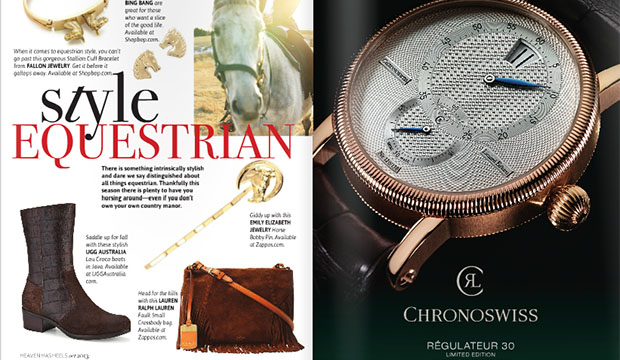 Guest post from Angela Gilltrap, NYC Fashion & Lifestyle editor, author of Sunshine On Sugar Hill, Global Content Director of Lot 17 Media & Editor-in-Chief of Heaven Has Heels. You can follow Angela on Twitter @AngelaGilltrap
Every second there are two new blogs created; everyday 20,000 new digital publications are uploaded to Issuu.com; never before has there been so many outlets available to reach your target audience. This boom in information provides a smorgasbord of options when it comes to advertising.
Advertising is something that emerging designers tend to dismiss as a possibility. Mainly because when you hear the word, you think money.  Yes, advertising does cost money.  But it's not as overwhelmingly expensive as you might think.
What Every Emerging Designer Should Know About Advertising
Why Advertise
Advertising gives you an opportunity to deliver your message your way. Your words; your chosen image; your tagline. Combine this with your marketing efforts and social media campaigns and you have a cohesive strategy.
I've worked with brands who never want to spend money on advertising and I understand, a lot of traditional advertising—buying a $60,000 page in a glossy mag—is antiquated. You really don't get your money's worth. But there are so many creative ways you can get your message out there.
Today's industry is about building a community; a hub of talent that you support, who support you. That is what you are investing in. And best of all, you can have a great gorilla campaign for as little as $100.
Emerging Designer Rates
It won't often be advertised, but certain publications and websites do offer emerging designer rates, which is essentially a discounted price for start-up and small business owners.
Be open and honest about your budget and what you can afford. A great way to convince someone you deserve to be in their magazine (at a discounted rate) is to attach a sample of your advertising artwork (in low resolution format). If you have high quality, innovative artwork, a magazine may be open to including you—I have definitely given away a free ad page when offered artwork I feel will elevate the aesthetic of our own publication.
Be Realistic About Your Budget
It's okay that you don't have millions to spend, but be realistic about your advertising goals. What exactly are you looking to get out of this campaign/collaboration? Do you want more Twitter followers? Sales? Website traffic? To strength your editor relationships? It's important to have clear goals—and communicate them.
Most publications have advertising rates on their website, do some research. If there are no ad rates available online, email and ask for a media kit.
If someone follows up, don't ignore it. Explain that you're an emerging designer or brand inquiring about advertising rates or other ways you may be able to work together. Perhaps the outlet has an event coming up, giveaway options, there are many ways to advertise beyond banner ads and magazine paging.
Know Your Audience
If you love a website, blog or digital magazine, why not approach them to see if you can collaborate? Most digital editors/publishers are doing the same thing you are, trying to build a business and support their own creative endeavors.
The people that read those sites/magazines have the kind of audience who are looking for something new. If all you can offer is your expertise, perhaps a one off collaboration is just the thing to put your brand on the map.
Start Small
I hate to be the one to tell you but you're not going to be in Vogue anytime soon and that's okay. This is the time to start building your own community of entrepreneurs.
Search sites like Issuu.com for new, innovative digital publications. Many are run by small teams who are more open to working within your budget and supporting you and your business long term. Tweet them, let them know how much you like their publication, and start a conversation.
Three Fashion & Lifestyle Sites with Deals Under $500
Entertainista.com
Contact: misti@entertainista.com
Advice: Get creative with advertising outside of banner ads, consider a sponsor post or series of tweets with a sponsored hashtag. A collaboration i.e. curated collection or [websites name] Top Picks for holidays, etc.
TheFabulousReport.com
Contact: lorna@thefabulousreport.com
Advice: Look for a website whose readers are your target demographic and do your homework. I often get pitches from designers who, while lovely, aren't for my readers. I can tell they haven't done their homework.
HeavenHasHeels.com
Contact: info@HeavenHasHeels.com
Advice: We can sometimes have what's called a "remnant page," available in our monthly magazine. It's a page we need to fill. This is always a great way to get in.