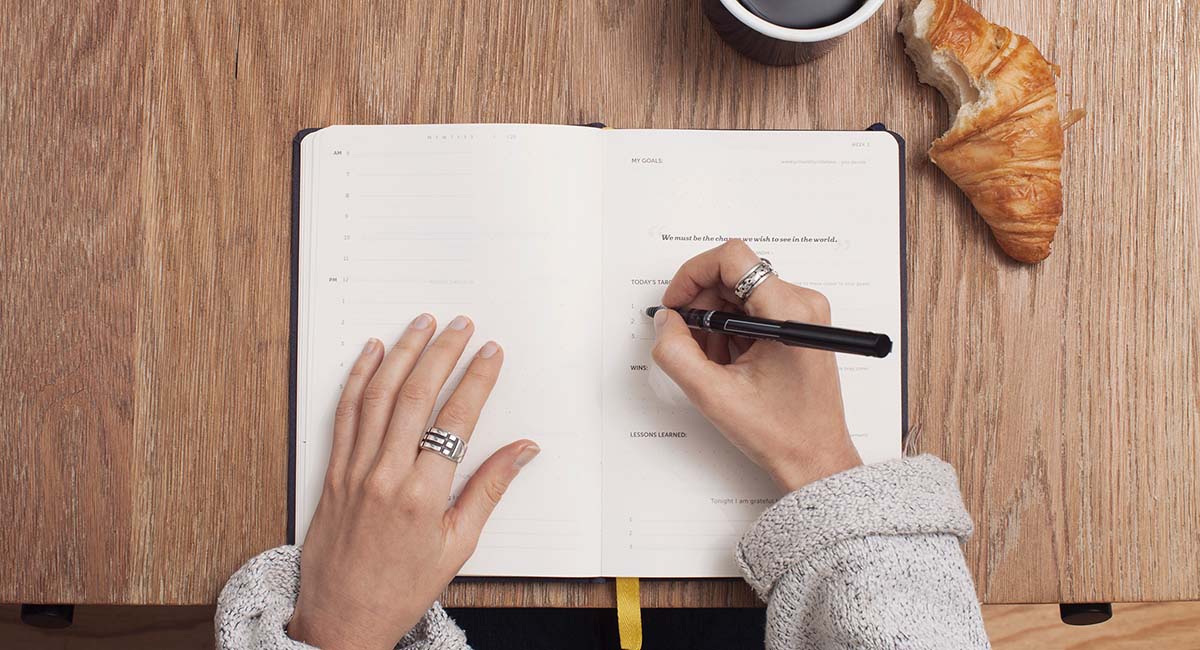 You've got New Year's resolutions for yourself, so why not also set New Year's resolutions for your fashion business and marketing goals? Resolve to set your annual marketing goals for next year, and you'll be ready to hit the ground running as soon as January 1!
Once the holiday madness has slowed down, take a moment to sit down and look at your long-term objectives. Once you're off to the races in the new year, you'll thank yourself for putting aside the time to strategize ahead. Ready? Let's dive into a step-by-step guide to setting your annual marketing goals for the new year. 
Review this year's performance 
Start by looking at how you did this year. Setting your annual marketing goals should be a look into the past year's performance just as much as it is projecting next year's wins. Now is your chance to review what worked (and what didn't) in your marketing tactics, so your next year is even better than this one. 
Here are a few key questions to ask yourself as you're looking back on the year:
What were your goals this year?

Did you reach your goals this year? 

Which marketing campaigns worked, and why? Which ones didn't, and why?  

What was your overall ROI, and your ROI by channel?
Summarize your learnings from the year. Writing down a few key bullets for yourself will help you take a step back from the nitty-gritty details of the year to see the bigger picture. 
Align with your annual business goals
Your business goals should include your overall revenue goal and your marketing budget, two essential parts of your marketing plan. If you haven't locked these down yet, you should use the previous year's performance to project how you'll do this next year. 
Make sure to evaluate your high-level marketing metrics to determine if these goals make sense. For example, calculate your year-over-year growth, your projected cost per acquisition (CPA), and your projected return on investment (ROI). Ensure those numbers make sense to you before you lock down your annual business goals.
Your marketing goals should help you reach your annual business revenue. For example, they could include the number of new customers to need to acquire in order to reach that revenue, or the customer retention rate you need to maintain. You should definitely have more than one marketing goal, but try to keep it down to 3-4 high-level goals that you want to focus on for the year. 
Here are a few examples that are typical for fashion and e-commerce businesses to get you started:
New customers

New visitors to your website

Email leads

Conversion rate

Retention rate
Determine your key marketing channels for the next year.
Of course, you've already done the work to establish what worked this year, and you want to keep the winning marketing channels. In addition, you'll likely want to test new channels to continue to grow your business. 
Outline your top marketing channels, channels you want to test, and channels that didn't work this year. These will set the structure for your marketing plan, and help you determine how to allocate your resources for the year. 
Ensure that focusing on these channels will help you reach your marketing goals for the year. 
Allocate your marketing budget across channels.
Evaluate if you want to reallocate your spend differently in the new year. 
Can you spend more on the best-performing channels and keep the same CPA? Or even potentially drive your CPA down as you scale up in volume? Where would you like to spend more that you didn't this year? 
You don't have to have the right answer to these questions, just a good hypothesis. Based on these choices, you've got yourself a marketing budget!
Make a plan that ladders up to your overall goals
Create a strategic plan with marketing tactics that ladder up to your goals. If one of your overall marketing goals is a specific number of new customers, for example, you want to build a lineup of marketing tactics that will achieve that. 
Each time you're coming up with new tactics, remember to revisit your goals to ensure they're aligned. That way, you won't waste precious resources and time on efforts that don't end up helping you reach your goal. 
Break it down by quarter, or even by month
By dividing up your goal into quarterly or monthly goals, you make them easier to track and stay on top of. 
Rather than just checking in at the end of the year to see if you hit your goals, you can set a regular check-in to determine how you're doing against specific milestones. Take this check-in time to figure out what's working, what isn't, and what needs to change.
Keep your seasonality in mind when breaking your goal down into milestones. If your sales tend to peak in spring and summer because you sell swimsuits, you should weight your sales to those time periods. 
Communicate your marketing goals with the whole team
Whether you've got one person on your team or twenty, it helps to make sure that everyone is on board with your marketing goals. Not only does it keep you on track, but it also allows the rest of the team to buy in and help you attain those goals. 
For example, if your customer service representative is doing a stellar job in helping customers with their questions and returns, that is going to keep customers coming back. And customers coming back is exactly what keeps your retention rate high! 
———-
Have you set your annual marketing goals for next year yet? Ask your questions here. We'd love to help you make next year as successful as it can be!