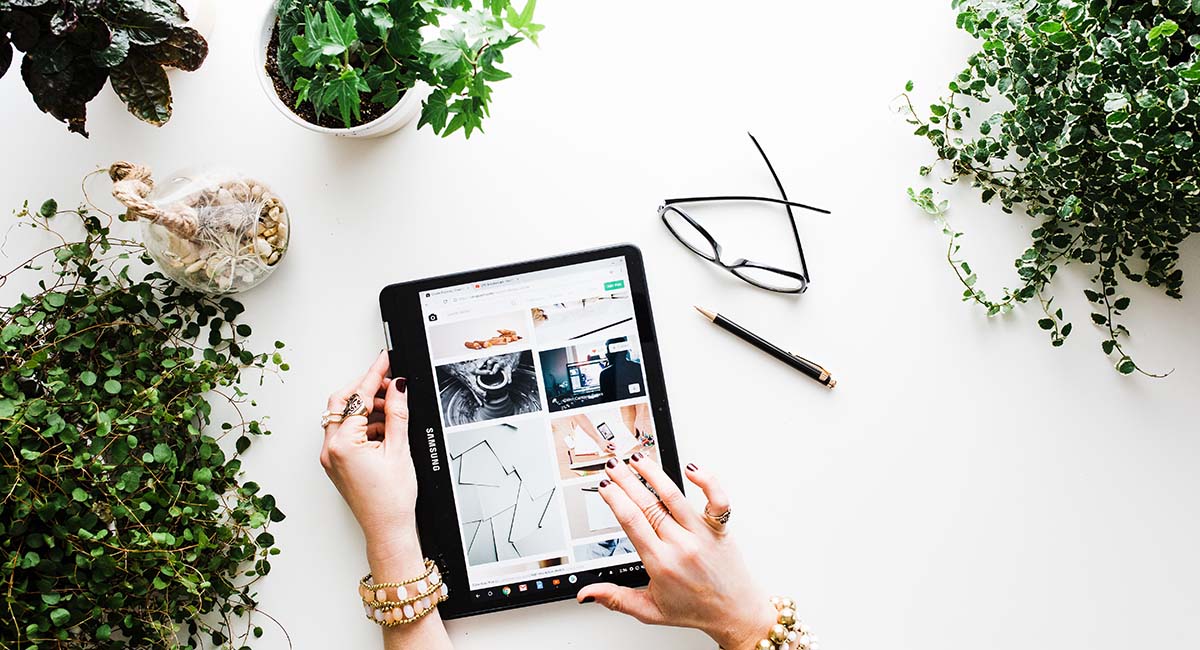 If you haven't heard, there's a new way to shop. And – spoiler alert – it doesn't require consumers to leave their couches. Shoppable social media posts are the new, trending way for shoppers to purchase from a brand. 
It's a simple concept. A brand posts a photo on Instagram or Pinterest with tagged products in a beautiful lifestyle photo. Followers can then interact with the photo. This means they can see the name, price, description and more without even leaving the app. From there they can purchase directly from the app or visit the brand's website with a direct shopping link. 
With more and more customers using Instagram and Pinterest, it's a shopping strategy that just makes sense. 
But how to use it and how to leverage it in your favor is the big question we'll answer today. Here's everything you need to know about shoppable social media posts:
Why Should You Use Shoppable Posts 
Capitalize on Highly Used Platforms 
We've already established that both Instagram and Pinterest (the current two social media platforms where shoppable posts are enabled) are high-traffic apps with a large consumer base. As a fashion designer, it just makes sense for you to go where your target audience already lives. 
In the past, a common pain point was the inability to link products and capitalize on social media traffic, apart from visibility. Now that the checkout feature is becoming more and more commonplace, it's a wise marketing move to jump on board. 
Simplify E-Commerce Strategy 
It's not a surprise that most shoppers are relatively lazy. We're used to the convenience and immediacy of online shopping. We don't like clicking, opening tabs, or website redirects. And if there's any lag time in a website loading there's also a high chance users will abandon the website altogether. 
By enabling shoppable posts you're significantly cutting down the steps it takes for a customer to buy your product. The fewer the steps the more likely a conversion will happen. 
Allows for More Interactions with Your Brand
Shoppable social media posts also allow for more interactions with your brand. We've all heard about the original sales strategy that says it takes roughly 7 "interactions" with a brand before someone is willing to convert into a paying customer. 
Those interactions may be a social media post, an email, an ad, a visit to the store, or a testimonial. And if you add a shoppable post you'll add to the list of possible interactions. 
I have people ask me what the most valuable marketing tactic is. Most small business owners want to know the one thing that will gain them the most success and visibility. My answer is always, "create a comprehensive marketing plan and be present and consistent on as many channels as possible." The more you're consistently present, the more you can guarantee those seven + interactions. 
How to Use Shoppable Posts on Instagram 
Thankfully, enabling the shopping feature on Instagram doesn't require development knowledge or hiring an expert. It's a very straightforward process that just requires a website, Facebook page, and an Instagram Business Account. 
Create or Verify Your Instagram Business Account –

If you've set up an Instagram account for your business you'll have the option to switch it from a personal account to a business one. The business profile allows you greater insight into your audience and also allows you to sync with your Facebook page's product catalog. 

Make Sure You Don't Violate Facebook/Instagram's Merchant Agreement –

Instagram essentially asks to verify that you're selling a physical product and it's appropriate for everyone to see (i.e. not something graphic or inappropriate).

Create or Locate Your Facebook Business Page –

If you don't already have a Facebook Business page created, now is your opportunity. Facebook owns Instagram and you'll control both shoppable posts and ads on Instagram through your Facebook business page. 

Sync Your Website Products with Facebook –

Here's where you'll need Shopify or BigCommerce capabilities on your website. Inside Shopify, you'll already have created a catalog of sorts for your products. You'll follow Facebook's instructions to sync that pre-existing catalog with your page. 

Sync Your Instagram account with Your Facebook Catalog –

Through Instagram Business Manager you'll have the option to get approval and sync your products to Instagram. A notification will appear when you've been approved and are ready to start tagging. 

Share a Photo and Tag Your Products on Instagram –

The last step is familiar: prep your Instagram photo as you always do. Right before you share you'll have the option to tag the products that appear in the photo. 
For a very thorough step-by-step guide with photos for each step this resource created by Later is very helpful. 
How To Use Shoppable Posts on Pinterest 
Pinterest's shoppable posts or "Shop the Look" posts are even easier to create although they are a bit different from Instagram. 
Where Instagram never takes a user away from their platform for checkout, Pinterest allows you to tag and add custom links to products shared on their platform. Both platforms work well, but with Pinterest, you also get the benefit of traffic to your website. 
Create a Pinterest Business Account to Enable Rich Pins –

If you haven't already created a Pinterest account for your business, now's the time to do so. Pinterest is a major source of traffic for your website, acting more like a search engine than a social platform. As a fashion designer, your products will be very well-received on Pinterest. 

Manually Tag Your Products –

Pinterest states that as an e-Commerce business you can manually tag your products on a photo you've pinned from your website. The tags show up as small white dots over the photo. When clicked, these generate a short description, price, photo and link to your website. If you have a small catalog of products this will be your best solution. 

Use an E-Commerce Platform like Curelate –

A "Pinterest-approved partner", Curelate automates much of the tagging and posting process for big e-Commerce brands using Pinterest. If you're interested

you can watch a demo

and see if it's valuable for your brand. 
It's not a surprise that as technology evolves, online shopping will as well. It's an ever- changing field that is worth keeping up with. Include shoppable posts in your marketing plan for 2020. You'll stay on top of the trends while also growing and reaching a whole new sector of your target audience.