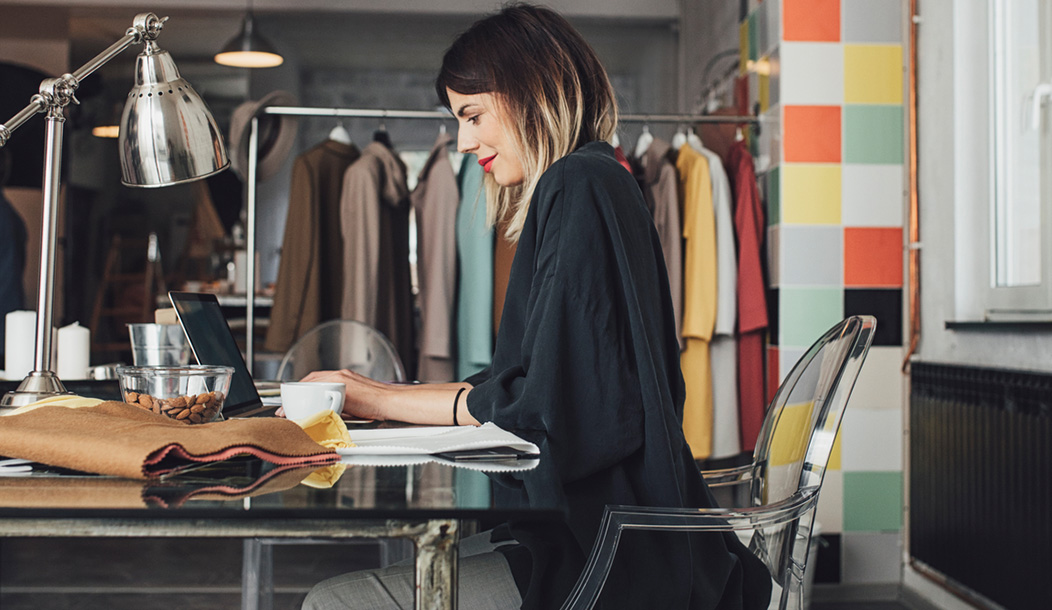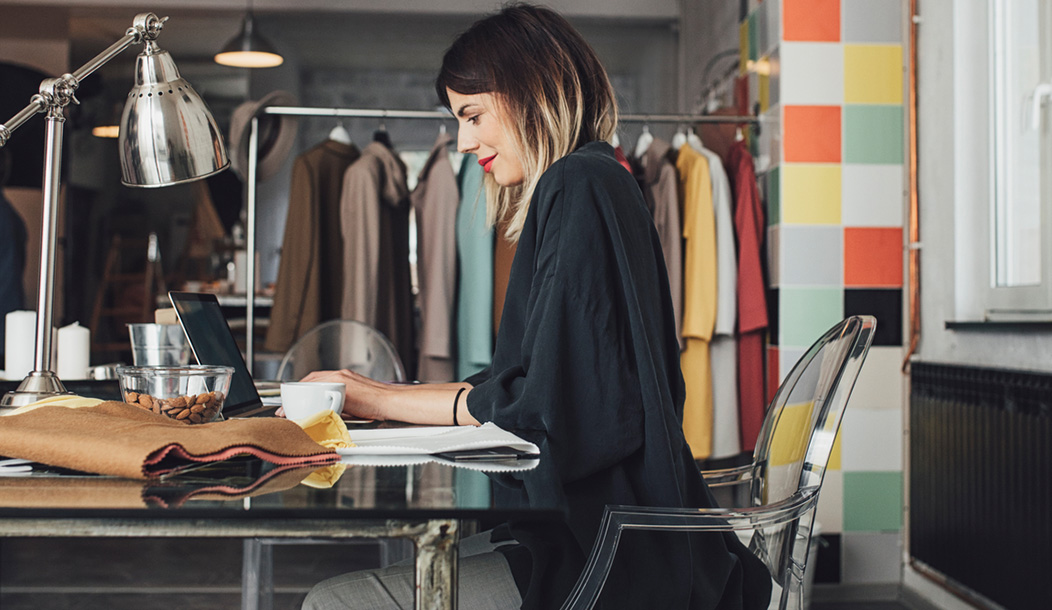 If you read How to Take a Giant Step Forward in Your Fashion Business, you'll know that giving your website an in-depth and honest critique is an essential part of building a successful fashion business. But an all-over assessment is not enough, you can't stop there. Your next step is to drill down and create a plan for each of the individual components of your website.
And the eCommerce component is definitely an important one. I mean, this is how your business makes money! Making sure that you're setting up your website in the best possible way to generate revenue should be a big priority of yours. This is not the time to get lazy.
During my chats with the team over at Squarespace (they're one of our sponsors and I'm always interested in learning how they're keeping up with the needs of designers so I can report back to you), we took a look at what elements are essential if you're running an eCommerce website for your brand.
And I want to emphasize essential here. There are lots of bells and whistles and intimidating functionality that websites can have. That's nice and all but if you're a brand that's relying on eCommerce sales for your business, it's best to get the essentials down beautifully before you overdo it, confuse the customer, and lose sales.
You can always build on what you've got but starting too fancy and missing the essentials can be a costly mistake.
eCommerce Website Pre-Planning
Whether you're starting your eCommerce website from scratch or you're ready to give it a fresh new look, before you review and implement the essential eCommerce components, there's a little pre-planning that will be really helpful. Here are a few things you should do first.
Create or Review your Brand Book–  make sure you are clear on what your brand stands for, who it's serving, why it exists, and the long list of words and phrases that capture the essence of your brand.
Create a Layout Design Moodboard– collect images on Pinterest (or on a physical board if you prefer) of the feel you want your new website to have. This will be super helpful when you're picking out a template.
Choose an email Marketing Platform– it's a good idea to research and decide on which platform you will use to handle your email marketing so that you can quickly and easily integrate everything as soon as you're ready.
Review your Promotional Marketing Plan– will you be offering discounts? Will you have seasonal sales? Will you send "happy birthday" messages to customers?
Decide on your Primary Call-to-Action– what do you want people to do when they land on your website home page?
OK, once you have finished up your pre-planning, you're ready to start taking action on your website.
Here are 7 Essential Elements of a Money Making Fashion Website.
Your Template
Why it's essential and what to keep in mind:
It's important to make sure that you choose a template that reflects the aesthetics of your brand and also offers the functionality that you want. It's easy to get distracted by what's beautiful but forget to pay attention to whether or not the template serves your homepage call-to-action and highlights your products.
A successful eCommerce website makes it completely clear to your potential customer what you sell and how they can buy it.
Remember that not everyone lands on your homepage. Your hope is that your product pages, your blog, your "about" page all get shared across social media. When this happens, potential customers are being introduced to your brand from a different page. So review all the pages of the template you like; make sure that you're happy with the look and functionality of each page.
Here's a template I love from Squarespace. It's clean and bold, professional, and makes it very easy to shop.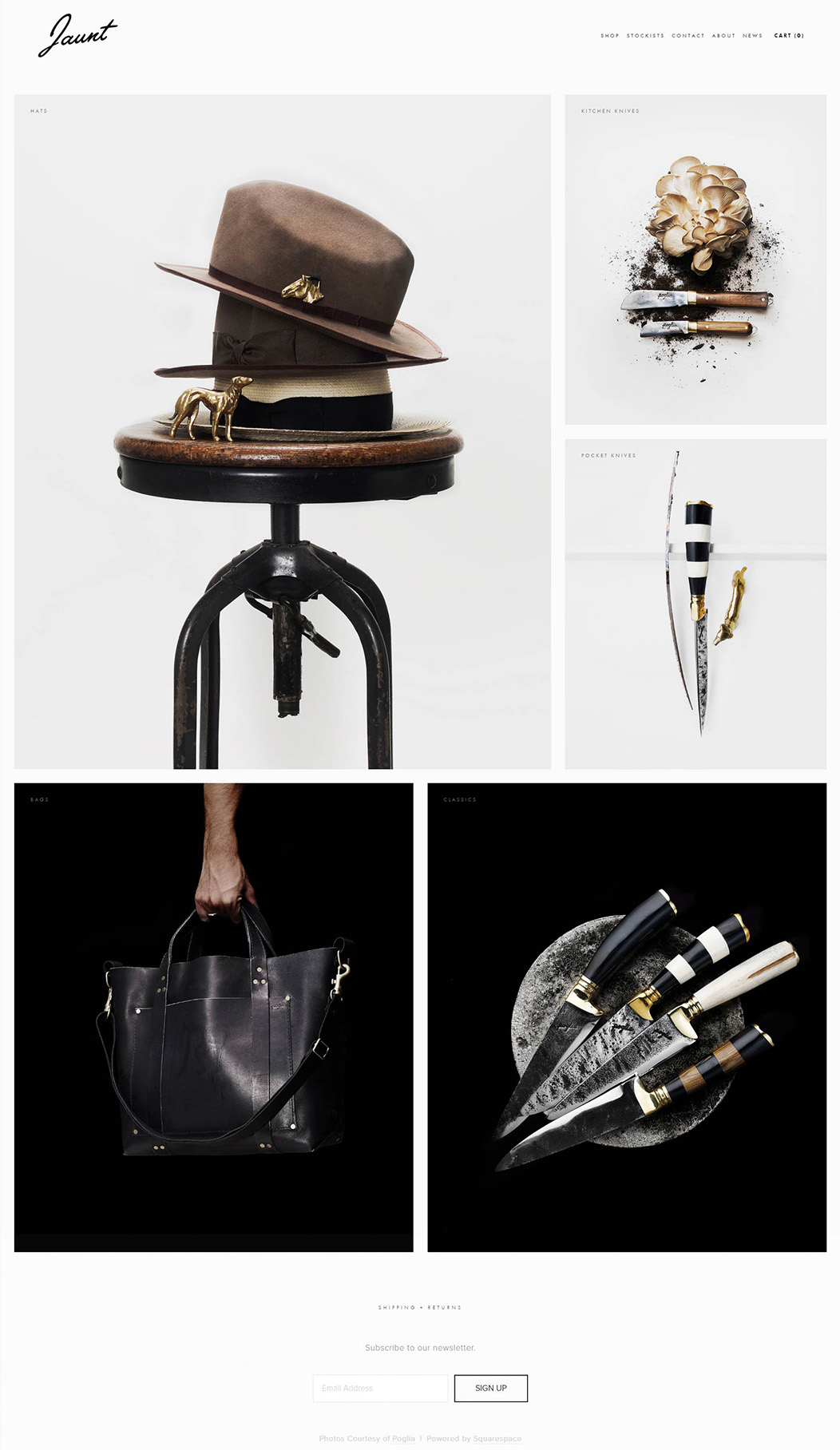 Check out the demo of the entire site here.
Your Branding
Why it's essential and what to keep in mind:
Your website is your calling card. If the look and feel do not reflect your brand, the customer will get confused. And confusion leads to lost sales.
A beautifully branded website communicates professionalism. When a customer visits your website ready to buy, you want them to be presented with something that confirms the quality of your work, not makes them question it. The quality of your website is a direct reflection of the quality of your product. Like it or not.
Thoughtfully Written Copy
Why it's essential and what to keep in mind:
Often the overlooked component of a great website, thoughtfully written copy is one of your best tools for making a sale. When you know who your customer is, what she needs and cares about, and how she speaks, you're able to tailor your language specifically to her.
People buy from people, not businesses, so when you write the words on your website in a way that conveys not only that you're a human being, but also that you understand who she is, your customer is way more likely to make that purchase.
Strong Photography
Why it's essential and what to keep in mind:
Tied into the importance of branding is your photography. Poorly done photography communicates a lack of consideration for your customer. How can you expect anyone to make a purchase from your website if the images are dark and lack detail, right?
While editorial photos are wonderful and a definite plus, if your budget is small, start with crisp, clean, detailed product shots. These will be on your product page where people will be buying. If they can't see details, they won't buy.
Email Sign Up Capabilities
Why it's essential and what to keep in mind:
While your primary call-to-action on your eCommerce website is most likely going to be buying a product, email signups come in a very close second. Having a potential customer's email is the most effective way to create relationships with them. And relationships leads to sales.
As a general rule, it's a good idea to make sure that an email signup form is easy to see and quick to fill out, making it more likely to grab those emails and make more sales!
Hiccup- Free Backend Functionality
Why it's essential and what to keep in mind:
There's not much that is more frustrating in business than losing sales because of a confusing user interface. Making sure that your eCommerce website is setup right and running smoothly on the backend is just as important making sure it's lovely to look at.
Make sure that you set up your eCommerce website on a platform that you trust, where orders are processed easily, shipping is setup the right way, and customer service (both for your customers and for you!) is prioritized.
SEO Basics
Why it's essential and what to keep in mind:
SEO is a monster, I get that. Nobody's expecting you to be an SEO specialist. But there is a lot you can do in setting up your eCommerce website to make sure that you're not shooting yourself in the foot and missing opportunities to be found. Choosing a platform that allows you to implement SEO basics into your site is important.
A big part of a solid SEO strategy is a consistent blog. When choosing your platform, make sure that adding a blog to your site is a seamless experience.
SEO efforts need to monitored and adjusted as you learn what's working and what's not. Make sure you are using analytics to improve those sales numbers.
Why We Like Squarespace
One of our sponsors is Squarespace. The reason they're a sponsor of ours is because I believe that what they offer is a wonderful option for fashion brands who want to make a big impact but don't have a big budget. They're a creative tools company that helps you build websites and stores, and they make great design accessible to everyone.

They have a seemingly endless library of templates to choose from. I think they really shine when it comes to crisp, clean, bold templates that put your brand center stage. And every template they offer can be turned into an eCommerce site, super easily.
It's fast. You can create new products or import inventory from another platform, then connect a payment processor, and go live with your store.
They have thoughtfully created a Commerce Video Series that walks you through the setup of your eCommerce website. That's incredibly helpful when you're not particularly techie.
They make it easy to set up shipping options and cover all the bases; you can choose from a range of shipping options, including flat rate, depending on weight, and carrier calculated shipping through FedEx, UPS, and USPS.
They understand that product options can get complex with multiple colors, sizes, and other variants, and they make it easy to categorize and manage stock.
You can implement your marketing and promotional ideas really easily. Create discounts, offer sale prices, promote deals with an announcement bar, follow up with customers who abandon their cart, and easily capture email addresses.
They allow you to add a newsletter subscribe option to check out,  easily add a pre-made block to your site that allows you to collect customer emails, and integrate with Mailchimp.
They offer a series of SEO guides so you can learn what's important and how to do it.
They offer their own Analytics tools so you know what's working and what's not, and can easily make adjustments.
They have 24/7 customer service so if you get stuck on anything, you can talk to a live person any time of day.
They're an all-in-one platform that allows you to easily buy or transfer an existing domain to your site. And when you chose the annual website subscription you'll get a domain name free for your first year. Bonus!
In a time when getting into stores is harder than ever, I know that more and more brands realize the importance of diversifying revenue streams to grow a business. Having a solid eCommerce website and presence is a great way to do that!
Check out Squarespace and use code STARTUPFASHION to save 10% on your first purchase.
Go do it now!