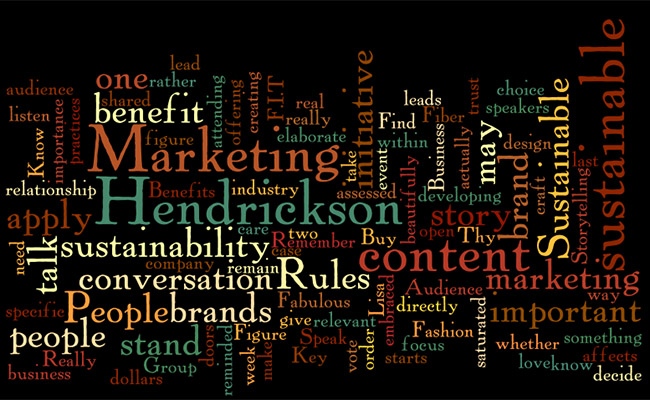 While attending the Sustainable Fashion: Fiber to Fabulous event last week at F.I.T, one of the speakers, Lisa Hendrickson of the Hendrickson Group shared her 5 Rules of Sustainable Marketing.  Really, they're not specific to sustainable marketing but really apply to any brand that has embraced the importance of creating its story.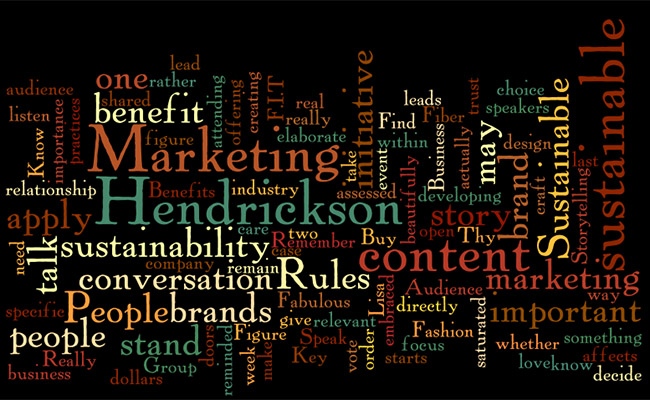 Hendrickson reminded us that marketing is a conversation, it starts within the company, and it's important to focus on what you're brand is offering rather than what you actually do or make.
Here are her 5 Marketing Rules and, in this case, how they apply to sustainable design:
Know Thy Audience–  they may or may not care about your sustainable initiative.  It's important to figure out because it directly affects how you talk about what you do.
People Buy Benefits- sustainability is an initiative that leads to a benefit.  Figure out the benefit and lead with that.  Then talk, after you've assessed your audience, you can decide whether to elaborate on your sustainability practices.
Business Storytelling is Key- all brands need to stand for something in order to remain relevant and stand out in an over saturated industry. Find your story and craft it beautifully.
Marketing is content, content, content- open the doors to a two way conversation, a real one. Speak and listen, give and take.
People do business with brands and people that they know, love, and trust-  it's about developing a relationship. Remember that people have a choice and they vote with their dollars.
Thanks to Lisa Hendrickson for a great speech at last week's event.  You can follow her @Lisamax