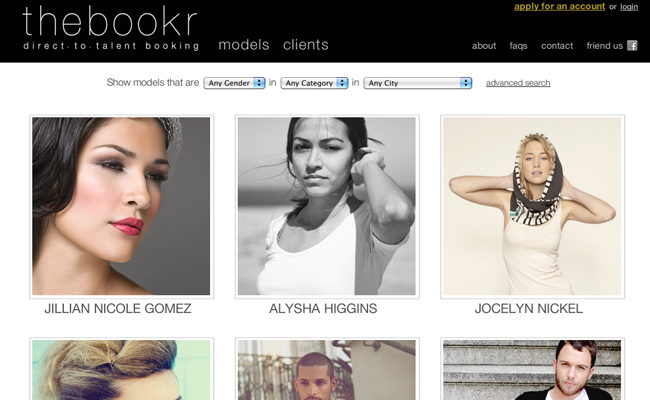 Creating a fashion collection is a lot of work.  From sourcing and manufacturing to marketing and social media, the process never ends.  One aspect of the industry that designers might not think as much about is booking the right model for their photo shoots.  Contrary to what some may think, it's not easy.  Recently, we heard about thebookr, a direct-to-talent online booking platform and the first of it's kind.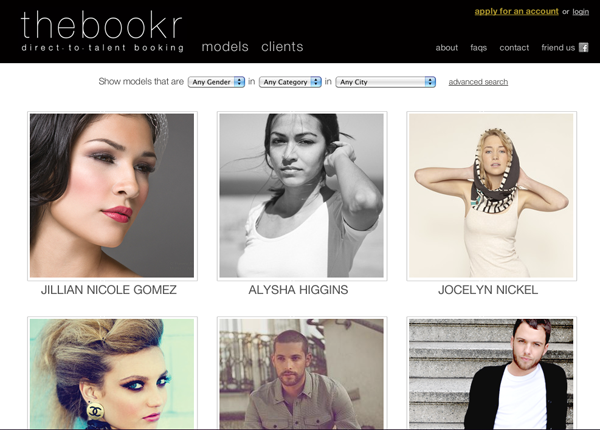 There is a reason why models are attractive.  Simply put, they make the clothes look better. Consumers aspire to look like these models and therefore will buy your clothes in order to get one step closer. Right? 😉   Anyway, when it comes to emerging designers, who quite often have limited funds, we often see a bit of a cop out when it comes to acquiring models for the photo shoot.  Guess what, you're best friend might be attractive, but that doesn't make her a model.  You've spent so much time and energy on your collection and more than likely a decent amount of money on the photographer.  Why stop short when it comes to the person who is presenting your work to the world?  It may sound a bit catty and, honestly, it kind of is, but so is fashion.  We have all decided to enter a field where the way you look matters.  In fact, it what the industry is built on.
For those of you who do understand the importance of hiring a professional model, how many of you have done so in the past only to find that he/she was not so professional after all…. getting stood up by your model on the morning of the shoot is not only frustrating, it's infuriating.
So if you hear what we're saying and need a little direction, this platform may be of use to you. The site still seems pretty young so there isn't a ton of talent currently present.  But we think this is definitely something to keep your eye on. Here are some of the features:
Every talent and client must be approved by thebookr.
Search talent by city, category and/or other attributes with advanced search tools.
See up-to-date polaroids and videos of talent instantly.
See a talent's availability instantly.
Follow talent by adding them to your favorites page.
Send talent portfolios to nonmembers for their review in the job board feature.
Talent sets their own rates.
Book multiple models / talent at once.
Keeps all your upcoming and past bookings in one place.
Bookings are secured and delivered with paypal.
You can also check out an interview with the founder on SF Fashion and Tech