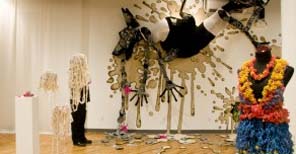 When in a creative field, whether your role is designing, sourcing, promoting, or anything else for that matter, it's important to stay on top of trends within your industry.  We do this not only to be able to  speak intelligently about industry related current events but also to foster our knowledge and exposure to what others are are working on and introducing to the world.
As we are all involved in some way with textiles, I thought I would share an interesting event taking place at the Textile Arts Center in Brooklyn.  Cutting Edge: Celebration of Fibers opened last week and apparently was a great success. I don't know too much about the exhibit, as the website is somewhat limited on the details but the photos are fascinating and quite beautiful portraying hand embroidery, warp painting, large scale weaving, and fabric sculpture.
And, if my description isn't enough tot get you there, just take a look at this photo, intriguing right?