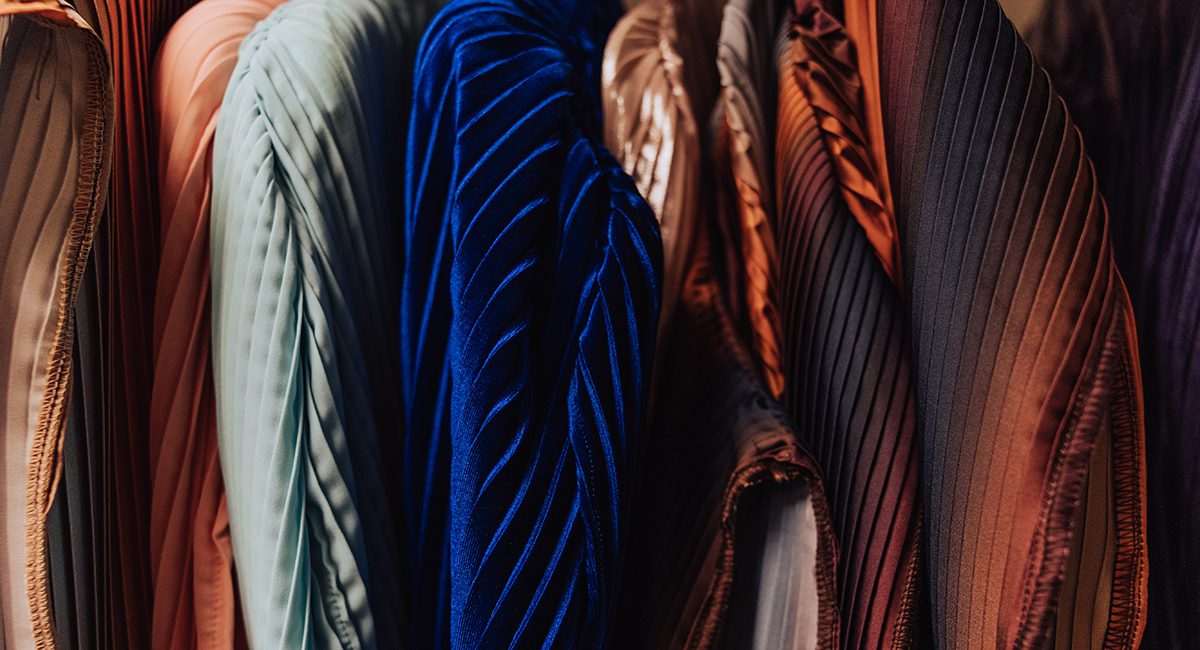 When I work with independent fashion brands to help them with product development, I often see one step of the journey that continues to be a challenge for them, and that is fabric sourcing.
There's a lot to take into account – what kind of fabric are you looking for, what's the desired quality, hand-feel and drape, what can you afford to spend per yard, what sustainability components are important to you…
And then once all those things are figured out, it's a challenge to figure out where to source your fabrics.
Where do you even start? 
As independent brands with tight budgets, you have really specific needs.
You need low minimums, variety, the ability to order swatches without paying a fortune, and the availability for re-ordering as needed.
While that sounds like it shouldn't be too much to ask, it often is. 
Mainly because the textile industry is still a little antiquated. And with the exception of a few key innovators, not much has changed in the last 75 years when it comes to sourcing your fabrics.
Because of this, it is your job as the designer, the visionary, and the founder of your company to educate yourself on fabrics, do your research, and figure out what are the best options for your product and business.
Quite often, brand owners come to the decision that, in order to get what they want and need, they would like to open up their sourcing to international suppliers. 
But there's a lot to know when you start fabric sourcing internationally. So let's discuss some key tips and points to consider. 
How to Keep Cost Down When Sourcing Fabric Internationally
After manufacturing, fabric is often the next highest cost that goes into making a garment. 
While it's tempting to let your design aesthetic be the sole factor in choosing your fabrics, this is not a good way to run a profitable business. 
Cost has to factor into your choice. And sometimes, the cost per yard on imported fabrics is much lower than domestic fabrics. That can have a very big impact on your profitability, making international fabric sourcing a cost-effective option.
Here are some things to consider: 
Diversify. If you have your heart set on a certain domestically produced fabric for one of your styles but you need to reduce your profit margins across the collection, source the majority of your fabrics internationally at a lower cost and keep that one higher-cost domestic fabric that you love so much. Look at your numbers and figure out how to make it work for your profit margin. 
Be Strategic. Consider using a few key fabrics across several styles and seasons so that you can order a larger quantity and bring down the cost. 
Know What You Need. It's important to have a clear plan as to what fabrics you're looking for. You should be able to answer these questions:
What kind of fabrics do you want to use in your collections? (fabric structure, fiber, weight)

What colors or color family are you looking for?

Are you sourcing only eco-friendly fabrics? What, specifically (deadstock, vegan, organic, etc.)?
If you are strategic and have clear parameters for your needs then you can avoid ordering sample yardage of  beautiful fabrics that don't actually meet your needs. You'd be amazed at how often that happens.
Questions to Ask International Fabric Suppliers
When it comes to sourcing your fabrics internationally, you want to make sure that you're asking the right questions before you place any orders so that everything is clear.  
Do you have all the information you need about the fabrics you're interested in? If not, ask them. 
Where is this fabric made? (what country)

Is it reorderable?

Is the cuttable width 58"? (most fabrics do have 58″ cuttable width, but some are much less, this is important to know)

What is the MOQ (minimum order quantity)?

What is the cost per yard?

Can you get swatches before placing an order?

What is the lead time for sample yardage? and what's the lead time for production?
What will the shipping costs be for sample yardage and production yardage?
Do they help you figure out customs and duties or are you on your own? 
Where to GO FOR LOW MINIMUM INTERNATIONAL FABRIC SOURCING
When it comes to sourcing your fabrics internationally, it is often the case that the MOQ  is much higher than domestic fabrics MOQ. It's not at all uncommon to see 1,000yd minimums. Scary, I know. 
But here's a secret– this actually isn't always the case!
We have partnered with SwatchOn, an online fabric sourcing platform that connects fashion brands with textile suppliers worldwide.
We partner with them because they solve all of the problems I've talked about in this post – from offering free swatches and low minimums to simplifying shipping and streamlining the customs process.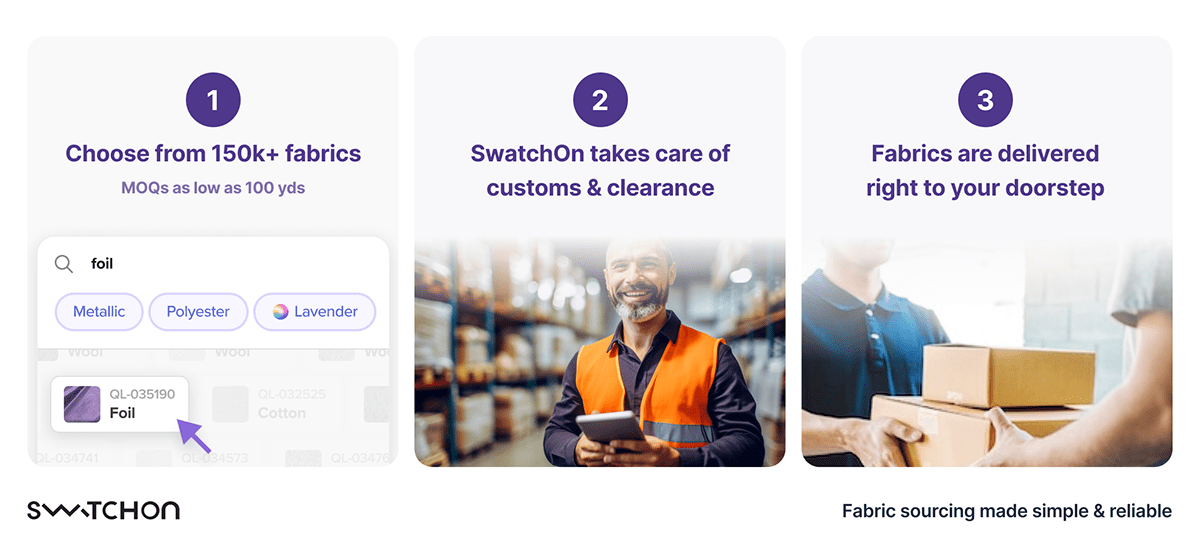 They truly are a really great fabric sourcing resource for emerging and independent fashion brands. 
Here's why… 
They offer

Low MOQ

which enables you to order a wide range of fabric options for your collections.

Over 95% of the fabrics they offer have an MOQ of less than 100 yards

They are a wholesale marketplace platform with over 500 vendors. You can browse a

vast

database of fabrics online and use filters to narrow it down. 

You can receive free sample swatches of the fabrics you are interested in before you make any kind of purchase commitment.

They have an established

Streamlined Customs Clearance Process

The "Delivered Duty Paid (DDP)" option is particularly useful for US-bound orders. With DDP, you pay the estimated customs duties and taxes upfront, and SwatchOn handles customs clearance by paying these duties on your behalf. If the actual charges exceed the estimate, SwatchOn covers the difference.

While the term "importing" may sound complex, SwatchOn simplifies the process by providing all necessary customs clearance documents.

If you encounter any challenges with customs clearance, they have a support team readily available to assist.

They have hassle-free

Simplified Shipping 

You can combine various fabrics from different suppliers into a single order for cost-efficiency and convenience. You can place a consolidated order with multiple suppliers and receive all fabrics in a single shipment.

You get the convenience of direct-to-your-doorstep delivery.

There are various shipping options, including air and sea transport, giving you the flexibility to pick the method that is best for you.

And, when you're ready,

SwatchOn offers a quoting service

that allows you to secure cost-effective deals on larger quantities.
International fabric sourcing is a great way to source a large variety of fabrics while maintaining the margins you need to be profitable and to grow your business. 
Sourcing with SwatchOn makes it possible to access a wide range of options with competitive and transparent pricing. Honestly, this really helps when it comes to sticking to your costing budget and making sure the entire development process is efficient. 
If you'd like to source with SwatchOn, which is a company that addresses all the things you need to think about when it comes to sourcing overseas, you can learn about them here.
This blog post is sponsored by our partner SwatchOn. The content is inspired by the fabric sourcing marketplace they have created for emerging fashion brands. While this is a sponsored post, all opinions are my own and I would never share anything with you that I don't believe to be a truly helpful resource. Promise.