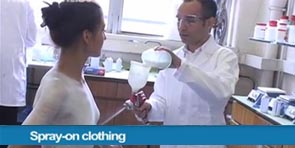 You heard me right. A scientist in Spain has developed a most incredible process for creating spray on clothes made from a mix tiny cotton fibers and plastic. The fibers are applied with a solvent that quickly dries and allows for the clothing to become removable.  And, like most other clothing, can be machine washed and reused. Even more amazing, once you get bored with a garment, it's dissolved and the fibers are used to make your next piece.
You don't believe me, do you?  That's ok, I wouldn't believe me either.  But take a look, the possibilites with this new technology are endless!
Side Note: I should have gone to school for textile engineering instead of textile design, cause these innovations are amazing!