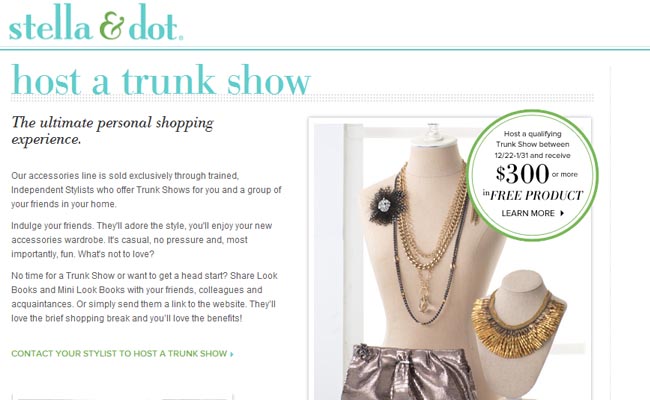 If you're just starting out, your easiest sales platform is probably e-commerce. You can manage it on your own, promote it via social media and also get analytics on who is coming to the site. Plus, there are so many resources that will allow you to create a good-looking site and manage it on the backend. These days, it's quite amazing how a designer can make a robust consumer experience for your shopper. However, making your leap into stores and boutiques may take some time. The good thing is that there are so many ways to bridge the online and offline world.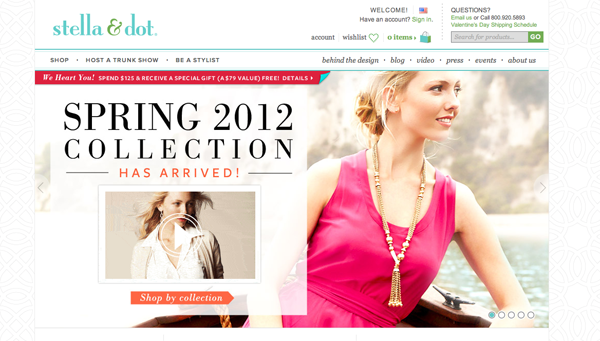 This week, I came across an article on Racked about Stella & Dot. For those of you that don't know, they're the online retailer that allows women to become stylists and host trunk shows in their hometown. They equip women with marketing materials and provide them with resources to build their business.
Their jewelry and handbags retail for under $300 dollars and has been featured in The Wall Street Journal, InStyle and other prominent magazines. Currently, they're sold online and through in-home independent trunk shows. The post on Racked showed us a slideshow of their exclusive spring 12 collection. It also mentioned that it hosted an event at Blushington, a beauty lounge where they had treats, make up touch-ups and let ladies experience the collection. It was such a great way to take a mainly online brand and connect it to a brick and mortar space.
It was such a simple idea, but seemed so effective and something a designer can implement with their own twist. So I began to think, how could this work for a startup fashion brand? 
Here are a couple of ideas on how to implement the Stella & Dot marketing model into your brand:
1. You can use their model for product launches, seasonal debuts and holidays. Use these categories to pitch your partnership as a way to create news for the retail outlet or space.
2.  Think about working with a business that has a similar target and can bring you new customers too. If your partner sells products, be sure to think of ways to cross merchandise when you promote your event.
3. Remember to invite press, retailers and customers (as long as it's not at a competitor's store!) to experience your brand offline.
4. When promoting your event, be explicit regarding why they should come. Something like "You know us online, so now meet us in-person." A face behind a brand name and a face-to-face interaction is just the start to a lasting relationship.
5. Make sure your events have added value. You don't have to offer discounts for shopping nights. Fun premiums like gift bags are nice, but so are cupcakes, tea and of course, alcohol. These goodies create an inviting experience and set the mood with your guests.
These were just a couple of ways to help make an online to offline experience come to life. Make sure you add your own twist and remember to have a presence in both worlds that compliments each other.