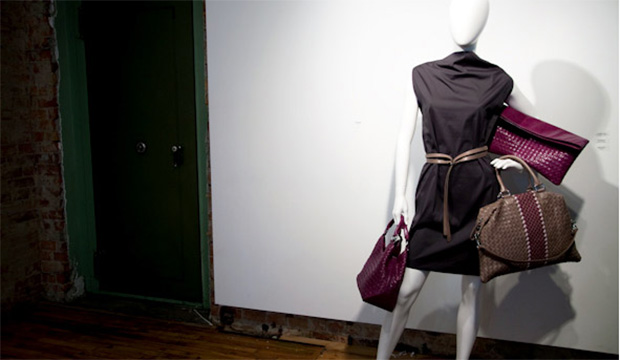 I had the pleasure of attending a Jessica Jensen trunk show last week at a local shoe boutique called the Urban Shoe Myth. The Fall line; complete with totes, oversized clutches, wristlets and iPad covers in black and blush pink was displayed beautifully amongst new footwear arrivals.

I adore trunk shows because they give brands and designers an opportunity to collaborate with established retailers and test the market while gaining crucial 'in the moment' feedback from customers.
In this case, it was the ideal location for an accessories line to showcase its wares was right alongside a complementary product. Shoes and purses, purses and shoes. It's like peanut butter and jelly. Impossible to have one without the other.
While a certain item or product might perform great in a large city like Toronto, hosting a trunk show in a much smaller (but still fashionable) city like Saint John, New Brunswick allows you as the brand representative or merchandise designer to gain insight on what is important to shoppers in different locations and why, providing you with valuable information to keep in mind when developing marketing for the next season.
Trunk Shows provide you (and your line) with a targeted audience who have arrived solely because they're interested in seeing what you have to offer.
The festive atmosphere of an 'open to the public' trunk show also attracts passers-by who wouldn't necessarily have stopped in or made a purchase otherwise.
Most importantly, you have the opportunity to speak one on one directly with your customer and educate them about your line, the design and manufacturing process of your merchandise and really develop a personal relationship. Designers aren't necessarily able to take advantage of this same opportunity within a traditional retail environment.
A trunk show is a tried and true method of gauging your audience, communicating with new customers and preparing for upcoming seasons.
In 2007, Jessica left her role as Fashion Director at a Toronto-based accessory firm to launch her own signature handbag collection…." The philosophy behind the Jessica Jensen collection is straight forward…
I believe in a sensible approach to fashion. I understand that my customers desire practical and uncomplicated designs that are equally luxurious in quality and style. Furthermore, I know that my customers have a modern day attitude with a value for tradition. I am inspired by the classics, but maintain a fresh perspective in design aesthetic. I highlight basics with carefully selected materials and an infusion of purposeful detailing. I am ruled by the philosophy: keep it simple.
Think about it, how much what Jessica says above do you think she learned by doing things like trunk shows, talking to the people attending, learning about their wants, needs, thoughts, getting feedback… I'm willing to bet that the answer is a lot.
Are you part of the trunk show circuit? Or are you a bit nervous about taking the plunge?  Tell us about it!