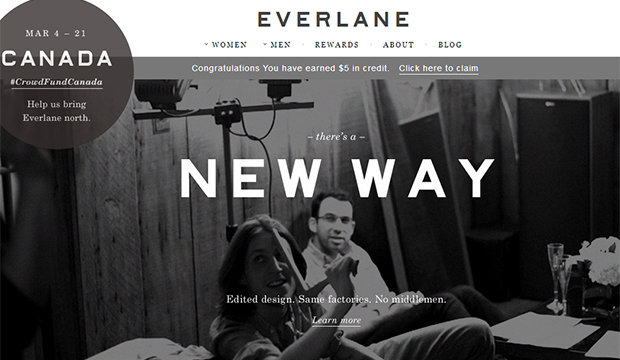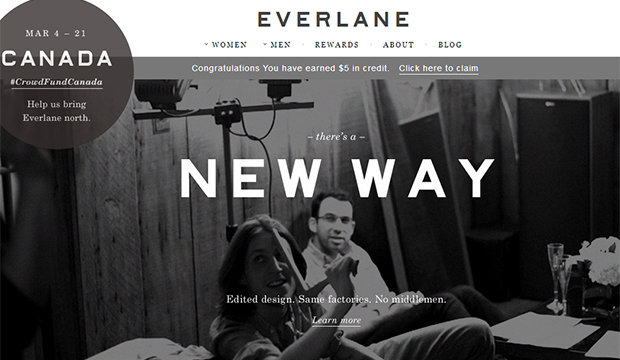 A quick peek at Everlane.com and the first thing you notice after the sleek, minimalist website design are the prices. Everything is so affordable. T-shirts are priced at $15, silk blouses are $104, men's button downs are around $71.
What's their secret? Cutting out the middle men (and women).
Everlane is…
A new kind of retail experience, one that exists 100% online and bypasses all the middlemen to create beautiful designer goods.
All of their pieces are created in-house by a small team of designers who obsess over every detail. They do not outsource and do not over-produce.
Factories (some of the same ones who are also manufacturing popular designer labels) are carefully sourced all over the world by their team. Each factory specializes in different fabrics and construction.
They say you should start a business that you wish already existed, so we quit our day jobs.
Led by Michael Preysman, an ex-venture capitalist who left his job in 2010 to start his own business, the team at Everlane is
a motley group held together by a shared passion for pushing boundaries and challenging conventions.
He never expected to work in this industry, but a passion for great design and frustration with the lack of innovation in the retail space, led him to build Everlane.
The transparency on their website is ground breaking. When looking at the details about the men's oxford shirts for example, not only do they describe the fit and function of the shirt, but they also graphically display the exact cost of manufacturing, shipping and delivering; facts that would never be disclosed by "the other guys".
A traditional designer shirt is sold at over 50 different stores and is marked up 8x by the time it reaches you. At Everlane, we bypass these channels and create the shortest path from our designs to your hands.
On their website, Everlane states:
We have no physical stores and no retail partners. Instead, we sell exclusively at everlane.com. By avoiding all of the costs of traditional retail we're able to offer the same quality as any designer good at truly disruptive prices.
Everlane did, briefly, entertain brick and mortar. During the holidays of 2011, Everlane's "Not a Shop" occupied a storefront in Manhattan on Prince Street in SoHo. Open for just four days, the experience was still actually meant to drive e-commerce. Among classes in tie-making, belt making and suede patches.
This popup will ultimately serve to educate consumers about the origin and manufacturing of Everlane's products in a salute towards Preysman's commitment to maintain transparency with his customers," the company said.
Customers were encouraged to try on the merchandise but told they would pay less and get free shipping if they went ahead and ordered online instead of purchasing in the store.  Although there were plans to see "Not a Shop" pop up in LA and San Francisco later in 2012, Michael is adamant about remaining an online company "we are going to shut the company down before we go to physical retail"
Do you think this kind of online only strategy is one that will continue to gain momentum?