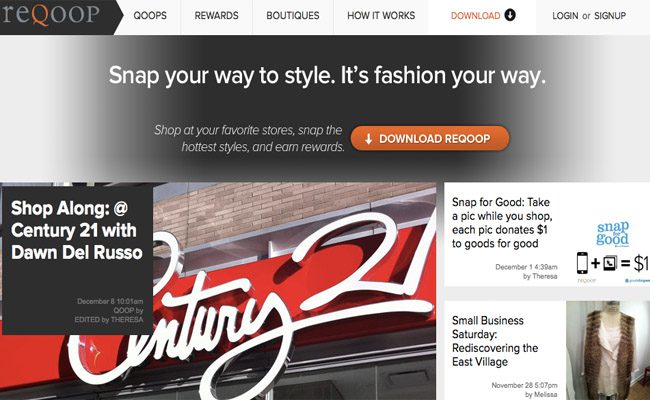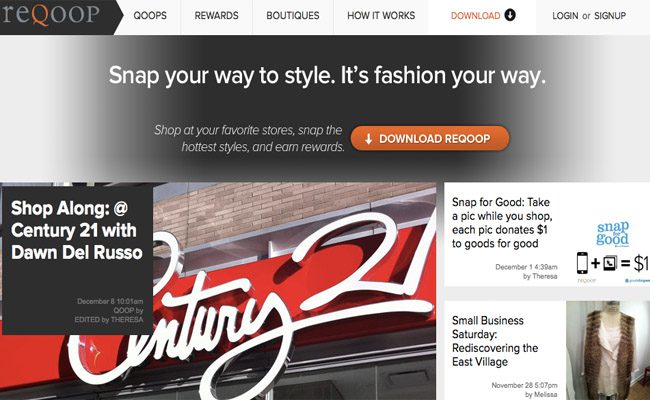 With all of the buzz surrounding online retailers these days, there's something refreshing about those highlighting brick and mortar stores. In turn, this is where you should be gaining information and feedback about your consumer and your product line. Plus, there's something mighty special about local, independent boutiques that can give you insight on your brand and their own expert feedback.
Making it easier to understand the retail landscape, we've come across a new App for the iPhone called ReQoop. The idea is simple. Snap your favorite finds in-store, tag the location and write a pithy and informative description about what you've discovered and hashtag it with a trending topic. You have the option to send your find to Twitter and Facebook too. Those finding "qoops" have the opportunity to win great prizes and also show their style within their own database of curated boutique selections while other can like or dismiss ("it's a dud") your pics and follow you too.
From a consumer perspective, that app is fun, interactive and allows you to catalog your finds. For an emerging designer, we think this app is beneficial for a couple of reasons.
1. Boutique Snapshot
The ReQoop database has a catalog of boutiques that you can drill down by location and ones that are deemed popular by those using the app. For an emerging designer, what a great way to see what type of merchandise is carried at a boutique and to see if you are a fit with a store before you pitch your product line (Ohh, and what a good segue to a retailer—I found out a bit more about your store from this new app)!
2. Competitive Overview
From a competitive standpoint, you'll also be able to see what other brands are doing in a variety of boutiques and locations. Specifically, you'll see what type of brands are carried, fabrics used, silhouettes and what type of inventory the store bought. Most importantly, you'll understand why people are selecting. Market research at its best!
3. What's Trending
This is a great tool to see what's on trend. After a look through the database, you'll notice a lot of mannequin and window shots. These are the pieces that retailers want customers to see and buy, and ultimately your tip to what's popular.
4. Product Promotion
In the spirit of self-promotion and brand promotion, this tool is another way to spread the word about your line. Whether it's telling a boutique owner, snapping a picture yourself, or letting your fans know about the app, this is just one more way to get your product listed on a network that can be seen by others.
Remember, there's nothing wrong with giving your key partners a call-to-action in order to get your product into the marketplace, and this is just one new cool medium at your disposal.
Be sure to check it out at ReQoop and find out how it can best work for your brand.