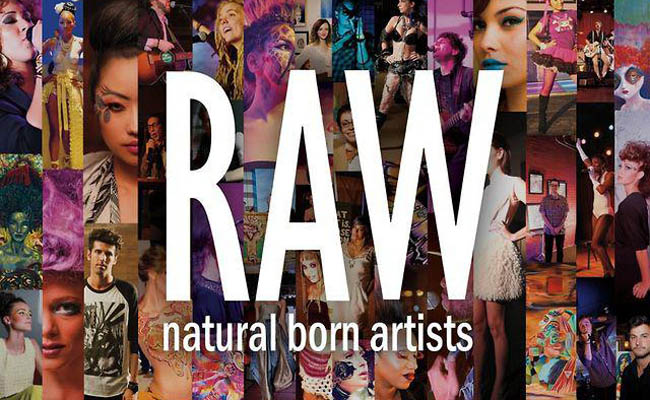 Designers, today we're bringing you not only an incredible event, but also a great opportunity! This past week, StartUp FASHION was invited to the fashion show at RAW Boston. The full title, "RAW: Natural Born Artists" is a description in itself; this is an organization that promotes fresh, local talent.

RAW was founded by Heidi Luerra, a fashion designer who was dissatisfied with the options she had to show her work. She took matters into her own hands and created her own shows, quickly expanding to incorporate all forms of art.
RAW shows are produced on a monthly basis and include live music, visual art, films, and of course, a fashion show. Originating in California, the organization will have 62 locations by the end of the season. RAW takes no commission from artists who are being showcased, and best of all, anyone can apply to show their work.
StartUp FASHION was able to meet with the two talented designers showcasing for this round: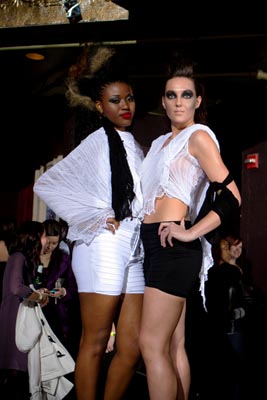 Evan Michael Industry
Evan Michael showed a collection that any designer would take pride in, but it becomes that much more impressive knowing he is still a student.  A junior at Mass. College of Art and Design, he began sewing less than a year ago. Since then, he has honed his skills through an internship at OKW, a local boutique where everything is made in-store. He credits much of his current skill set to that experience.  While balancing school and work, the designer managed to find the time to launch his brand "Evan Michael Industry," and debut at his first fashion show through RAW. The line, "E," is inspired by the hidden beauty amidst destruction. What stood out the most were the surface treatments: from fabric that had been painstakingly shredded to look like delicate lace to rows of safety pins that resembled fringe. A simple black and white color palette brought the collection together.
Dawnamatrix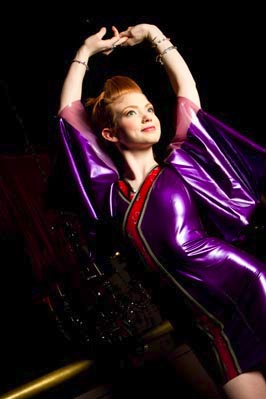 For Dawn Mostow, fashion is all about material- the material being latex. With twelve years of design experience under her belt, she has been working with latex long before Lady Gaga and Nicki Minaj flaunted it onstage. She has shown her designs in numerous venues, including Boston Fashion Week 2010. Upon meeting Mostow, I would have never guessed that the soft-spoken designer was behind her creations. The looks are some of the wildest I have ever seen on the runway! With a background in animation, she seeks to create "living animations" and latex definitely does the job. The models looked as though they had stepped right out of a movie screen. Chemical bonding in lieu of sewing creates clean, precise lines and the colors on the surface of the rubber are bright and bold. The show itself was an incredible performance! Despite how it looked otherwise, the models insisted that the outfits were surprisingly comfortable, and were able to move freely and strike fun poses on the runway. Mostow ended the night by coming out in one of her own creations accompanied by her husband in a complete latex tux!
Special thanks to Faith Verrill and Brooke Scibelli for being such great hosts for the night! To find out more about RAW or to submit work, visit rawartists.org. For information and ordering from Evan Michael Industry visit emindustry.com, or inquire at MassArt Made (www.massartmade.com) where custom samples are available to order. For more information and ordering for Dawnamatrix, visit dawnamatrix.com.