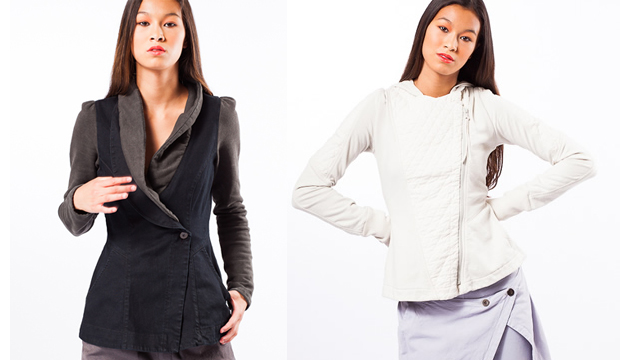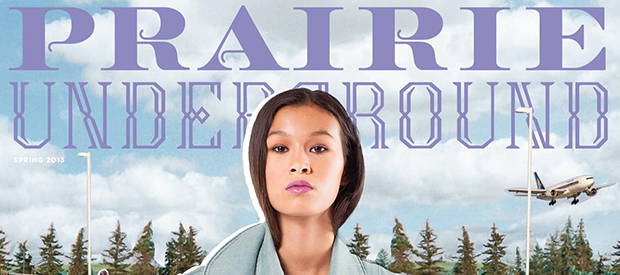 Davora Linder and Camilla Eckersley, co-designers of Seattle womenswear label Prairie Underground, have really conquered their use of sustainable fabrics since 2005.  Their, "populist collection with subtle sensuality" is inspired by distressed garments, hand made clothing and uniforms.
One of the most unique aspects of Prairie Underground is how they utilize the diminishing network of seamstresses.
Living and breathing the creative and organic air of Seattle, Davora and Camilla found that there was an abundance of sewing contractors who were willing to help their label grow.
Since 2004 when Prairie Underground was born, they have employed a team of seamstresses to help with the production of each unique contemporary garment. Both ladies stress that this is one of the most important traits of their business besides their use of sustainable materials because it keeps production local which benefits them as well as their community of similar small businesses.
And their passion for sustainable textiles is still a huge part of Prairie Underground's motto. The majority of their pieces incorporate hemp and organic cotton; however, Davora told us that,
we've always offered styles in sustainable, organic, and re-purposed textiles alongside conventional ones.
These unique aspects of Prairie Underground's business strategy have helped them win over loyal customers, stay successful in the fashion industry, and maintain a positive persona. 
Interview with Prairie Underground's Co-designer Davora Lindner:
StUF: You say that your collection directly supports a diminishing network of sewing contractors in Seattle. Could you tell us a little bit more about this?
DL: When we founded our company in 2004 we identified a number of sewing contractors and have maintained relationships with several of them.  It's a somewhat finite resource in any city and most are small businesses like ours.  Some employ only a couple of sewers while others have staff upwards of 20.  We learned early on that we couldn't rely on a single subcontractor to produce the entire collection.  We divide work according to their strengths and business capacity.
We work closely with every subcontractor to understand our unique production process.  Most of them have completed military contracts or manufacture items that don't change as often as contemporary apparel.  We produce a few styles all the time but most styles are unique and produced only one time.  We've been fortunate to work with really talented sew houses with staff they have employed for 10-20 years.
StUF: Because Prairie Underground was born in 2004, how do you think marketing tools have changed and how are you implementing these changes into your marketing strategies?
DL: We're focused less on marketing than people might imagine.  Camilla and I are No Logo generation and distrust most marketing.  We approach this activity in the most human way; we're proud of what we do and want to share it with others.
Prairie's history is an interesting story.  The way we operate as a business is folksy and relate-able.  Our most valuable marketing remains our distribution word of mouth from end users.  Some companies are terrific at providing content-based social and other media that expands their activity beyond design into other realms.  We focus on producing clothing.
StUF: Being an eco friendly fashion label has become extremely popular in today's fashion industry, how do you keep a competitive edge over other similar designers?
DL: Has it?  Since we've been in business it peaked very briefly and then made a hasty retreat.  It's an easy thing to scoff at because it involves money, discipline and conscience.  We continue to explore to offer a variety of options.
We've always offered styles in sustainable, organic, and re-purposed textiles alongside conventional ones.  Recycled textile options have increased, an exciting development.  It's an obstinate way we work, though a large percentage of our end users don't always relate.
StUF: What was the first step you took when launching Prairie Underground?
DL:  We wrote a business plan and relocated to Seattle.  We attended free small business seminars and spoke with business mentors.  Camilla had eight years of industry experience prior to embarking on her own and was a fully competent pattern maker and sewer from the beginning.
Both my parents started their own companies so self-employment wasn't unfamiliar to me.  Camilla and I learned a lot of what we know from doing it, but our previous work and family provided a road map.
StUF: What advice would you give other emerging designers?
DL:  Our way of operating is just one model.  I'm fascinated by the way other lines work.  Above all else, I see successful people working a lot.  
Most of the questions I field from emerging designers are how to do things.  There isn't only one way and what they're doing will likely produce results.  Most of them want a pep talk and to have someone tell them it can happen.
I worked for seven years as a sculptor before I was able to support myself with that activity, but after a year and half Camilla and I were able to quit our other jobs and be supported by Prairie.  A warehouse, employees and health insurance all came later.
We're currently fueled by a combination of humility and gratitude, as well as the spirit that we're just emerging ourselves.