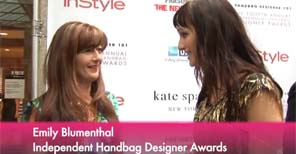 One of the great things about having my home base in NYC, is the plethora of exiting, relevant, industry-specific events that pop up all over the island, and sometimes even in Brooklyn. 😉
The latest get together to pass through my inbox is the Handbag Designer 101 Networking Meetup on Wednesday, February 16th at 7pm.  The event was put together as a platform for discussing the 5th Annual Independent Handbag Designer Awards. Here's what to expect at the meetup:
The Independent Handbag Designer Awards is an international design competition hosted by Handbag Designer 101 and InStyle Magazine. We'll be giving a briefing on the categories, tips and the application process. The Paramount Hotel will be providing complimentary drinks and appetizers while we mix, mingle and answer any questions you have!
Even if your label is not yet ready for the awards, you should follow them. Go to the meetup, talk to folks who are making it happen, ask questions, take it in, soak it up. These designers have so much to offer and you know what, you just may have something to offer them too. So get to networking!