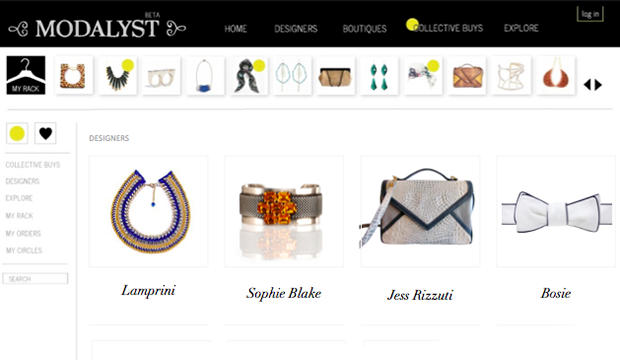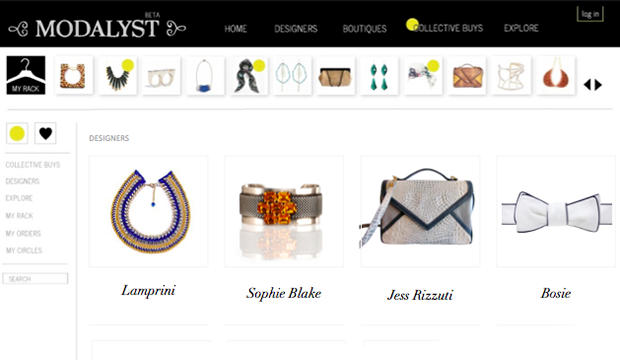 As independent and emerging fashion designers, accessing and selling to retailers is one of the biggest challenges in your business. It's important to find various avenues for exposure from press coverage and social media to networking and events.
One of the newest ways to get your products in front of buyers is through a platform called Modalyst, which currently focuses on accessories.
Modalyst is a curated, online marketplace connecting emerging designers and independent boutiques. Modalyst is creating an experience of collective buying.
We sat down with Jill Sherman, co-founder of Modalyst to learn more about this exciting new platform and what it has to offer both emerging designers and independent boutiques.
Tell us about Modalyst and the problem it solves within the industry.
A few years ago, I was a buyer at Harvey Nichols. Despite being a world-renowned luxury department store, we still had a difficult time acquiring the brands which we wanted. I dreamt of collaborating with the other Harvey Nichols around the world to become a global buying consortium. Only then could we have had the purchasing power to acquire the brands, and buy enough quantities to get better pricing on our purchases.
Modalyst was created to empower independent retailers by enabling buyers to receive the same benefits as a larger-volume player. We connect designers and boutique buyers, and aggregate their orders to help boutiques reach minimum order requirements and/or receive wholesale discounts on bulk orders.
Additionally, with our short lead times and smaller minimum order requirements, we are able to help boutiques stay competitive with fast fashion retailers like Zara and H&M. In fact, a buyer can buy and test more designers, see how they trend in the market, re-order, and have products delivered a second time, all within 2 months.
Give us little behind the scenes; who makes up the Modalyst team, what's a typical day in the life, and what's it like to be a part of the fashion tech community?
Modalyst consists of 2 co-founders (myself and Alain Miguel), Tech Wizard Przemysław "Blue" Idzkiewicz and team, and Amanda Verheyen, our incredible Marketing Mixmaster intern.
The Fash-Tech Community
After leaving MIT in Boston, we felt that the fashion tech community in New York City welcomed us with open arms. The city is filled with smart, innovative people, and there are fantastic organizations working hard to bring us all together – Third Wave Fashion, Decoded, Fash+Tech NY, WIM … just to name a few. We have also qualified as finalists in pitch contests, such as FashInvest and Women 2.0, and were even nominated as Best Fashion Startup by Fashion 2.0. That was a huge honor.
A Day in the Life …
Our day usually starts around 7:00am, when we wake up and check our emails. We work with international designers and boutiques, so it's really important for us to be tuned into their needs during the height of their workday.  Around 8:30am, we get into our Soho office, and start prioritizing our objectives for that day.
The reality is that there is no typical day for us. We have amazingly successful days with several thousand dollars of transactions on our platform, as well as somewhat frustrating days primarily spent tweaking tech issues.
Nevertheless, when our 15-hour days are over, and we're thinking about the next day, we get excited at the prospect of connecting the next generation of fashion designers with boutique buyers from around the world.
As entrepreneurs, we realize that our day has to be filled with a little bit of everything.  From emptying the trash to following up with investors, we do it all to make sure that we can become the go-to, B2B marketplace for fashion accessories.
You're a curated platform. Can you tell us a bit about the application process for both designers and boutiques?
Our service is free for boutiques. We welcome any and all boutiques globally to join, and we already have stores represented from all continents except Antarctica. All we need is a Tax ID # or equivalent, and boutiques are welcome to join Modalyst.
As per designers, we are currently an accessories-only platform. We curate our designers to ensure that they fit under a few criteria: great aesthetics, experience fulfilling orders, and short lead times.
The process is super easy. All one needs to do is request an invite by signing up. Then provide us with a bit of background, such a your site/collection and a list of the stores where you are currently selling. At times we do experiment with very early stage designers too, so don't be shy. We get back to each applicant within a few days.
How many designers and boutiques do you currently have on the platform and what countries are represented?
These numbers change constantly, so it wouldn't really make sense to publish a set number of designers and boutiques, as more are joining daily. It has been very exciting, though. We opened the beta in early January, and since then more than 1500 people have asked to be on the site and we have processed over $100K in transactions, all within the first 3 months. This is all through word-of-mouth, as we haven't spent any money on advertising.
Although we initially wanted to focus on the United States, there was so much international demand that we decided to open up the opportunity to join globally. About 35% of our customers are international.
You just recently launched, how have things been going so far? What are some of the most valuable lessons you've learned along the way?
We opened the site in early January 2013, and have had a tremendous amount of interest from the designer community. As we require white-background and high-res imagery, I was amazed to see the thought and care taken to ensure that their products were well represented on the site.
Branding is essential, and selling designs is a joint effort to bring incredible products and talented designers to market. Those who work with us, and promote their brands in addition to us marketing them, do well.
We have learned about incentive structures too, and have taken great care to ensure that everyone is rewarded well by working with Modalyst. Boutique buyers carefully curate their selection, and we work in the backend to help them receive the best prices on their goods.
For designers, we have built multiple ways for them to make money – not just in the selling of their goods. Interested in knowing how? Well, you have to join Modalyst to see for yourself!
Modalyst is offering FREE membership during BETA to StartUp FASHION Community Members!  Learn more about Community membership here.