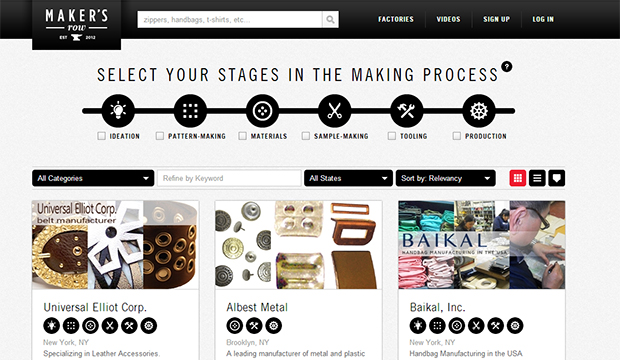 Independent fashion designers face many challenges when trying to get their collections off the ground.  One that they find quite early on is finding the right manufacturer. It's not an easy task; it takes a lot of research, much back and forth, some killer negotiating skills, and think skin.
The recent launch of  Maker's Row, a website that provides access to industry-specific factories and suppliers across the United States, is helping to make the process a little easier.
Check out our interview with one of the founders!
What was the inspiration behind creating Makers Row?
The inspiration for Maker's Row arose from our own need, and realizing that other entrepreneurs had the same need. When Matthew [ my co-founder] and I were running The Brooklyn Bakery together we were really frustrated at how difficult it was for us to find the proper manufacturer.
It would take us months to find the right factories and materials, which really slowed our growth. Whenever we would go to events for product-based entrepreneurs, sourcing would always come up as an issue.
What problem is Maker's Row solving for fashion designers?
Before we created Maker's Row, we saw that sourcing was a multi-faceted problem: there is no comprehensive resource, little community, and very little transparency.
This made it so that it would take a very long time to find a manufacturer and supplier, and if you are a small company, that takes away from the time you can spend designing, marketing and selling.
Makers Row is making manufacturing accessible and what might have taken a designer months to find, is now available on one comprehensive platform.
What are some key aspects of the site, i.e. Why is it so awesome?!
A couple of key aspects:
Community: We provide a free service for both designers and American factories to connect and grow their product lines. By empowering both the creative and manufacturing communities to have a platform that they can easily access, both sides win big.
Usability: We have created clean, and easy-to-use interface that allows designers to quickly find the best factories for their specific production needs. There are 3 different views you can use when searching: grid, list and map view. Our map view was recently updated and you can now really easily search by location. This saves designers both time and money.
Quality Data: The Maker's Row crew is working tirelessly to ensure that the profiles on Maker's Row are accurate and filled out properly. Makers Row Factory profiles are accessible by factory owners so that you are able to access the most accurate, and up to date information. We also have request features for people to request more information from factories.
Search by Stages: You can use our 6 stage making process as a search filter! You can click which stages you need; for instance, if you need a patternmaker you can check off that box and it will show you all of the patternmakers available.
Do designers have to pay a fee to use the site? Do manufacturers have to pay a fee to be listed?
Designers can access and browse Makers Row for free. Manufacturers, likewise, can be listed for free. We have a number of paid features that factories and suppliers can add on to their profile to fill out their listing. We offer media services for manufacturers such as photos of facilities, sample products, and even short video interviews so that designers can meet the people behind the products.
We noticed the super suave Pinterest-style feed layout. How much emphasis have you placed on user experience at this stage?  What areas do you hope to improve/build on?
We are OBSESSED with making the user experience awesome, we spent a lot of time iterating on the design and experience, and before we launched, we conducted some user tests to help us out as well.
Since we have just launched, we are encouraging designers to give us feedback on our layout, usability, and basically anything they feel could be improved. Though we are very proud of the efforts that come from the Maker's Row crew, we have a running list of to-do's, and we will continue to try to make the experience better.
Anything exciting happening in the near future that you can share with us?
We recently added a reviews section to our factory profiles so that we can get more involvement from our designer community. It is the experiences and relationships with our listed manufacturers that will help others in choosing the best production partners. We also encourage designers to suggest factories to us in order to grow our manufacturing community.