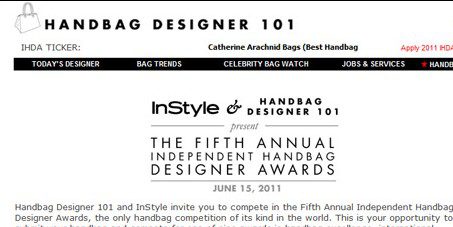 It's Oscar time, and the entire fashion industry is a buzz with awards; wondering who's wearing which designer, beauty trends, what jewelry will be showcased…oh yeah and who gets an Oscar.  While I'm interested in this as well, there's another awards buzz that has worked its way into my radar; The Independent Handbag Awards.

For the past four years Handbag 101, a great resource for accessory designers, has put on an awards show for Handbag Designers from all over the globe.  This year is no different.  The awards take place June 15, 2011 and applications are currently being accepted.
I have to say, not too long ago, I attended one of Handbag 101's Meetups and was treated to a panel discussion and interviews with past winners. Each designer's work was so very different from any other's, but all were well thought out, functional, and aesthetically beautiful.
Think you have what it takes?  Submit your bag design for the chance to compete for one of 9 categories in handbag excellence:
Best Handbag in Overall Style & Design
InStyle Red Carpet Ready Evening Bag
Artisan House Award by Isabella Fiore
Best Use of Swarvorski Elements
Best Student Made Handbag Inspired by the colors of vitaminwater
Best Handmade Handbag
Best Green Handbag
Most Socially Responsible Handbag
Audience Fan Favorite Handbag
Good Luck!