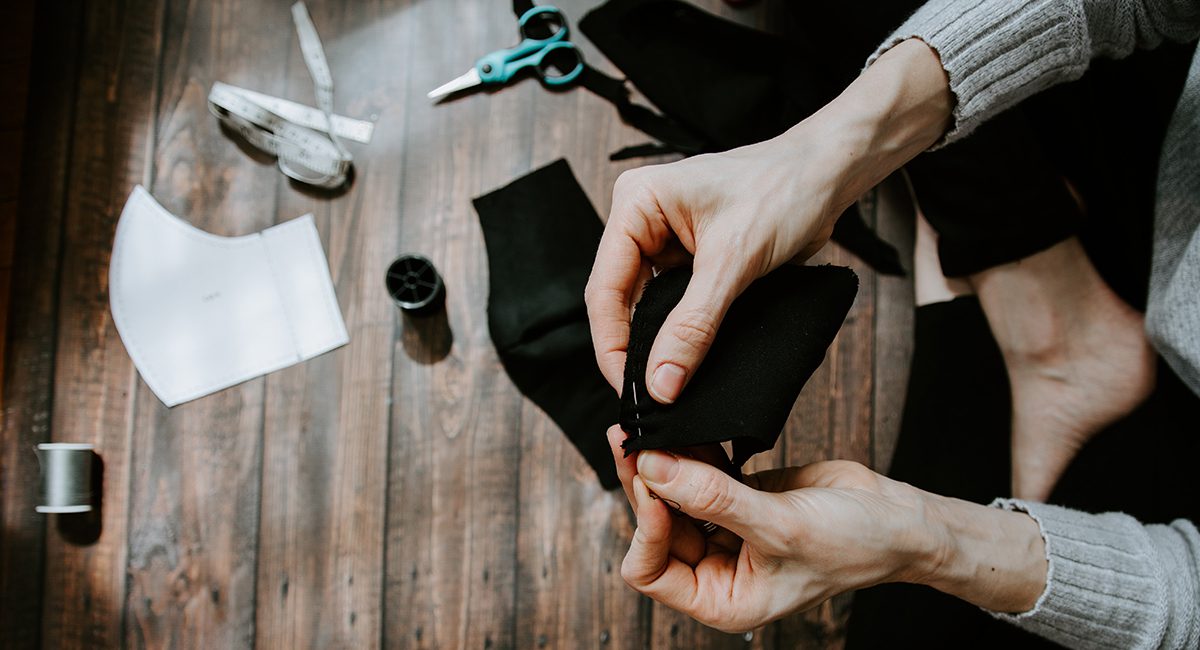 A sample maker can take your fashion design dreams and transform them into reality, allowing you to see what those designs actually look like and providing you with real, concrete copies of your work that you can share with interested buyers. The process of finding a sample maker, however, can be unexpectedly difficult.
Are you ready to get those samples made? Follow these steps.
Finding Someone to Make Your Collection Samples
Your first step in finding the right person is to ask other fashion brand owners. If you have connections within the fashion industry, it can prove very helpful to turn to those connections to find a sample maker that fits your needs. This is why being part of a fashion community is game changing when you are building a business. When you talk to trusted colleagues, you also increase the odds that you will find a high-quality sample maker that will deliver the results you're looking for.
If you're not a part of a fashion business community, consider conducting an online search for a directory. We have one in our Shop here.
Make sure, however, that you take the time to carefully vet anyone before jumping in. You'll find that both individuals and factories will produce fashion design samples, so carefully consider what you need from your sample maker before hiring one.
What to Look for in a Sample Maker
There are several key things that you may need to take into consideration before hiring a sample maker to produce samples of your designs.
Quality
You need someone who will produce quality designs. You don't want samples that are not at the quality that you will produce your batches of inventory; rather, you want a sample maker who will produce your samples exactly how you will sell them. By asking for samples of past work, you may be able to get a better idea of what the sample maker's work looks like.
Experience
Pay attention to both the experience of your sample maker. This isn't so much about how long your sample maker has been doing this work (although that's a good thing to find out) but mostly about whether they have the experience with your materials and in your category.
Does this person usually work with knits or wovens? Do they have experience with satins and silks? Are they familiar with tailored pieces? Do they create womenswear or menswear? Whatever your needs are you want to make sure that your chosen sample maker has worked on something similar.
Pricing
Making samples of your designs is often not a cheap process. A lot of work goes into the creation process, especially if you're still making prototypes. However, you need a pricing model that fits your specific budget. Get a clear understanding of the cost for the sample, how many revisions you get before needing to pay more, and what the cost is for additional revisions.
Turnaround
When you reach the sample-making part of the design process, you may need a quick turnaround time to help get those products in your hands and allow you to move forward with production. Consider the turnaround offered by the sample maker and how it could impact your production timeline, including whether waiting for those samples may leave you sitting in limbo.
Shared Vision
Pay attention to whether you and the sample maker can come to a shared vision about your designs. You can produce fantastic designs that clearly display your skills, but if they don't put them together the same way you imagined, you may not be satisfied with their work. Looking for someone who shares your vision can make it easier to get those high-quality products. Because it's so hard to find someone who will view things the same way you do, many fashion designers end up consistently working with the same sample maker for a long time.
Questions to Ask Before Hiring
As you're considering a sample maker, there are a number of questions you want to ask to ensure that you're getting samples that fit your brand's specific needs.
Can I speak with a past client? Past clients can provide an overall better look at what it might actually be like to work with a specific sample maker.
What types of products have you made in the past? As mentioned, you want to work with a sample maker who has made samples similar to the products you want in the past.
Do you specialize in a specific area? If you have a specialized design that you want to have produced, you want to work with a sample maker who specializes in that area.
What does your pricing look like? A clear, transparent pricing model can make it easier for you to determine what costs to expect down the road.
Before you hire a sample maker, make sure you have a clear contract in place that lays out what you expect. Ask for exact pricing terms, turnaround times, and any other elements that could impact the completion of your work so that you can come to a more satisfactory agreement.
SOMETHING Important: Multiple Rounds of Samples
As you're getting ready to launch your fashion brand for the first time, you may be surprised by what the sample-making process looks like. Rarely is a sample perfect on the first try.
In many cases, you will need multiple rounds of samples before you get the design just right. Keep in mind that, for all the time and effort you have put into putting your designs down on paper, it can be very difficult for the sample maker to figure out exactly what you're trying to create.
As you go through the sample creation process, it can take several rounds before the sample maker fully brings your vision to life. During each round, however, you will get closer to the finished product you're looking for.
Over time, as you develop a rapport with a sample maker, you may find that they're able to produce samples that reflect your vision more quickly.
So don't get discouraged if your first sample, or even the second or third, are not quite right. It's called a "process" for a reason.
Are you interested in launching your own fashion brand, but not sure where to get started? Check out our free class, How to Launch Your Fashion Business Even If You Have No Prior Experience.