It's true. There is an art to finding and ordering fabric. Whether it's conscious or not, there is some sort of triage system in place when mills and factories speak with designers and developers. Don't get me wrong, it isn't malicious, there are just so many clients and companies reaching out to them, if they responded to everything in the order it appeared they would never get any work done.
So here are 5 lessons on what to do and what to expect when venturing into the sometimes intimidating world of fabric sourcing.
Lesson One: Know the Difference between Wholesale and Retail
"The customer is always right" is something we have had drilled into us at every job we've ever had. And this is true for any industry. However, the difference between retail and wholesale is simple. If you aren't a customer, than you will never be right.
In retail, you can get whatever you'd like with no questions asked. But in wholesale, the game changes. Reps for factories find it their responsibility to be your advisor and only sell you what you need. As they see it, you will keep buying if they guide you wisely.
Lesson Two: Do Your Research
Most fabric mills have websites. If the mill that you are interested in contacting does have one, make sure to check it out… thoroughly. Having a clear vision of what you would like either sample yardage of, or swatches, will make your life (and your rep's life) that much easier.
If you are able to order swatches online, do so! It is important to feel the fabric before ordering sample yardage, otherwise, you've got 5-10 yards of fabric that could be perfect or could be terrible. It is only after you've done the research that you contact your rep.
Lesson Three: Know What and What Not Ask
In school we learn that there are no stupid questions. Well, once we become adults we learn that those teachers told us lies. While it is true that there isn't any question you shouldn't ask, there are questions that you don't ask to certain people. Knowing when and how to ask for specific information is invaluably important.
Do:
Make a good first impression. Remember, this isn't about just buying fabric. You are also building relationships with future partners. Relationships that could potentially last a very long time.
Request fabric swatches. Mills believe in their fabrics. If you are looking for a 4 oz. jersey, don't be afraid to ask if they have a fabric similar to that, and if they could send you a swatch.
Tread Lightly:
The price should never be your first question, with anyone. There are a lot of factors that go into price. It is tough, as any startup knows, to know a good value from a cheap product. It is only after you've physically touched the fabric and it is one that you are seriously considering, that you request pricing and minimums. If you go in overly price-conscious, you will never get the swatches you need.
This goes back to pricing. If you are serious about a fabric, then most reps will volunteer that information. If they don't, than make sure that you ask while stating your interest in their fabric, and would like to know minimums prior to ordering.
NEVER:
Ask if they have a fabric that another Designer uses. This is mainly an industry courtesy. As any company knows, if you sell client information, you lose clients. It's just bad for business. Would you want them selling or providing your fabrics or designs? It's simple, don't put anyone in that position.
Buy wholesale for personal use. Respect trade relations. Do not exploit your connections with factories to buy fabric, trims, etc. Reps are very well connected, and if you are caught… well, this industry may seem large, but you will find out just how small it really is. Instead, if you want products for personal use, get them from jobbers or another designer.
Lesson Four: Don't be a Prima Donna
We've all heard the phrase, "Kill 'em with Kindness". Now do it. Sourcing is all about attitude. Yes, some reps are jerks. Yes, some come across as cold and inhospitable. But, these are future partners. As partners it is important to note that no one is spying on you. They will not take your designs and sell them. Be kind and cooperative, and they will follow suit. They warm up once you move past the threshold of 'potential client' to 'customer'. And if they don't, then move on.
Lesson 5: Flexibility is Key
It is important to note that a specific rep/factory may not be a good fit. That means you may be referred to either a rep closer to your area/territory, or a factory that better suits your needs. By displaying a positive and flexible attitude, reps will be happy to make these suggestions accordingly. Again, if they advise you wisely you will continue to buy from them.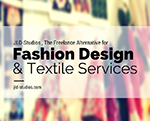 JLD Studios offers Apparel & Textile Design, Technical Design, Patternmaking, Packaging, and Manufacturing Support. We are passionate about seeing designers succeed by providing the tools to help promote growth regardless of company size.
From initial design to your technical package, we work with you and help to guide you through the entire development process.