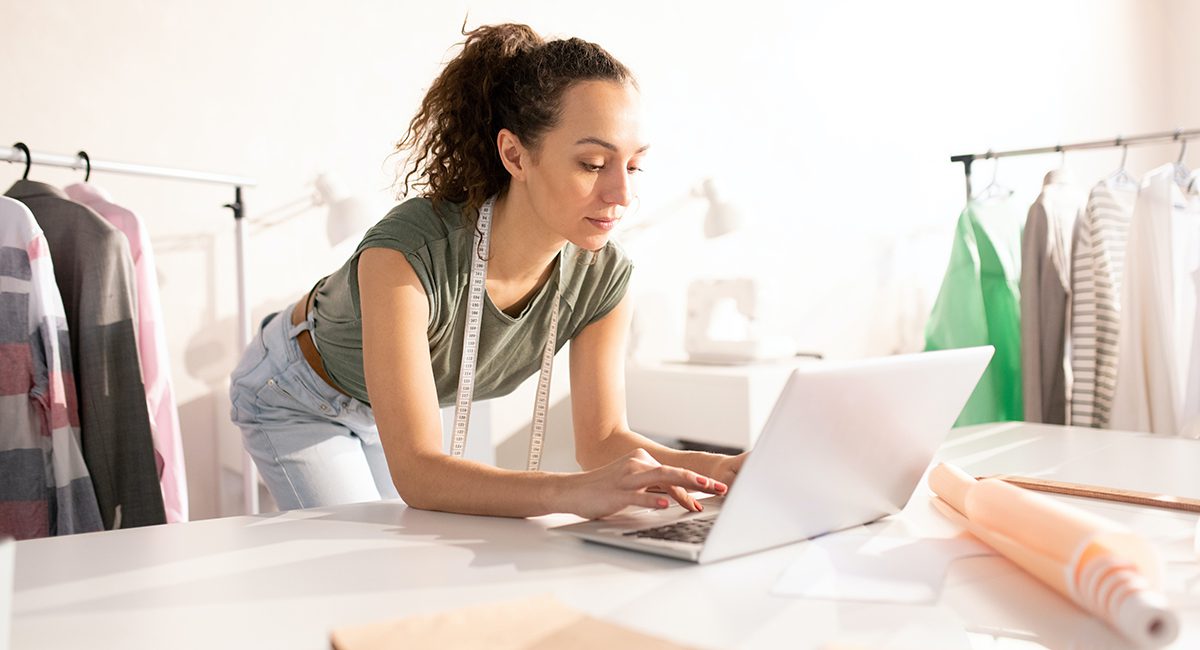 When it comes to creating a path for growing your fashion business, there's no one single way to make it happen. Instead the best thing you can do is create a blueprint laying out a structure for how you will make more sales and then tailoring that blueprint to your business, brand, and specific goals.
So let's talk about what that blueprint structure should look like so that you're zeroing in on what's important and avoiding the distractions.
Step 1: Nurture your CEO Mindset
The first step of creating a blueprint for sales in your business is to make sure you're nurturing your CEO mindset. 
When I hear things from my LevelUp FASHION students like:
I'm working on my collaboration database but I don't think any of these brands are going to want to collaborate with me, or…

I need to make $5k in my business this month but that's not going to happen, or…

Why do I bother posting on Instagram, the algorithm hates me
Then I know it's time to revisit the CEO mindset work. 
It's important to dig into the things that could be holding you back that you don't even realize are issues.
What are your blocks? Blocks are any limiting beliefs that keep you from making progress towards your goals.

How do you handle obstacles?
Have you developed your inner coach or are you listening to your inner critic?
This work is not optional and it's not unimportant or woo-woo. It's the very first step in running the profitable business you are dreaming of running.
Step 2: Develop YOUR Marketing Machine!
The second step of creating a blueprint for sales in your business is to create your own marketing machine!  Why marketing machine? Because machine work smarter, not harder. And because your time is valuable and you don't have money to waste.
Think of it as a system you create where you focus on the key areas for marketing your fashion business: reach, list building, conversion, and analytics. When you focus on these areas, your marketing becomes smarter, the more you learn. And you systemize the work you're doing so that you're not burning out or feeling scattered. 
So let's break it down. 
Your marketing machine zeros in on these keys areas…
Understand Your Traffic:

where is your current traffic coming from? How much traffic do you need to reach your money goals? What are you doing with your traffic once they visit you? 

Find Your People:

Who is your ideal customer? What are your best channels for reaching them en masse? 

Hook Your People:

if 99% of people who visit your website don't buy anything, what are you doing to hook them so that they become customers in the future?

Sell to Your People:

What are you saying to them on a daily, weekly, monthly basis to get them to buy?
Step 3: Create a Sales Strategy
The third and final step in creating a profitable business blueprint is streamlining your sales strategy! 
I know you want to start to see those paydays. While it may not be all about money for you, if you want this to be a business that sustains you, then you need to get to a place of profitability. 
One of your goals as a business owner is to get to the point of knowing exactly what to spend your time on to make more money.  Meaning, you have regular daily, weekly, and monthly tasks that you know must get done because they are directly linked to revenue generation. 
When you get clear on these things, it is so much easier to set priorities in your work and you no longer feel lost on where to focus  your attention.  You also no longer say things like "I need to make more sales." and instead you say things like: "I need to increase our website traffic by 6% in order to hit this month's revenue goal."
SO much more strategic, right?!
OK, so what are those things you are focusing on?
Well, first, you need to create revenue goals or projections in your business to give you structure and milestones to reach. That way, you can see what needs to be done in order to reach them. 
And then you need to pay attention to your tailored key metrics in order to improve conversions, increase average order value, and create recurring sales.
So let say you set projection of $5,000 revenue for the month of January. And you break that into $3500 ecommerce sales and $1500 wholesale orders.
You ask yourself, what are the key metrics for getting you there.
These key metrics can be slightly different for each brand, as it's based on your marketing plan. 
But some examples are are email subscribers, email open rates, website traffic, sales calls completed, and conversion rate. 
These are the metrics that you need to monitor in order to know if the sales strategy you have created is getting you to the goals you have in place.
Focusing on these areas gets you to a place where your business is working!  And wow does that feel awesome. 
If you find this post helpful, I'm hosting a free webinar on May 23rd, 7pm ET called Know Your Numbers. It's for brands that have already launched and want to learn more about how to make more money in your fashion business. Register here.