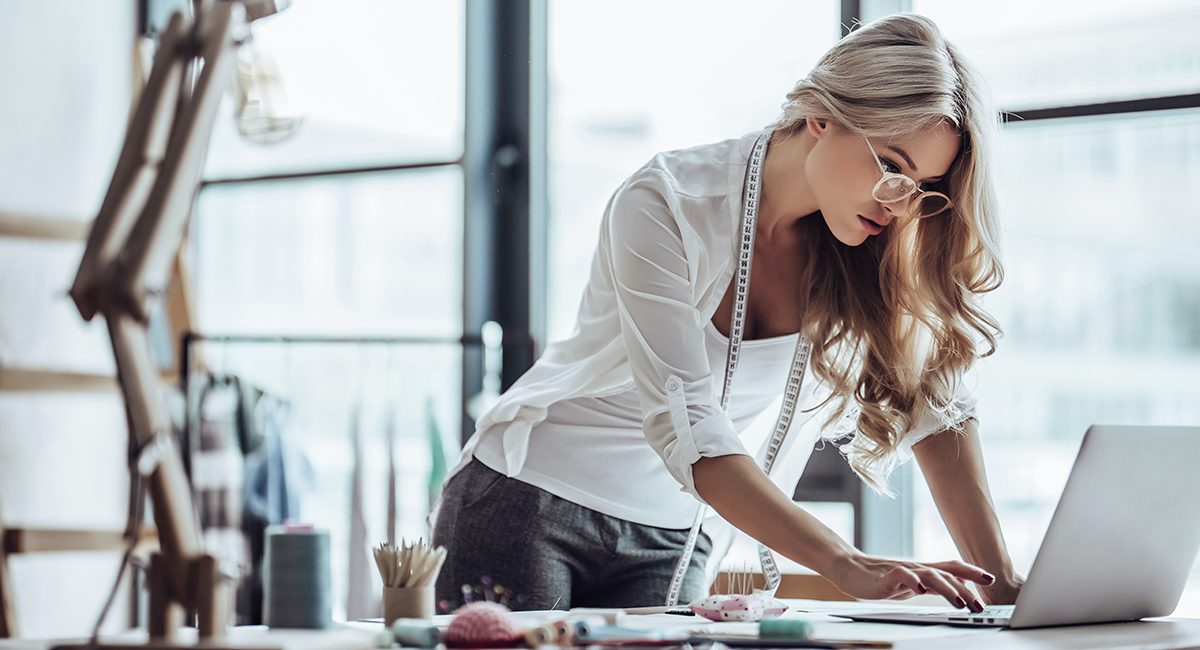 Something that not enough small business owners spend time on is their business vision. But it's really important. Because if you don't have a clear picture of what you're working towards how can you know what you need to do to get there?
So how you do start to get clarity on your fashion business vision? Start by answering a series of questions that get you thinking about your business in a new way.  
The first thing I want you to think about is your BIG goal for your business.
What's the ultimate end-game here? What are you building? Get very detailed here. Think about things like:
What is your role in the business? 

How do you want to spend your days?

Do you have employees? What are their roles?

Where does the business operate?

Do you have an office, a studio, or do you work from home?

Who are you serving in your business?

How are you serving them with the products you offer?

What's your annual revenue in 5 years time, 10 years time?

What's your annual profit in 5 years time, 10 years time?
I want you to paint the picture for yourself of EXACTLY what you want your business to be. 
Next I want you to think about what you can and will commit to doing for a minimum of three years to make this happen. Think marketing, products/services, and operations. 
Will you commit to sending regular emails to your list, even if it feels like you're being pushy? 

Will you commit to doing weekly live videos, even though it scares you? 

Will you commit to dedicating 10 hours per week to growing your business, even if that means you can't watch TV most evenings?

Will you commit to understanding all your financial data in your business even though it's not something you enjoy?
The thing is, there is extraordinary power in repetition. 
When you stop starting over and doing new things all the time, you can move beyond being a beginner over and over. You develop CEO habits and really start to get closer to that big vision. 
Only through repetition and mastery can you become great at anything.
Ultimately you're answering the question of what you will commit to mastering in your business so that you can realize Your Business Vision.
This exercise is really powerful. 
After you've done that exercise, I want you to think about your ideal customer. 
Who are you serving with your business? What are their hopes and dreams?
Think about this concept:
What if you fell in love with your ideal customer? Or, if that's too dramatic, what if your ideal customer was your number one bestie? Thinking this way helps you to have a long-term relationship where you can provide them the next thing, and the next thing, and the next thing as they grow and progress. 
Next is the question that so many fashion brand owners struggle to answer:
What problem is your ideal customer facing that you solve with your product? I get that you're  probably saying I make clothes or bags or jewelry, it doesn't solve a problem. 

So if you need to, think about it this way: How do you make them feel when they wear your product? Making them feel a certain way (smart, strong, sexy, free, proud, beautiful, confident, whatever!) IS solving a problem.

Not

 feeling those things but wanting to feel them, is a problem. A problem that your products can solve for them. 

How are your products helping your ideal customer become the person they are dreaming of being? If they dream of being strong, fierce, confident, beautiful women, what about your clothes or bags or jewelry helps them feel that way?
Next I want you to create a business summary about your business:
What are all the styles you offer and their prices?

What story do you tell? This story should answer the questions:

Why should anyone care about your brand and products? 

What does it do for them?

How do you get your brand out there?
I also want you to run an asset inventory. 
Current customers

Email list size

Website traffic

Blog traffic

Facebook page fans

Instagram followers

Pinterest followers

YouTube subscribers

Collaborations/Partners

Speaking engagements

Team members
Then I want you to prepare  your 6 month projections for your business:
Total Revenue Goal 

Costs of Goods Goal

Operating Expenses Goals

Net Income Goal (so that's your sales minus your Cost of Goods Sold)

Break down your revenue for each of your products including how many of your ideal customers you need for each.
Have fun with this. This is your vision!
The last thing I want you to think about while working on your business vision is your energy level.
While time and money are two very important resources, so is your energy. You need to use that energy to do scary things, to make hard decisions, to push a little harder. 
So what brings YOU the most energy as a human and the leader of your business? 
You'll need to know this so that you can use it when you're feeling drained and discouraged. 
Think about it this way: If you could do more of this, you would be a much more energized CEO.  List the things that light you up and bring you energy and also how often you will commit to doing them. Once a week? Daily? Monthly? Really depends on what they are.