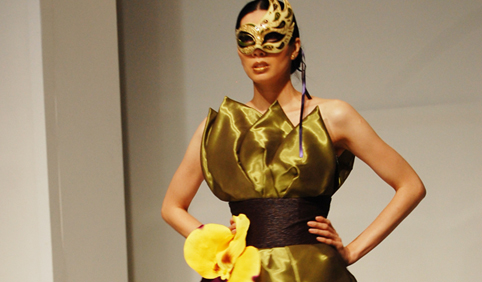 One of the most highly anticipated events of Boston Fashion Week was The Launch, presented by Fashion Group International. The Launch is the ultimate showcase of local, emerging talent: five recently graduated designers were selected from schools around the Boston area to show their collections.
Here, we introduce you to them:
Georgeannette Chatterley, an alumnus of Mass. College of Art and Design, presented a collection that was a bold, electrifying kickoff!  Using mainly leather, Chatterley brings a new level of chic to rock star fashion. The most unique aspect of her designs was her manipulation of fabric: cut strips of leather are woven together, color blocked or slashed to create dynamic new textiles. These treatments were used everywhere from jackets to dresses to pants.
The audience broke into applause as Chatterley's finale piece came down the runway: a floor-length men's jacket with exaggerated shoulders. The model fed into the enthusiastic response and worked it!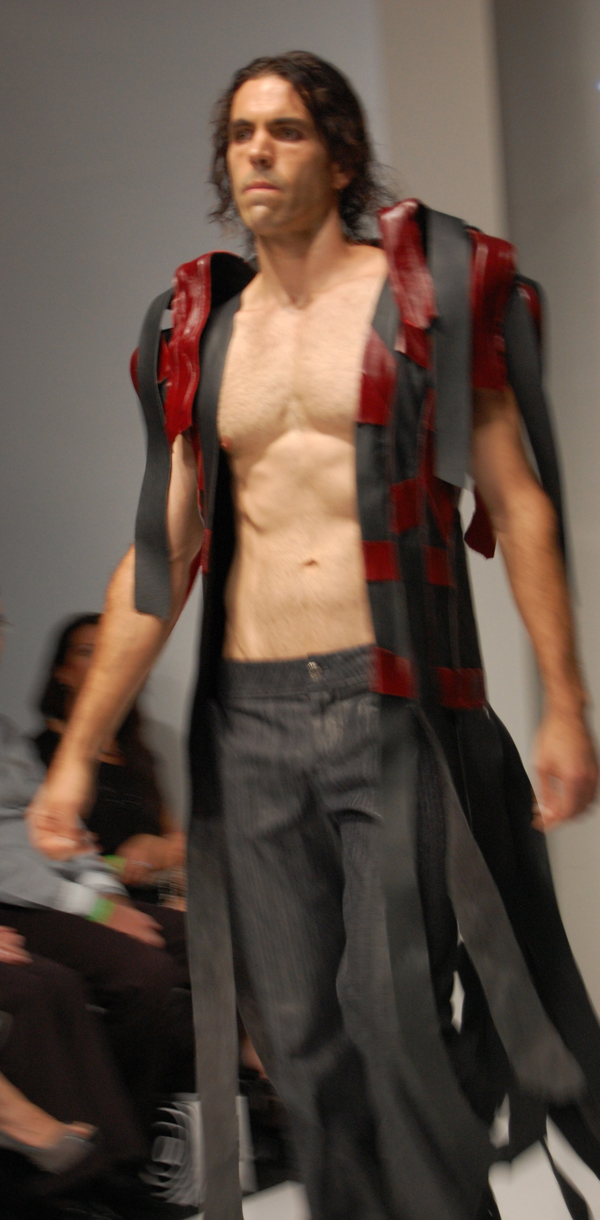 Christine Lam Lasell' s experience studying abroad in Paris and interning in London have influenced her designs in a big way. Lam's collection was a beautiful, contemporary celebration of the body. Avante-garde elements were subtly blended with more classic cuts, and each garment was incredibly well tailored. A dark, slimming color palette pulled everything together.
The accessories were equally charming; my favorites were the tassel earrings! More highlights from the collection include a glamorous coat trimmed with fur and thin gold chains, as well as a sleek tulip-skirt dress with a low back, also accented with chains.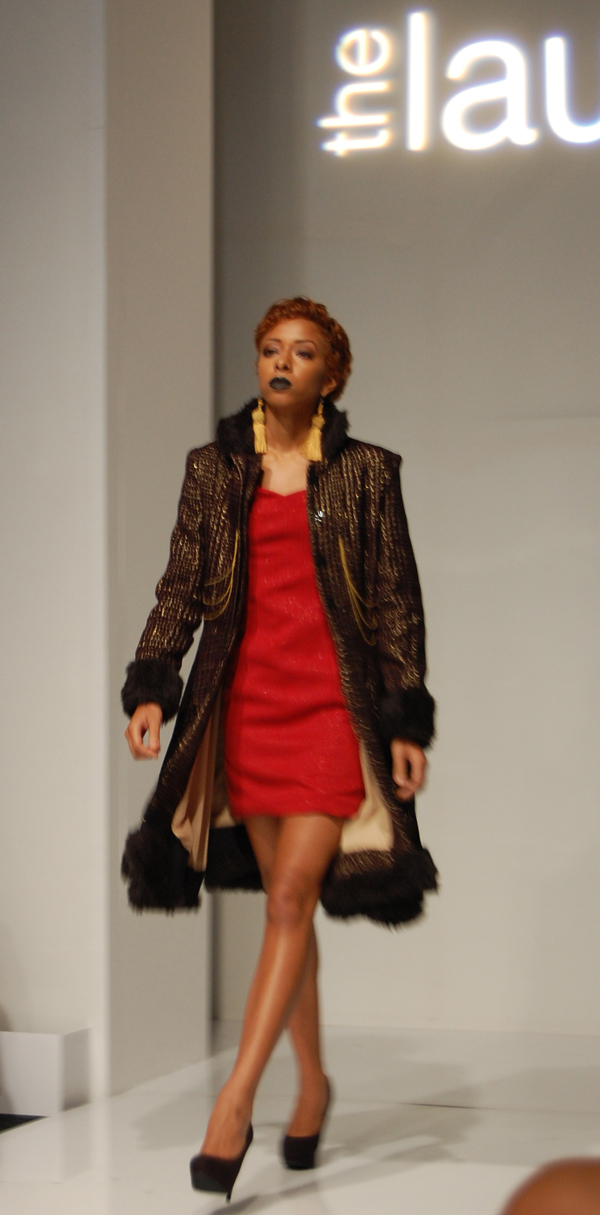 Karina Bresnahan caused the audience yet again to break  into a round of applause at the dramatic start of her collection. A graduate of the School of Fashion Design, her specialty is resort and swimwear apparel. Bresnahan took that area of fashion to its full potential. The gasp-inspiring first look of the collection featured an intricately knotted bathing suit cover with a long train that floated behind the model as she walked.
Bright colors, rich prints, and more airy wraps followed. The collection was titled "Exotic Voyages," and lived up to its name. The patterns and colors had a tribal feel, and the styling called up every possible scenario of a trip, from exploring the jungle in a straw hat and cute shorts to lounging in a hammock while wearing one of the luxurious wraps.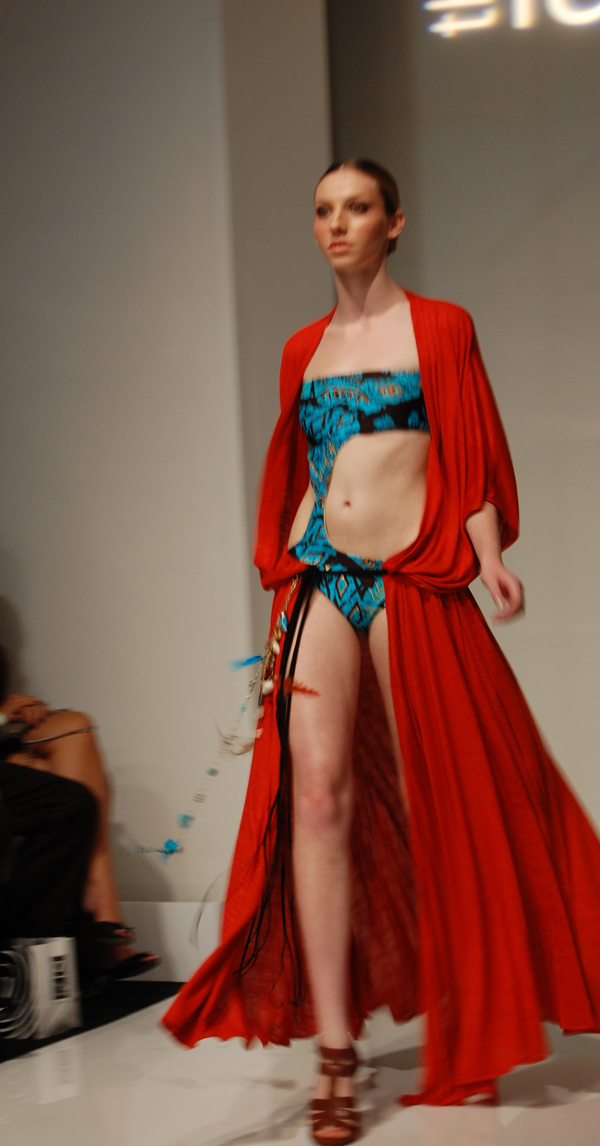 Mishal Kizilbash is originally from Pakistan and draws on her cultural heritage for inspiration, mixing it with western influences. Kizilbash is another Mass. Art graduate and what made her collection unique was in the details.
The garments featured intricate appliqué and beadwork, all of which she did herself, and included an amazing mix of patterns and textures, all unified by a minimal color palette of red, white and black.
Stunning jewelry accented the clothes, including hairpieces and even a traditional nose chain.  There weren't any particular standouts as the entire collection was very strong (although I can't help but be amazed that a simple v neck dress was completely transformed by Kizilbash's exbellishments). Seeing the collection in full was an experience in itself, and one I was glad to have had.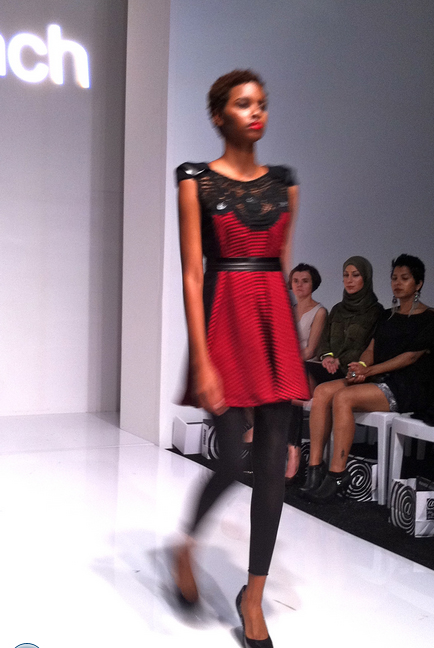 Candice Wu was the finale for The Launch and she did not disappoint. Also representing the School of Fashion Design, her collection brought one word to my mind: magic. The models wore gold masquerade masks, and each garment became progressively more whimsical. A little black dress with a feathered skirt caught my eye among the simpler dresses.
About halfway through, Wu really began to pull out the stops.  One dress featured a diamond-shaped structure that took up the model's entire right side, on another, large purple flowers crossed over the bodice with a long train flowing from the shoulder like a cape. After a series of avant-garde gowns came the final piece: a dress covered in huge, sculptural pansies!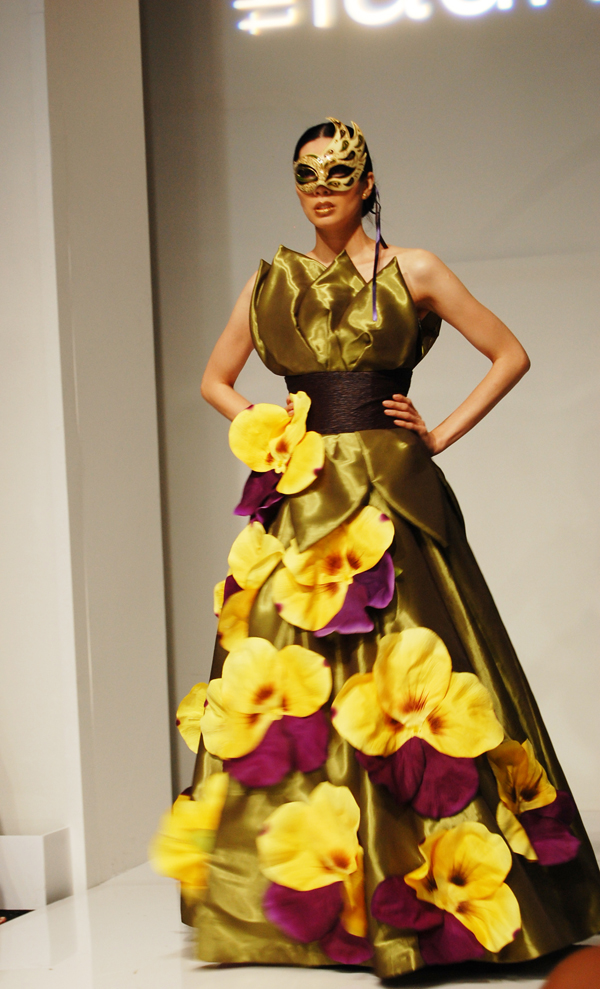 The night was a hugely successful showcase of what local talent can do! Select pieces from the designers' collections are on display in the Center Court at Copley Place.