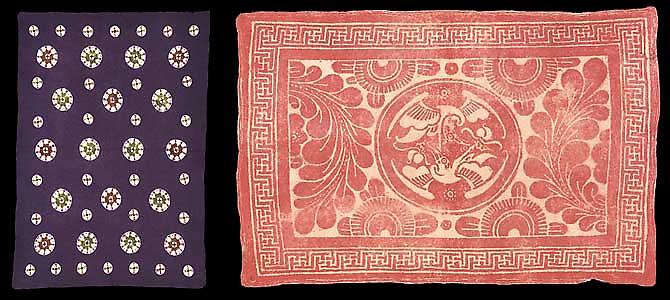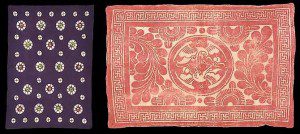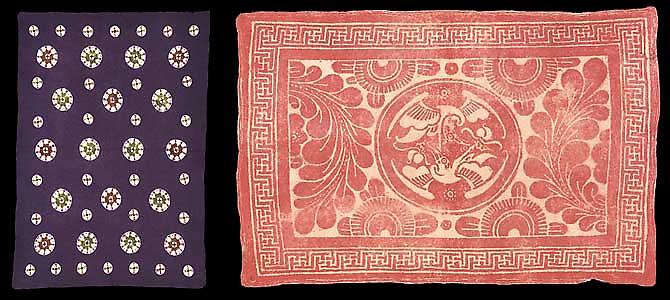 If you're lucky enough to live in the ever exciting San Francisco Bay area, you should take an afternoon to visit the textile exhibit To Dye For: A World Saturated in Color. It's been up since July and runs until January 9, 2011. If you're at all  interested in historical textiles and various cultural fabrics, this sounds like it could be pretty great.
To Dye For features over 50 textiles and costumes from the Fine Arts Museums' comprehensive collection of textiles from Africa, Asia and the Americas. A truly cross-cultural presentation, the exhibition showcases objects from diverse cultures and historical periods, including a tie-dyed mantle from the Wari-Nasca culture of pre-Hispanic Peru (500–900 A.D.), a paste-resist Mongolian felt rug from the 15th–17th century and a group of stitch-resist dyed 20th-century kerchiefs from the Dida people of the Ivory Coast. These historical pieces are contrasted with artworks from contemporary Bay Area artists. The exhibition highlights several recent acquisitions, including important gifts such as a pair of ikat-woven, early-20th-century women's skirts from the Iban people of Sarawak, Malaysia and two exquisite hand-painted and mordant-dyed Indian trade cloths used as heirloom cloths by the Toraja peoples of Sulawesi, Indonesia.
Since I'm all the way over on the east coast, I expect someone to check this out and report back!