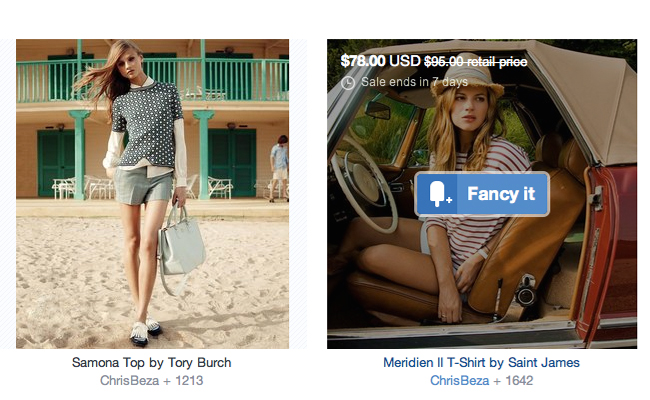 Today's world of e-commerce, social commerce and social discovery platforms has become blurred. There are many sites popping up every single day offering unique features that cater to a specific niche. As I always mention, we love this because it shows that there's an increasing amount of opportunity to get exposure, market learnings, feedback and of course, sales from these start-ups.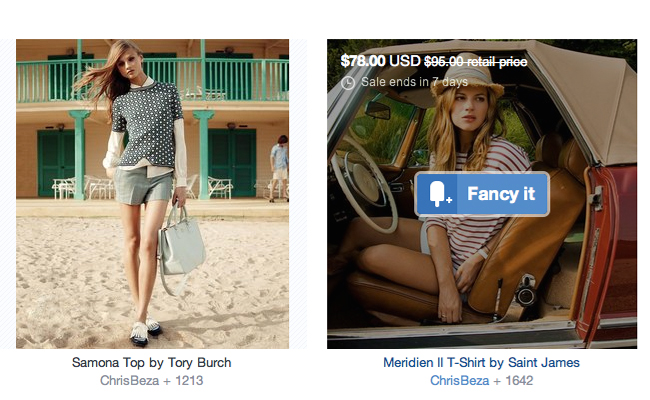 Our latest discovery is called Fancy. Simply put, it allows users to catalog items that they fancy. In the spirit of social discovery, you can peruse fashion, home, gadgets, art and many other categories. Fancy has piqued the interest of many well-known brands: Alexander McQueen, Anthropologie and J.Crew are listed on the site and drive consumers to theirs to make a purchase. Popular websites like Apartment Therapy and Cool Hunting have their own page too.
How it Works
When you register for Fancy, you get to choose people, brands and retailers that you would like to follow. My suggestion is to follow the people that are in your circle so you are on their radar and because you may eventually be able to connect with them.
Similar to Pinterest, instead of pinning, you get to "Fancy" an image that is shown in the shape of a popsicle and assign it to a board that you name. From here, you have the option to buy it from a retailer, sell it, or share it along with several other features.
If you're a designer, brand, retailer or a consumer you can sign up for your own store and build your inventory accordingly. Transactions can be made within the site or through your own site as well.
How We See Fancy Helping Emerging Designers
Like many social sites, we see this as another avenue to promote your business and put yourself out there. Even if you haven't launched your brand, you can still start to show people your brand voice and aesthetic. Whether you have your own store within Fancy or register as a user and upload photos, you can see the popularity of your own products. Perhaps you want to get feedback on a new style or color, Fancy acts as a way to get that consumer research.
At the same time, you get a chance to see what's going on in the marketplace. You can see how many people Fancy an item and also see the origin, which can lead you to a retailer, fan or a person of interest.
Fancy seems to offer several different types of features that accommodate a variety of users. We think it's worth checking out to see how Fancy can be an opportunity for your business.
Learn more at TheFancy.com