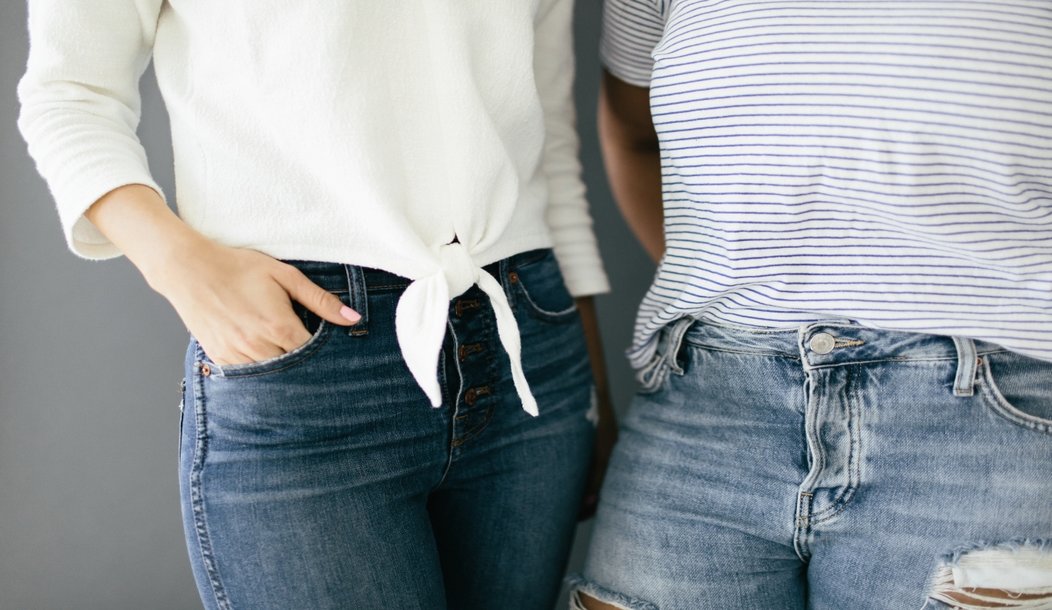 Creativity and talent, on their own, are not enough to launch and nurture a profitable fashion business. A successful fashion entrepreneur also needs the ability to promote and ultimately sell their designs. While marketing is important for increasing your visibility and brand recognition, it's your sales strategy that really speaks to your prospective customers and generates sales.
Many people don't make a purchase unless they can identify a justifiable reason for spending the money. One way to justify a purchase is to select products that improve their lives. Plus, when you speak to client needs, you build trust and rapport. That's why it's essential to put the needs of your prospective customers at the forefront of your sales strategy. Within the sales industry, this is known as the "What's in It for Them" approach.   
Defining the "What's in It for Them" Sales Concept
Salesmanship involves more than a catchy slogan or creative logo. By implementing "What's in It For Them," you will identify the potential pain points, wants, and needs of your target audience.
Once you identify how your brand or designs provide the solution to your customer's problems or concerns, you can then promote them as a means of improving the lives of your prospective customers. As you focus on customer needs and identify the problems your brand solves, your marketing message will also become focused, clear, and precise. As you clarify your message, sales follow.
Of course, your fashion vision is unique, but novelty alone won't sell merchandise.  For a "What's In It For Them" (WIFT) sales strategy to be successful, you will need to dig a little deeper. To incorporate a WIFT sales strategy into your business concept, here are a few suggestions:
Identify the Needs of Your Target Audience
You can't make sales if people don't know you are out there championing their preferences and needs. The ability to present your brand as a problem-solving solution will help you capture the attention of those most likely to purchase your creations. By specifically acknowledging the needs of your customers and fine-tuning your sales strategy, you provide more obvious value. Quite simply, aligning your brand with the specific needs of your customers helps you close more sales.
Define Exactly How Your Brand Fulfills Customer Needs
After you have identified the needs of your target audience, speak directly to your audience about how your creations fulfill their needs. Maybe your ideal client values unique one-of-a-kind creations or fashions that complement a petite frame. Maybe they also crave organic, soft materials that don't irritate their skin. Be that solution.
If your fashions generally appeal to the modern business professional, focus on how your designs incorporate easy-care, crease-resistant fabrics impervious to the hazards of long hours in the boardroom or living from a suitcase.
Keep the Lines of Communication Open
Remember that ongoing communication is essential to sales success. It's important to find a way to keep the dialogue with your prospective clients flowing. Talk to your prospects at fashion trade shows, encourage conversations by asking questions on social media, or invite your customers to contact you with their fashion dilemmas on your website.
By actively listening to the needs of your prospective clients, you will continue to evolve and potentially fulfill significant needs that are not currently being met within specific areas of the fashion industry. When you remain open to constructive feedback, your business venture will continue to flourish.
Ask the Important Questions 
To identify the best approach for fulfilling customer needs, it's important not to make assumptions. Keep asking questions. The more you know about your customers, the better equipped you will be to address their concerns and communicate value. Consider the benefits of incorporating these suggestions into your sales strategy:
Ask your prospects what they are looking for, and why. Track the answers and look for commonality.

Use your new-found knowledge to communicate to the needs of your followers and prospective clients.

Talk about individual fashion pain points and how your products solve customer problems.

Take the time to identify the needs fulfilled by your products, from the design to the quality of the stitching, detailing the benefits of each point.

Use your unique voice to make your vision relatable to your prospects without using industry jargon.
Providing the Information Your Customers Need to Hear
Many entrepreneurs make the mistake of focusing their sales presentation on their design philosophy or the details of the fashions they create. Now that you know that customers are looking for products that improve their lives, it's time to insert your brand into this equation by adopting a "What's in it for them" approach to sales. For every feature of your product, it's important to relay the benefit to your customer. Consider adapting some of the following suggested benefits into your sales presentation:
Buying from independent designers

Buying complementary pieces from the same line

The benefits of natural (or synthetic) fibers

The benefits of a particular fabric selection

Feeling great after buying from a socially responsible business

Form + function when buying designs that incorporate technology

Customer benefits for reviews or referrals

Adding unique beauty to their lives
Unfortunately, too many designers make the mistake of assuming their customers instinctively understand the value of individual creations. If your sales strategy focuses solely on your product concept, you are likely missing out on a significant number of sales. The key is to really think about your customers and get to know them. Who are they? What do they hope to get out of buying clothing and accessories?
As you learn to identify the needs of your customers and recognize how your brand could improve their lives, you begin to build lasting relationships. Soon, the "What's in it for them" sales philosophy will also have a direct impact on an equally important consideration for fashion entrepreneurs: what's in it for you.