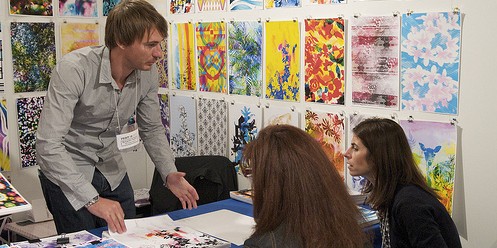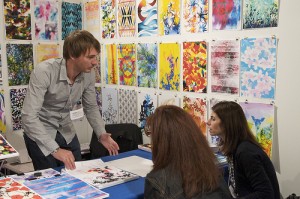 As many of you know this past Tuesday and Wednesday was the PrintSource Show in New York. And, as I really enjoy strolling from booth to booth and being introduced to new and exciting textile work, I went.
The show took place on the 11th floor of a building right off of 5th Avenue. When I arrived there were all kinds of hustling and bustling going on in the lobby. I took the elevator to the up and when the doors opened I was treated to brightly colored walls covered in unique textiles designs and the feeling of pure creativity permeating the air! I headed to the right side of the room and slowly made my way up and down the aisles taking in the work, chatting with the designers and artists, and learning about new companies.
The overall spirit of the show was great. I not only asked the designers about their work but also how the show had been going for them, what kind of connections, networking, selling they had been doing and how business has been lately in general . To my surprise and delight the responses were all very positive! The tone was optimistic and encouraging. Designers shared their recent triumphs, their happiness with the turnout of the show, the information that they had in fact made sales and connected with a lot of new industry folks, and their excitement for all the post-show possibilities.
I attended Print Source wanting to openly share my role, not so much as a textile designer myself, but as someone who writes for an industry resource blog and loves to highlight and share worthy textile companies and designers with her faithful readers. For the most part, this explanation of self was warmly accepted, however I would be lying if I said some people just didn't get it and were not at all interested. Can we really be surprised though? I don't know about you, but I feel that the textile industry, even more so than the fashion industry, is having a hard time embracing social media and networking. Not any of you of course. Or else you wouldn't be my faithful readers now would you? Anyway, back to the point. I wanted to pen this little blurb about the show, share with you how inspiring I found it to be, and let you know that I am compiling my notes, setting up some appointments (including a tour of one very cool New York embroidery house), and will little by little be introducing you to some of the amazing textile and trim industry companies and professionals that you may have yet to know about. So stay tuned!