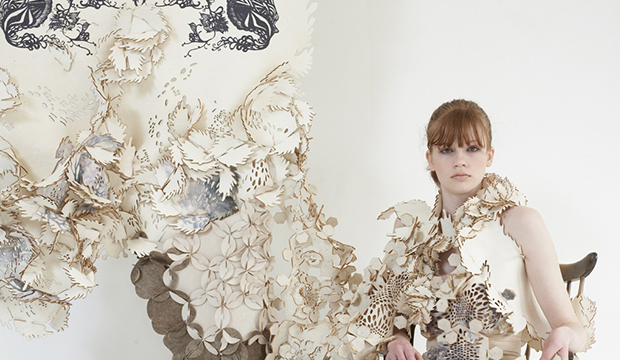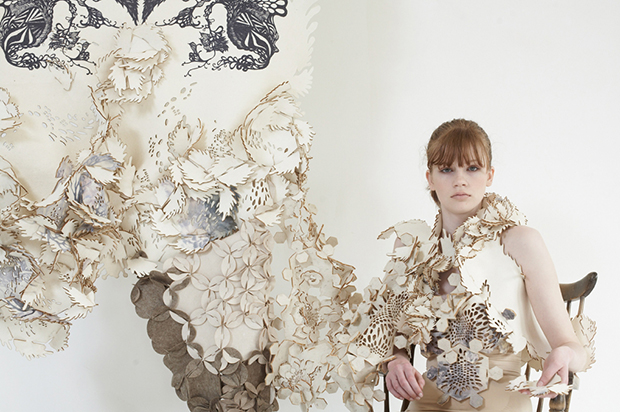 "Laser-cut" has become a buzzword in the world of industrial design and fashion. Many contemporary objects from computers to clothing have been touched by the process, and its popularity continues to grow the more we discover about it's potential.
The term is exactly what it sounds like, using a laser rather than a blade to cut into a surface. The benefits include a cleaner, accurate cut, as well as a higher quality of finish.
So how does laser cutting play into the fashion industry specifically?
It's an interesting, modern hybrid between the concept of cutwork lace and the clean aesthetic of screen-printing.
If you're looking to design laser cut textiles, there are a few basics to consider in terms of the outcome:
Laser cutting works best on synthetic fabrics; the plastics in these textiles melt during the process, resulting in a sealed, perfect edge that won't fray.

Natural fabrics on the other hand, are slightly singed by the heat of the laser, holding the fibers in place.

This generally results in a discoloration at the edge of the cut, which, depending on the desired outcome can be a con or a welcomed design element.

However, adjustments can be made depending on the fabric and the strength of the laser to potentially eliminate any marks.
Laser cutting is a process that never seems to tire, as new developments are constant. Kate Goldsworthy, a PhD candidate at Central St Martins is focusing her thesis on this process in terms of sustainability.
Titled "Laser Finishing: A new process for designing recyclability in synthetic textiles", the thesis researches new technologies for textile manufacture and how to integrate them into sustainable practice.
Additionally, designers Camilla Diedrich  and Ensuk Hur are turning their work into sculptures by bringing a 3-dimensional element to the process. After cutting up their fabrics, they bend and fold them into origami-like structures that create an incredible avant-garde effect on the body.
What do you think of the laser cut approach?