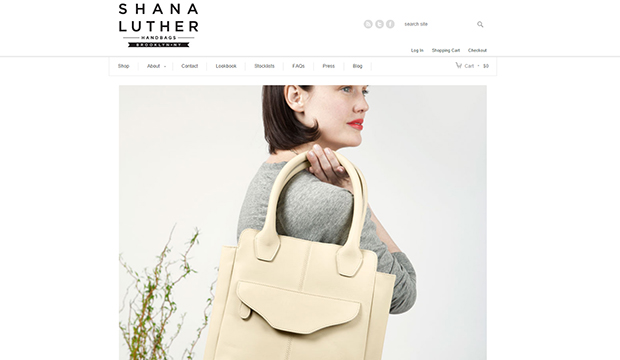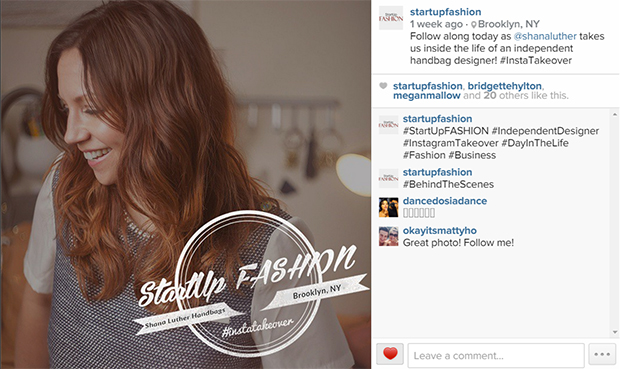 Last week independent handbag designer Shana Luther took over our Instagram to share with everyone a day in the life of an independent designer. And what an awesome takeover it was!
You may remember Shana when we highlighted her work last year.  Well, her brand and business have come a long way since then.  Shana is a very talented designer based in Brooklyn, NY and we're proud to say is a member of the StartUp FASHION community. Spending time with Shana in the community and watching her business grow, her brand build recognition, and her successes stack up, has been such an exciting part of our days.
Below is our interview with Shana, where she shares a bit about her business and lessons learned as an independent and up and coming brand.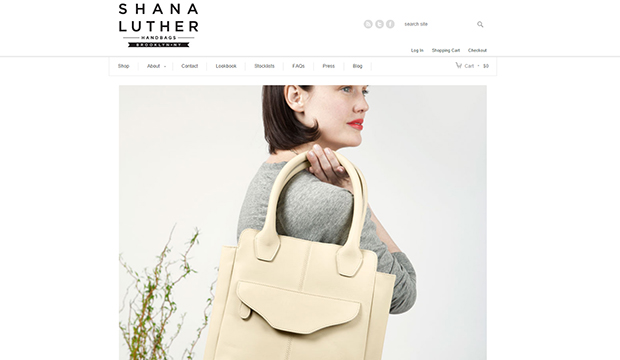 There is a saying "you learn something new every day." The day of your takeover, what did you learn about business in fashion?
Although I know this already, I was reminded that things aren't always in my control and sometimes production orders get backed up. You just have to roll with the punches and always have some flexibility in your production schedule.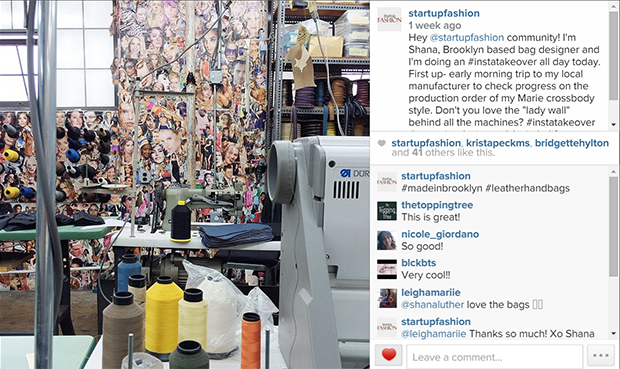 What is your favorite photo you took? Why?
The photo of the Brooklyn sunset. We're always working hard on every aspect of our business and sometimes it's nice to just stop, take a walk and find something fun to do. It was a Friday night, the end of a long week and I was walking to a local shuffleboard club to play a game and have a couple of well deserved beers!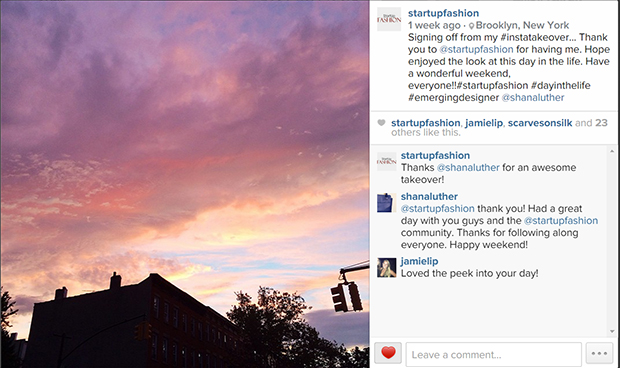 What is the most valuable thing you did the day of your takeover?
Checking progress on my current production order and taking behind the scenes photos at my local manufacturer.
How would you describe your day in three words?
Productive, busy, and fun.
What role has StartUp FASHION taken in your everyday business life?
I've met many friends on StartUp Fashion and always turn to it when I have a business related question. In addition to that, I maintain my pitch lists, set tasks to remind myself to check in with certain people, and am always popping into the forums to see what may pertain to me. It's invaluable to me.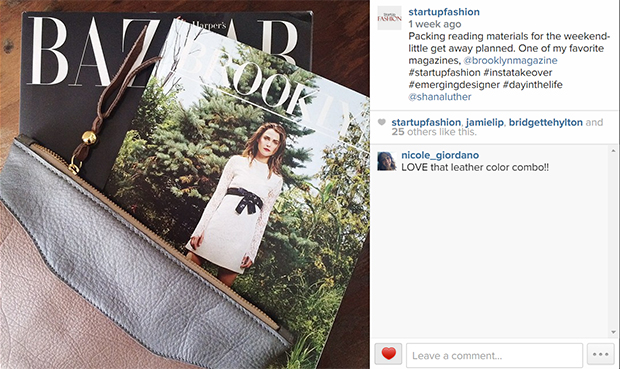 What did you accomplish the day of your instatakeover?
I had a visit to my manufacturer, took some product shots of new items I'll be adding soon to my online shop, worked on my website, sent many emails (that's everyday though), and had a wonderful Friday night relaxing and having some fun.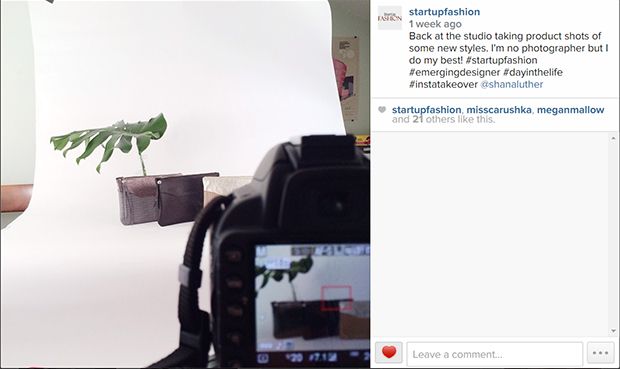 If you could give one piece of advice to fellow emerging designers, what would it be?
You wear many hats being an emerging designer and although that can be daunting at times, have fun with it and do it the way you want it done! It will only make you brand more "you" and I think people respond to that.
Also, don't let minor pitfalls get in your way. We're only human and we're bound to get discouraged from time to time. Embrace that for a moment, but let it pass and keep pushing forward.
Thanks for an awesome takeover, Shana!
Stay tuned and follow us as we feature more amazingly talented StartUp FASHION members with Insta-takeovers and blog spotlights!