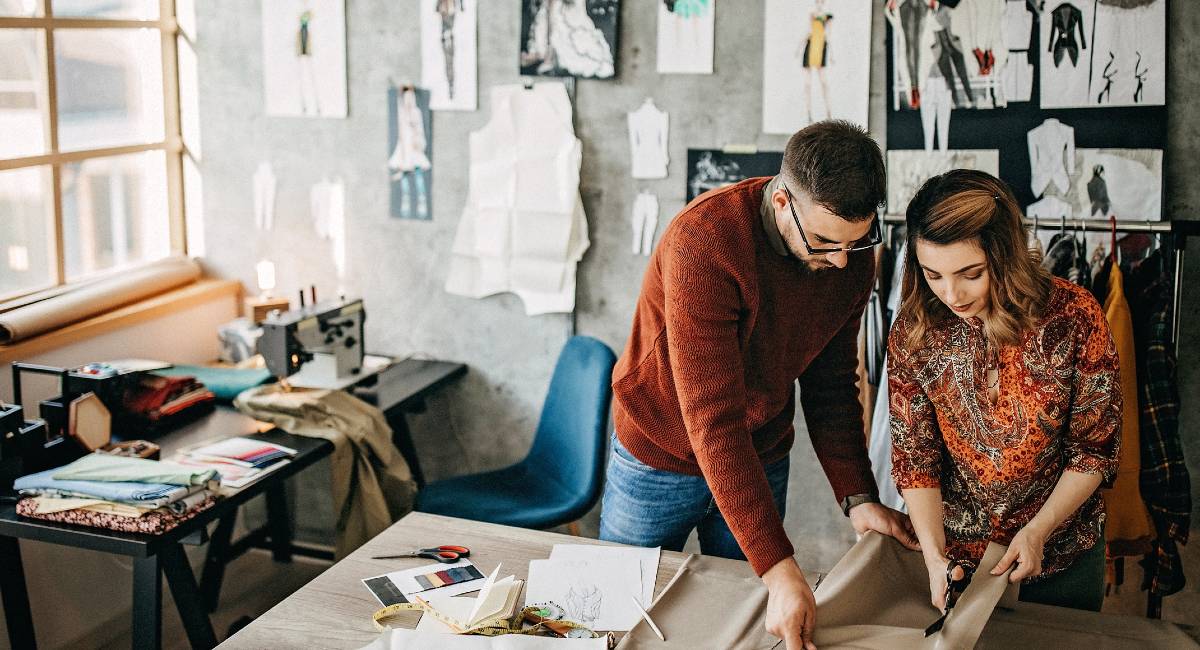 So you're thinking about starting a clothing line. That's exciting.
And also overwhelming.
There's a lot to figure out. And one very important thing is how much does it actually cost to start a clothing line.
So let's start with my answer: $15K- $30K is a good estimation. 
I know there's a $15K window in there. And you're probably frustrated by that.
But that's because there are a lot of variables! That's why it's so important to spend time thinking about what kind of fashion business you want to launch.
So just a head's up — this post will not give you one exact answer to how much does it cost to launch a clothing line. Instead, it will give you a fair range and explain what variables go into figuring out that cost based on your own goals and ideas.
You need to think about things like…
Your goals– what kind of fashion business are you planning to launch? Will you do made-to-order? Will you have a pre-sales model? Or will you hold inventory? Do want to sell wholesale? Are you launching a size-inclusive line?
Your designs– How many styles? How many sizes? How many colorways? It's a good idea to start smaller than larger. 5 – 7 styles is a good starting point. Enough to learn about what your customer wants but not so much that you are overwhelmed with options and inventory.
Your technical skills– When you can develop your own patterns and grading and starting sample, you will save a lot.
Your marketing skills – How comfortable are you using Instagram? How good are you at writing copy for emails and your website?
Important note: You don't have to have everything perfect when you launch! But you do need a level of professionalism.
Remember, when people can see that you have committed your time and money to a project, when they see that you are serious about what you're doing, they are more likely to trust you and are willing to buy.
OK, so let's break down this $15-$30K.
Development
Around $5k
The average is around $1K per style, but this varies based on how involved the design is. $1K is a fair estimate.
What goes into development?
fabrics
notions and trims
the shipping cost of materials
a pattern, digitized, marked, and graded
a few rounds of samples
I'd like to emphasize "a few rounds" of samples. Don't get frustrated if the sample isn't perfect on the first go-around. This is common and to be expected. So get quotes for the cost of the first sample and the cost for additional rounds to perfect the sample.
Production
Around $10K- $20K

Production costs are based on a list of variables including:
number of styles
number of colors
size range
fabric cost
notion/trim cost
location of production (i.e. overseas shipping costs vs domestic shipping costs)
types of labels and hangtags
Once you're finished with development and have a finished sample, you shop that sample around with factories to learn their minimum order quantity (MOQ) as well as their quote for producing your piece.
So, if their minimum is 100 per style and their quote is $20/per piece, you know that your production costs will be $2,000 per style. If you have 5 styles, you're at $10K for cut and sew alone. This does not include the cost of materials, shipping, labels, hangtags, multiple colors, etc.
Alternatively, once you have completed a finished sample, you can opt for the pre-sales model so that you don't need to pay production costs out of pocket, and instead pre-sell your styles on your website (or on another platform) and then either produce them made-to-order or hit a certain number of pre-sales and produce a batch with a factory.
Keep in mind that if you pre-sell to a certain number and then produce a batch, you will still have shopped your sample around with factories to learn their MOQ and price.
Factories will ask for 50% upfront payment and 50% before shipping your order.
Education

$475/ year

This is by far the most overlooked cost of starting a clothing line. People think it's not "necessary" but I assure it is. It will cost you so much more in mistakes than it would in education.
Some things you need to learn:
How to work with a factory
How to create a pre-launch marketing strategy
Creating an effective launch plan
How to plan/maintain the finances
Creating your sales plan
How to sell to individuals
How to sell to stores
Creating an email marketing strategy
And SO MUCH more.
If you want your step-by-step blueprint for launching your business without having any prior experience, here's a free class for you! 
Pre-Launch Marketing
Around $1K – $5k+
A major issue I see on a regular basis is new brands using all their money to make the product and then saying things like "I have no money for marketing" and not understanding why they're not making any sales.
Here are some things you want to make sure you're doing before you even launch your product:
Creating your packaging (tissue, envelope, notecards, etc.)
Developing a website landing page (you need to be collecting emails on this landing page)
Signing up for an email platform (remember what I said about collecting emails?)
Branding (logo, fonts, colors, etc)
Launch Marketing
$3K- $15K
Full website
Creating professional graphics for social media for when you launch
Photo shoot (photographer, location, hair and makeup, models, food)
Pop-up event or launch party
Social media Ads
Sales funnel
When it comes to estimating your marketing costs for launching a business, you do the following:
Look at your monetary goal (either a launch time total or on a monthly basis) and calculate around 15% of that in marketing costs. So, if you have a goal of selling $20K during your launch period, then your marketing spend would be around $3,000.
So there you have it. It's not exact. There's no one single answer for everyone. But hopefully, this post showed you what you need to be thinking about and planning for if you are going from an idea in your head to a product in your hand.
If you want to learn how to create your personalized blueprint for launching your business EVEN IF you have no prior experience, then get yourself in a free seat at my class!