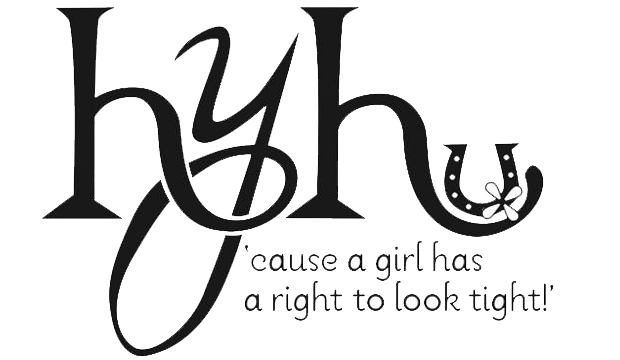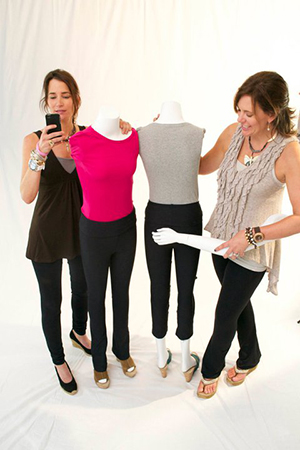 We first discovered Hold Your Haunches, a women's shape wear line, on Facebook.  And we were so drawn to not only the concept but also the voice and tone of this brand, that we had to share it.
Here's a little interview we conducted:
Your brand is unique. What inspired you to start a business around this concept?
HYH – Before Jenny and I even began to think about Hold Your Haunches, I had always believed the axiom that if you really want/need something that is unavailable, you are probably not the only one!
This was categorically proven one morning as Jenny bemoaned the view from the rear as she was wearing a pair of capri leggings to exercise. She said to me " there have got to be pants with a built in girdle (yep, girdle) out there" and I replied "NO THERE ARE NOT! Because I have been looking for a year".
So we went inside and googled every combo we could until she believed me, called a patent attorney, and the rest is history.
It's important to note that while we are friends and close in age, we have  different body types and our own unique flaws we are trying to mask.
Solving a problem is a key aspect of a successful business. How did you identify a problem and how has it impacted the growth of your business?
HYH – We identified the problem by looking at ourselves in the mirror. And while looking  at all aspects of media we saw that as fashion was becoming much more geared toward a smooth, legging style silhouette, there was not an option for those of us with less than perfect bodies.
We were very quiet as we  immediately got to work on our prototypes without discussing what we were up to as we had a patent application to protect.
Once we were safely pending, we started discussing our concept before we had product with our girlfriends, and as expected they all had plenty to say about the obvious need for such an item AND about the misleading information provided by other lines about the level of support their products provide.
Our business is obviously quite new, but as word is getting out about what Hold Your Haunches actually delivers, the reception has been incredible.
ALL you have to do is get a woman to put them on, and put them on right, and the pants sell themselves. It's incredible.
Your Facebook page is great.  You implement a lot of humor.  How did you establish this voice for your brand; was it a conscious strategy or did it just sort of happen?  Is this voice consistent across all your content and platforms?
HYH – Our personal voices are all about humor. We have always said that behind loyalty, for us, funny trumps all.
Before there ever was a Facebook page, we named our brand Hold Your Haunches and made our tagline 'cause a girl has right to look tight'.
We spend hours dying laughing coming up with one liners  'designed with your behind in mind' 'no more headache from muffin top hangover'  We're very vocal about our willingness to expose all of our flaws and openly discuss jiggle,sag, cellulite etc, but we do not expect our customer to do the same. As we say,
we may make asses of ourselves, but it can be your little secret.
There is no strategy. It's totally organic because it's who we are. Good or bad, our personalities are the personality of our brand!
How do you see your brand growing in the next few years?  Do you think it's important to have a clear view of your goals documented in a business plan? Have you adjusted your business plan along the way?
HYH – We see our brand growing exponentially in the next few years. We sold our first pair online from the kitchen in November of 2010. They sold so well through 2011, that we bit the wholesale bullet in 2012, receiving and delivering our first production order in May.
We are small, but pick up new stores each week, and internet sales are booming.
We hope to continue to pick up stores at a decent clip where we can support our stores and their customers while still protecting the integrity of our brand. HYH is a highly technical piece and for it to do it's job and fit comfortably, it has to be manufactured with no shortcuts.
We see more colors on the horizon and are working on a brown as I type this! Our medical patent is pending and we plan to get into the market not as an actual post – surgical garment, but as an option for patients to have a fashion piece that employs super strong compression.
Another area we want to get a foothold in is travel. Many of our customers buy them specifically to travel as compression is recommend for flying.  Aestheticians, makeup artists, hair stylists…on your feet all day and want to look good? HYH is a no-brainer.
We have never had a business plan except to design/produce what we wanted, manufacture it and sell it. We have 100's of ideas that we keep on a list. We take advice from people from all corners of business, and siphon it down to our best fit. But an actual plan-we wouldn't follow it if we had one.
Advice for other emerging brands?
HYH – Follow your passion, ignore naysayers (and some advice givers!), if something feels fishy, it probably is. Work with people you like. It makes the constant grind a lot more fun.